As a result of recent arrests, travellers departing from Los Angeles and heading to London's Heathrow Airport may experience heightened security measures. Nine individuals were apprehended on suspicion of attempting to smuggle cannabis, a substance legal in California but illegal in the UK, where it commands a higher price among UK drug traffickers. Between January 10th and 17th, over 400 kilograms of the drug were seized from passengers at Heathrow Airport. As investigations continue, authorities will closely monitor the LA to London route for any suspicious activity.
A significant amount of illicit drugs, with a street value of £5.5 million, was discovered as authorities intercepted passengers attempting to smuggle the contraband through Heathrow Airport. According to the National Crime Agency, the individuals flew from Los Angeles to Heathrow and concealed the cannabis within their checked baggage. The discovery of these illegal substances highlights the ongoing efforts of traffickers to circumvent security measures and bring the drugs into the UK.
In response to the recent seizures, NCA Heathrow Branch Commanders Andy Noyes has made it clear that law enforcement will closely monitor passengers on the Los Angeles to London route and increase security checks. The investigation into these incidents continues, and Noyes has issued a warning to anyone considering becoming involved in drug trafficking. He urged them to consider the severe consequences of their actions and to think twice before getting involved.
Individuals who attempt to smuggle illegal drugs into the UK are fueling organized crime and putting themselves at risk of severe punishment. The consequences of being caught can include lengthy prison sentences, making the risk not worth it.
Authorities discovered that each individual attempting to smuggle the drugs had been carrying between 30 and 40 kilograms of cannabis, all tightly sealed in vacuum-packed containers.
The Suspects
The nine individuals suspected of drug trafficking have been charged with attempting to import class B drugs and are currently held in custody as they await further court proceedings. The suspects include Kiara Lanee Malone, Sabrina Desiree Hobby, Zohrab Idzhyan, Anthony Sarkis Hoffman, Ara Janneh, Madani Ba Junior, Dana Ree Freeman, Kerri Marie Hall, and Zered Afuhia-I-Moana Akolo, all ranging in ages from 25 to 48. Of all the individuals arrested, five were women, and four were men, all American citizens arriving at Heathrow Airport from Los Angeles.
According to reports, Malone, the first suspect, was apprehended on Tuesday, January 10th, and Border Force officers allegedly discovered approximately 30 kilograms of cannabis in her checked luggage. This was followed by another seizure three days later when Hobby was apprehended, and subsequent arrests were made on Saturday, Sunday, and Monday.
The National Crime Agency (NCA) has reported that over 340 kilograms of cannabis, with an estimated street value of £5.5 million, has been seized in total. Janneh, Freeman, Junior, Hall, and Akolo were among the latest individuals apprehended and are expected to appear in court at Uxbridge Magistrates' Court on Tuesday.
Hobby, Hoffman, and Idzhyan were present in court on Monday and have been remanded to appear in Isleworth Crown Court next month. Malone, who had previously appeared at Uxbridge Magistrates' Court on Thursday, January 12th, remains in custody and will attend the next hearing at Isleworth Crown Court.
Not Everyone Agrees With Relaxing Cannabis Laws
During an October Conservative Party conference in Birmingham, local media reported that police commissioners were advocating for stricter regulations on marijuana, including harsher penalties for possession and sale. The idea is to reclassify marijuana, which was a topic of discussion.
The police commissioners stated that the existing classification of marijuana is no longer suitable, given new evidence indicating that cannabis may be more harmful than previously believed. As a result, they are proposing to reclassify marijuana as a Class A drug, which would result in harsher penalties for those found in possession or engaged in the sale of the substance.
Presently, individuals found in possession of Class B drugs, such as cannabis, speed, and ketamine, can face up to 14 years in prison. Possession of Class A drugs, including heroin, cocaine, and ecstasy, can carry a life sentence.
However, Peter Reynolds, president of the organization CLEAR, which is against cannabis prohibition, has criticized the proposal as "completely crazy" and argues that it would lead to increased crime, violence, and child exploitation. Reynolds believes that the idea promoted by the police commissioners is not sensible.
According to Reynolds, continuing with the same approach that has failed over the past 50 years is absurd. The only individuals who would benefit from this are uninformed politicians and those involved in the illegal drug trade. That much is clear to me, he added.
A week after the Conservative Party conference, UK Home Secretary Suella Braverman expressed her agreement with reclassifying cannabis as a Class A drug, similar to cocaine and heroin, stating that the classification is under review. Braverman, who is against decriminalizing cannabis, believes that deterrents are necessary to reduce the growing usage of cannabis among teenagers. "We have to make people afraid," she said, according to the Sunday Times.
During the Conservative Party conference, the Home Secretary announced her intent to take a strict stance on marijuana use. She highlighted that some regions of the UK have effectively decriminalized marijuana consumption, with the percentage of individuals charged for drug offences dropping to 19.3% in 2022, compared to 33.3% in 2015.
Meanwhile, in response to the government's proposal, 500 public health and drug organizations and industry experts jointly issued an open letter to the UK Government expressing their concerns. They stated that the proposal would "criminalize young and vulnerable individuals and fail to address the underlying issues." Organizations that signed the letter included the Association of Directors of Public Health, the Public Health Faculty, the Police Foundation, and the British Medical Association.
Conclusion
According to NCA senior investigating officer Darren Barr, the authorities are investigating the connections between these seizures. However, intercepting this many shipments on the same route within such a short period is certainly unusual.
Thanks to the efforts of the Border Force, these dangerous drugs were prevented from reaching the streets of the UK and causing harm to our communities, he added. Darren believes this seizure illustrates the successful collaboration between the Border Force and NCA and their shared dedication to protecting our communities and disrupting the illegal drug trade.
SUITCASES FULL OF WEED, READ ON...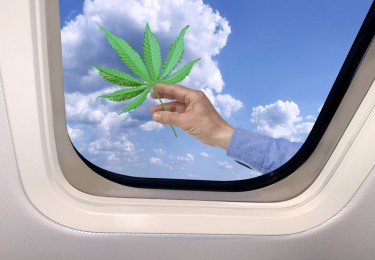 CALI TO FLORIDA WEED SMUGGLING RING BUSTED BY SUITCASE CHECK!