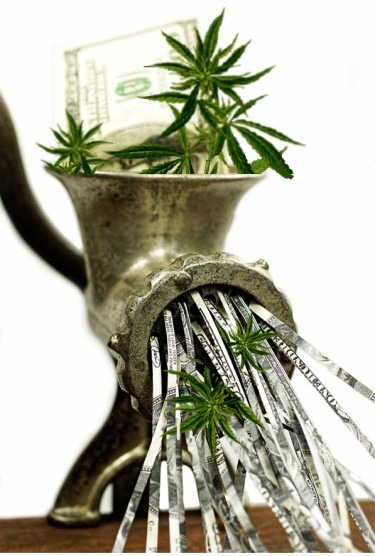 A recent report from cannabis data and research company Whitney Economics reveals that just 24.4% of businesses in the U.S. cannabis sector are currently profitable. This is a drop 42% of cannabis companies being profitable on the past Whitney reports. This statistic highlights the ongoing struggles faced by the industry. In contrast, the previous year's survey showed that 42% of marijuana businesses were reporting profits. The latest survey included 224 respondents from 13 states, representing approximately 1.1% of licensees in those states, as confirmed by Beau Whitney, the founder of Whitney Economics.
The objective of the survey, conducted by Whitney Economics, was to bridge the gap between theoretical business economics and the day-to-day experiences of cannabis operators. Respondents expressed various challenges, including the mounting pressure from rising costs and declining wholesale cannabis prices, which have necessitated the search for creative solutions. They also emphasized that state regulations have not kept pace with the evolving market and business conditions, indicating that regulatory frameworks can heavily influence success in the legal cannabis market. Additionally, a significant majority of respondents (over 70%) supported limiting the number of cannabis licenses, while high taxes remained a persistent concern.
The report's outlook for the next seven quarters suggests a slower-than-normal growth trajectory due to the aforementioned factors, with no imminent expectation of significant changes. The survey also gathered valuable data on revenues, profits, profit margins, costs, and materials, providing a comprehensive snapshot of the current state of the U.S. cannabis industry.
According to the research, less than 25% of these operators can turn a profit, underscoring the industry's serious problems. The sustainability and financial viability of cannabis enterprises in the current market are raised by this finding. It is clear that the US cannabis business is facing significant challenges that are impeding its ability to prosper economically because the majority of operators are struggling to earn a profit. These figures highlight the need for a deeper comprehension of what causes the low profitability rates and the creation of workable solutions to this urgent problem.
Projected Resolution of Recent Industry Challenges
The cannabis industry has faced recent difficulties, and additional states have encountered similar issues beyond those covered in the report. According to an interview with a cannabis sales worker in The Denver Post, businesses have been closing at an alarming rate, highlighting the market's current struggles. In Colorado alone, retail sales in March experienced a $17 million decline compared to the previous year.
Curaleaf Holdings, Inc. (CSE: CURA) (OTCQX: CURLF), a major U.S. cannabis operator, made the decision to shut down the majority of its operations in Colorado, Oregon, and California this year due to concerns about financial viability. While two of these states were part of Whitney's survey, Curaleaf's CEO, Matt Darin, stated earlier this year that these regions might present future opportunities. However, due to price compression resulting from the illicit market's lack of effective enforcement, the company struggled to achieve satisfactory returns on its investments.
Trulieve Cannabis Corp. (CSE: TRUL) (OTCQX: TCNNF), another U.S. cannabis distributor, saw a significant drop of $30 million in gross profit at the end of the first quarter of this year compared to the same period in 2022. Financial feasibility concerns led the company to close two of its California dispensaries. Over the past year, Trulieve's share price declined by nearly 68%, reaching $5.36 on Thursday from $16.72 last June.
Despite these challenges, a report released by cannabis business intelligence firm New Frontier Data in March suggests that the industry will gradually overcome them. The firm's CEO, Gary Allen, acknowledged that mature legal markets are experiencing price pressures due to factors such as inflation, high taxes, and competition from illicit markets. Additionally, the potential for a recession may impact cannabis consumer spending in the medium term. However, Allen emphasized that these challenges will not deter the long-term growth and increasing demand for legal cannabis.
New Frontier Data projects that the U.S. cannabis industry will generate $5 billion more in sales this year compared to 2022, indicating a positive trend and potential resolution of the current industry challenges. Right now, the Canadian government is the most profitable cannabis company in Canada.
Research Highlights the Limited Success of US Cannabis Operators
The profitability crisis in the US cannabis industry is evident, as research reveals that a majority of operators are struggling to turn a profit. Less than 25% of cannabis businesses in the country are currently profitable, indicating significant financial challenges within the sector. This situation persists despite the increasing acceptance and legalization of cannabis in various states.
The limited profitability can be attributed to several factors. The industry's complex and ever-changing regulatory landscape presents a major hurdle for operators. Varying federal, state, and local regulations result in higher compliance costs and operational complexities. Additionally, limited access to traditional banking services and tax limitations further burden cannabis businesses, impacting their financial health.
The intense market competition also contributes to the profitability crisis. The rapid growth of the cannabis market has attracted numerous entrepreneurs and investors, leading to a saturated industry. As competition increases, pricing pressures and thin profit margins make it increasingly difficult for operators to achieve sustainable profitability.
Furthermore, restricted access to capital poses a significant challenge for cannabis businesses. Due to the federal illegality of cannabis, many traditional financial institutions are hesitant to provide banking services or extend credit to operators. The lack of access to capital limits their ability to expand operations, invest in necessary technology and infrastructure, and ultimately scale their businesses toward profitability.
Addressing the profitability crisis necessitates a comprehensive approach involving industry stakeholders, policymakers, and regulators. Streamlining and harmonizing regulations, improving access to banking services, and providing financial support and resources to cannabis businesses are crucial steps toward creating a more conducive environment for profitability.
To survive and thrive, cannabis operators must prioritize sound financial management, operational efficiency, and differentiation strategies. By navigating the challenges and capitalizing on market opportunities, these businesses can work towards a more sustainable and prosperous future, ensuring the long-term viability of the US cannabis industry.
Bottom Line
The US cannabis industry faces a significant profitability crisis, with less than 25% of operators reporting profits. Complex regulations, limited banking access, intense market competition, and restricted capital hinder the financial success of cannabis businesses. To overcome these challenges, collaboration among industry stakeholders, policymakers, and regulators is essential to streamline regulations, improve banking services, and provide financial support. Cannabis operators must prioritize financial management, operational efficiency, and differentiation strategies to navigate the obstacles and secure a sustainable future. Addressing the profitability crisis is paramount for the long-term viability and prosperity of the US cannabis industry.
WHITNEY ECONOMICS ON WEED, READ ON...