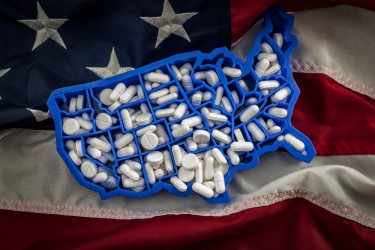 It's high time for pharmaceutical companies that have been exposed for misleading the public to face the consequences. According to a recent report from ConsumerShield, the past decade has witnessed a surge in settlements and fines within the pharmaceutical sector, surpassing a staggering $80 billion.
Published on October 17, ConsumerShield's report titled "Balancing Profits, Penalties, and Public Safety in the Pharmaceutical Industry" sheds light on the fact that a significant portion of these infractions is related to synthetic opioids, notorious for their addictive nature and potential to cause respiratory distress.
London Loves Business, in its coverage of the study, reveals that since 2010, the pharmaceutical industry has been slapped with penalties amounting to $82.8 billion across more than 500 documented cases. These violations encompass issues such as disregarding drug and medical device safety standards, promoting medical products without proper authorization, breaching the False Claims Act, and a range of other transgressions.
The primary offender in this regard, Johnson & Johnson, tops the list with more than 45 recorded violations during the study period, resulting in a staggering total of $24.5 billion in penalties. An astonishing $18 billion of these penalties was paid by Johnson & Johnson within the last five years, solely about opioid and talc cases.
Following closely is Teva Pharmaceuticals, facing penalties amounting to $8.5 billion, while AbbVie shoulders a hefty $7.1 billion in penalties. GSK plc is just a little behind with penalties totaling $5.6 billion, and Pfizer, too, has faced penalties of $3.2 billion.
The report also highlights noteworthy settlements, with one case particularly prominent: the Purdue Pharma case, which mandated an $8.3 billion payment. On October 21, 2020, the Department of Justice announced a substantial fine, marking the culmination of its criminal and civil investigations into Purdue Pharma, the opioid manufacturer, and a civil resolution regarding individual shareholders from the Sackler family.
Purdue and the Sacklers persisted in promoting OxyContin and other opioid products to over 100 healthcare providers despite the company being aware of substantial evidence indicating the diversion of opioids and the provision of misleading information to the DEA to inflate Purdue's production quotas.
During this tragic period, hundreds of thousands of individuals succumbed to fatal overdoses. The CDC's 2021 report revealed that opioids played a devastating role in this crisis, with synthetic opioids being implicated in nearly 88% of overdose deaths. In 2021, opioids were directly responsible for a staggering 80,411 overdose-related fatalities, constituting 75.4% of all drug overdose deaths.
This grim peak in overdoses led to a sobering contrast when compared to heroin-related fatalities, which numbered just 9,000 in 2021 unless they were combined with other opioids. The incidence of synthetic opioid overdoses, however, was almost ten times higher.
Deputy Attorney General Jeffrey A. Rosen underscored the impact of prescription opioid misuse and diversion, emphasizing that it has contributed to a nationwide tragedy of addiction and loss of life, in addition to the harm caused by illicit street opioids. He also noted that the Department of Justice's relentless pursuit of justice in the face of the opioid crisis is evident in the criminal guilty pleas, a federal settlement exceeding $8 billion, and the dissolution of a company, redirecting its assets for the public's benefit.
While many are aware of the devastating consequences of the opioid epidemic, it's essential also to consider the issue of talc. Pharmaceuticals have the potential to harm individuals in other ways. Lawsuits related to talcum powder allege that consumers developed cancer after using Johnson & Johnson's talc-based baby powder.
A Grave Warning
The ConsumerShield report opens with a solemn warning stating that it is with a profound sense of urgency and a strong sense of responsibility that the report embarks on a thorough exploration of the current dynamics within the pharmaceutical industry.
The investigation is aimed at unraveling whether the ever-increasing profits are unintentionally casting a shadow over the crucial requirements of consumer safety, ethical promotional practices, and innovative research endeavors.
The notable contrast between investments in research and development and the lavish spending on marketing, along with the persistent presence of unethical conduct despite substantial penalties, compels a comprehensive assessment of the industry's dedication to ethical standards and the well-being of consumers.
ConsumerShield's representatives express deep concern over the implications of the data. Jane Doe, a Senior Analyst at ConsumerShield, during an interview with London Loves Business, noted that the stark contrast between the surging revenues and the rising penalties is genuinely disconcerting. However, what's even more alarming is the evident divergence between companies' investments in research and development (R&D) and their massive marketing expenditures.
The False Claims Act serves as the federal government's primary legal tool in combating fraud against the government, with a component dedicated to safeguarding consumer rights.
Pharmaceutical companies found guilty of engaging in unlawful off-label marketing or promoting their medications have incurred substantial financial penalties under the Federal False Claims Act. Various individuals frequently initiate these cases.
These include pharmaceutical sales representatives, sales managers, compliance officers, other pharmaceutical company staff, physicians, nurses, as well as employees in healthcare facilities or medical practices, as outlined in the summary of the False Claims Act Pharmaceutical Fraud.
The report underscores the consequences of marketing opioids despite being well-informed about their potentially lethal effects, even in cases where opioids are genuinely required to manage severe pain.
Conclusion
The pharmaceutical industry's ethical and public health concerns are underscored by substantial penalties imposed under the Federal False Claims Act. These penalties result from illegal off-label marketing practices, often revealed by various individuals within the industry and healthcare sector. The report also highlights the severe consequences of marketing opioids despite clear warnings of their risks.
Striking a balance between profits and public safety, prioritizing ethical practices, and fostering genuine innovation remains a significant challenge for the industry. Continued scrutiny and concerted efforts are essential to uphold ethical healthcare practices, protect public health, and ensure pharmaceutical companies prioritize research and responsible marketing.
WHAT DOES BIG PHARMA THINK OF WEED, READ ON...