Why The FDA Approved The First Cannabis-Based Drug Epidiolex
What will this mean for cannabis and Big Pharma?
June 25, 2018 – the date that the US Food and Drug Administration (FDA) just approved Epidiolex, the first-ever pharmaceutical medication made from cannabis-based compounds.
Remember this date, because it's going to go down in history. This is the first time that the FDA has approved such a drug, despite the fact that cannabis is still a Schedule 1 substance according to federal law. In other words, cannabis has no medicinal value and is addictive.
Epidiolex was manufactured by London-based GW Pharmaceuticals for the treatment of two severe forms of pediatric epilepsy: Lennox-Gastaut syndrome and Dravet syndrome, which can prove fatal without proper treatment. If a child with any of these conditions makes it into adulthood, it often means that they will live the rest of their lives with a disability. While there are only a few pharmaceutical medications that can treat Lennox-Gastaut syndrome, there are currently no medications available that can successfully treat Dravet syndrome, while cannabis has proven useful for these conditions safely, and with no side effects.
Epidiolex is a CBD-based drug – it contains cannabidiol, and comes in fruit flavors for children. CBD is one of the many therapeutic compounds found in the cannabis plant, one that is already widely used for the treatment of severe and difficult-to-treat pediatric epilepsies. Unlike its other famous counterpart THC (tetrahydrocannabinol), CBD doesn't get you high although it's effective for naturally stopping seizures and epilepsies almost immediately. It is also used for the treatment of anxiety, pain, and some cancers. In several US states with medical cannabis laws, some parents already give their kids CBD products to control epilepsy, many of which don't have a desire to switch up their child's medications because what they are taking already works, even if they're using unregulated CBD products.
"The FDA approval for Epidiolex will mark the first time the agency will place its endorsement on a naturally extracted, plant-based cannabinoid medicine. This is highly encouraging for other pharmaceutical companies who are developing other naturally extracted, cannabinoid-based drugs for many other conditions," says Dr. George Anastossov, the CEO of AXIM Biotechnologies, a research leader in the development of cannabis-based pharmaceutical products.
"This approval serves as a reminder that advancing sound development programs that properly evaluate active ingredients contained in marijuana can lead to important medical therapies. And, the FDA is committed to this kind of careful scientific research and drug development," says FDA Commissioner Scott Gottlieb, MD. The decision from the FDA comes after GW Pharmaceuticals announced in 2017 that the results from clinical trials involving the use of Epidiolex to treat kids with Dravet syndrome yielded positive results, with 40% of patients experiencing a 50% reduction in their seizures, while 3 patients stopped having seizures completely.
Gottlieb also added that the FDA's move as "not an approval of marijuana or all its components," but only the CBD compound for specific uses. He also added that the FDA is wary about "the proliferation and illegal marketing of unapproved CBD-containing products with unproven medical claims."
Way to take all your share of the market, huh?
What Does This Mean For The Cannabis Industry?
As of the time of writing, CBD is only legal in a handful of states, with each state defining their own regulations involving CBD and cannabis use. But the Washington Post reports that the approval from the FDA will most likely result in the Drug Enforcement Agency (DEA) providing an exclusive classification to CBD as opposed to its current stance, where it's grouped together with the entire cannabis plant as an illegal Schedule 1 substance. This is what the law mandates.
The DEA may either reclassify all products that have been approved by the FDA, or all CBD products.

In Europe, Epidiolex is still undergoing an approval process from the European Medicines Agency so it won't be on the shelves there anytime soon, as the agency is expected to finalize their decision by early 2019.
FDA's decision may be good news for those who support cannabis legalization, since it is "a recognition that the plant is a rich source of compounds which have potential therapeutic activity," says Justin Gover, GW Pharmaceuticals' chief executive.

Does this mean that legal cannabis products have a bright (near) future?
Why The FDA Approved The First Marijuana Based Drug Epidiolex from CannabisNet on Vimeo.
OTHER STORIES YOU MAY ENJOY...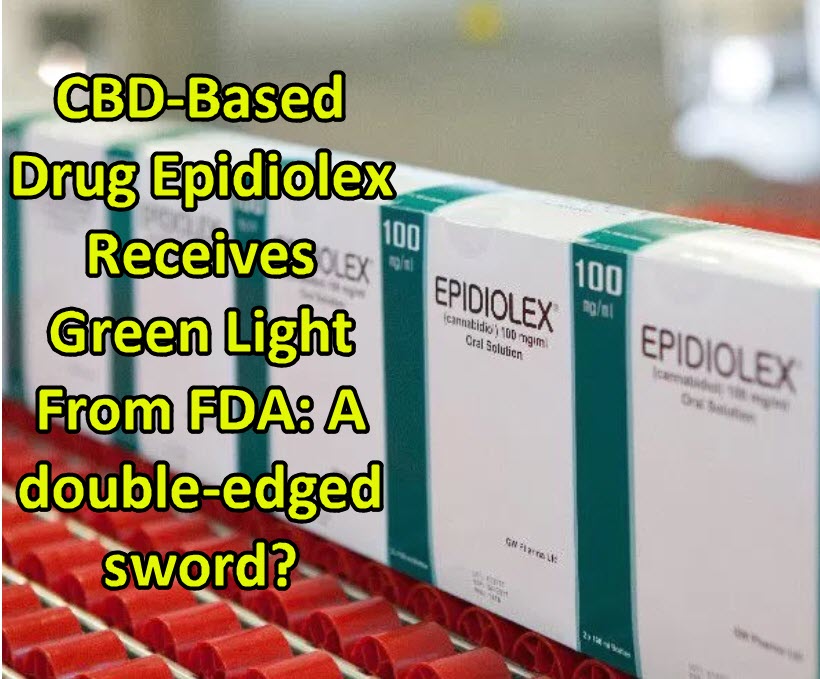 CBD DRUG EPIDIOLEX APPROVED BY FDA, CLICK HERE.
OR..