How Not to Get "Shanked by the Stank" – Cannabis Odor Control to avoid the Nasal Ranger
There are many adjectives we can use to describe cannabis – "Stanky" being one of them. Odor is typically something that doesn't come up often in conversations about weed – at least, not when it's illegal.
However, the moment you legalize cannabis you'll start hearing about "the smell" and with the sound of a complaint lingering in the air like a stale fart – regulators come wafting along with an eye-watering level of pungency.
Suddenly, the odor of cannabis will "devaluate property values" and legal cannabis growers would need to abide by state-sanctioned levels of "stank" – any degree of stank above this might result in a hefty fine.
Yet – now we're talking about folks who want to legally work in the cannabis industry. Surely, the home grower shouldn't have to worry about how much "stank" they emit. But then again – with "stank" comes unwanted attention and even though it may be legal – Old Lady Greta from down the hall calls the cops on anything that doesn't fit within her Raegan-Era "when things were good" narrative dominating her belief systems.
This all might lead to Officer "stick-my-nose-in-your-business" knocking at your door wanting to see your grow. This might merely be the trailing paranoia of a dab hit that went too far – but why gamble with it?
Isn't there a way to cover your stank? Can we learn how to skillfully and eloquently cover our odor like the masterful feline does within its fecal arena? I believe so. More importantly – it is vital for the industry to get their stank under control – since regulators might fine them thousands of dollars if they don't.
How to "De-Stank" your Grow in an Immeasurable amount of steps

For personal grows & industrial grows [in no particular order]
When it comes to skillful "destanking" – you first need to understand how it works. The smell of cannabis boils down to terpenes and terpenoids. Cannabis – for those who have never had the pleasure of smelling a mature bud – has a lingering and pungent odor.
Someone can light a joint and it can stink up an entire block – this might seem exaggerated, but how many times have you walked down a place – seemingly with no one in the area except the lingering trail of marijuana smoke?
This means that you would have to neutralize the terpenes in the air around the grow. For outdoor grows this is nearly impossible unless you have it in a greenhouse – which is quite likely. In that case, there are a series of "Terpene-Neutralizing" technologies out there.
One such product is "Micro Cool Fog" which according to their website is a "High-pressure fog systems disperse an odor-neutralizing product that traps airborne odors and biodegrades unpleasant smells."
Other people implement "Odor redirection and filtration" utilizing carbon filters and air ducts. This is especially important if you grow in an "enclosed environment" because "the stank" can build up – and we do not want Old Lady Greta to be asking us 'if we can smell the skunk too'.
There are obvious solutions for both micro and macro grow operations. However, one of the simpler methods – for home growers especially – is to grow a bunch of flowers around your house.
Obviously, this isn't as 'high-tech' as the other methods pitched to us by the cannabis industry – but it sure is pretty and it smells so nice. Even within your grow itself, you can grow smaller aromatic herbs alongside your cannabis plants. This won't get rid of the smell – but it will help mask it.
Other fragrant options include; Calendula, Basil, Marjoram, Lavender, Juniper, Lemon Balm, Eucalyptus, Thyme, Rosemary, and Mint. What's more – growing these fragrant plants is a trip all on its own.
Ideally – you'll want to choose growing these in "publically accessible points" around your home. For example, near a window facing the street or outside your front door. Anywhere a pesky neighbor's nose would be able to reach.
If you have enough scented flowers in those areas – it's typically more than enough to mask the smell of weed being grown indoors. Additionally, it's pretty and it smells nice. You'll feel good seeing your little flowers stank up the place…but in a good way.
Should we worry about the stank?
It's all relative. Some people won't mind – others will. One thing is certain, those wanting to legally grow cannabis for the industry would seriously need to consider proper odor control and mark that up as an additional expense to be considered when raising capital for the next venture.
For those growing at home – I believe it's a matter of respect. While I would have no problem living next to a bunch of folks growing pot, I can't say the same for those around me. I'll keep my grows personal – and at the very least – I'll plant a bunch of flowers about. It might not be 100% fool-proof – but it sure will brighten up your day.
SMELLY WEED, MARIJUANA ORDER, READ MORE...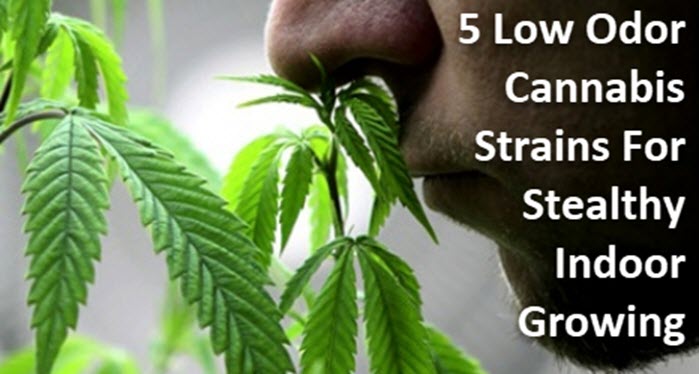 LOW ODOR MARIJUANA STRAINS TO GROW AT HOME
OR...
IS ODORLESS WEED GOING TO BE A REAL GAME CHANGER?
OR..