Cannabis Related Crypto Making Headway
For those who love the idea of being on the cutting edge of technology and investments, the cannabis market and cryptocurrency seem to be the perfect fit.
Both have their community of passionate enthusiasts and advocates, who often aren't fans of regulation but are pro-privacy. The decentralized nature of blockchain and cryptocurrencies create an exciting model for financial transactions that are intriguing for the cannabis industry. As businesses in the cannabis space struggle to secure financing or banking services from major banks and credit card companies, some are turning their attention to the cryptocurrency markets for an answer.
Many proponents are claiming digital and virtual currency is the perfect payment method for the cannabis space, where there is a lot of grey-area about legality. Even with states legalizing cannabis across the nation, there is still a pressing need for businesses to obtain standard financial services to operate.
While cannabis related cryptocurrencies bring tons of potential, there is also reason for caution when exploring various investment options. Values for many cryptocurrencies remain volatile, sometimes changing dramatically each minute.
With that said, as digital is up to serve the marijuana industry and bring the much needed financial services to legitimate companies. There is indeed a fit for digital currency and cannabis, so you'll want to learn about the various coins in the crypto markets that relate to the cannabis industry.
Potcoin (POT)
Potcoin was the first digital coin to arrive on the cannabis market in 2014. The coin is available for people to purchase items and send funds securely from one digital wallet to another. Transactions generate a small fee, less than 1%, which is still better than the 5 or 6% that many mainstream credit card merchants charge. Transactions can also be done in seconds with no chargebacks. Dispensaries are encouraged to accept the coins from their customers, and then make their own wholesale or equipment purchases at participating brick-and-mortar or online businesses. Or they can save the coins and gain interest and possible value.
HempCoin (THC)
HempCoin goes beyond the cannabis industry; owners want to make it available to growers and distributors in the larger agricultural space, including the areas of hemp and tobacco. It promotes allowing purchasers to be as anonymous as possible using a secure masternode system designed to mask users. To participate in a masternode, people need at least 20,000 THC tokens as collateral in cases of fraud. But being part of a masternode does provide access to even more coins over time, even more so if the token's value increases. All standard transactions are mixed with other transactions, which means any outside monitoring or hacking attempts of the data stream won't be successful. Investors can vote on company proposals and be part of a social community. Token owners pay from their wallets through a mobile app, online, or the HempPAY card. In addition to being a payment platform, users are encouraged to be part of the community with artwork and more.
CannabisCoin (CANN)
CannabisCoin describes itself as "The Marijuana Bitcoin." This peer-to-peer currency is designed to make it easier to make secure transactions between different businesses within the cannabis sector, or for consumers to purchase the product from dispensaries. It was the second product of its type to hit the market in 2014 and was initially intended for consumers first, with the price of 1 CANN tied to the price of 1 gram of cannabis. However, as the industry, and prices, both evolved, it is now designed to appeal to more people in the marijuana industry and the rate isn't as connected to product rate. It has announced plans to improve security for its blockchains in 2018 as a way to look appealing to investors and regulators in the new California market. The business did start out a little rocky, with a large chunk of tokens put aside for early miners. These were claimed to be destroyed but later revealed to be used for bounties and future development.
DopeCoin (DOPE)
DopeCoin Gold, with the motto "Freedom is Not Enough" offers customers a type of currency along with "an experience." It is designed to be secure but appealing to those in the industry, especially those eager to see the potential earnings available. DopeCoin Gold, formerly known as DopeCoin, is especially active in the Smoke Exchange, an advertising and marketing platform designed for cryptocurrency tokens in the cannabis industry. It offers zero fees for any transactions between users and makes it easy to get started: users need to trade their Bitcoins for DopeCoins. Investors can also receive 5% in interest annually as a 'staking bonus' as a reward for investors for not selling their tokens for another type. As of spring 2018, the coin was still considered 'mineable,' which means anyone can take the effort to find their own coins within blockchains.
Paragon (PRG)
Paragon token is designed for businesses or consumers wanting to follow their cannabis from seed to sale. People can track their product from harvesting to processing to reaching a retail location. This allows security-conscious investors to make sure every step was followed in its production and sale. Investors are also considered part of the decentralized Paragon community and can vote on policies and corporate decisions. This includes providing input as the company chose its first actual physical headquarters in Los Angeles. It recently completed its first crowdsale of tokens, and it is now trying to focus on securing more investors, along with inviting cannabis-friendly doctors and medical professionals to join the network. Voting members can also access features of the Los Angeles space if they're in the geographic area, provided they pay in Paragon coins for things like food or access to the lab.
AgroTechFarm (ATF)
AgroTechFarm wants people to know that it has been picked by Coinstaker as one of the "Top 5 ICOs that Might Make you a Millionaire." Having read this article, which is required before browsing the company site, you're free to learn more about this Russian company that offers innovative indoor hydroponic farming equipment to customers in the U.S. and Canada. The patented equipment for home and industrial use is designed for maximum growth of cannabis and other small-scale crops without pesticides and can be controlled by an app. Funding for the venture is in the form of the ATF token. Investors who pay with the token receive a discount on their equipment purchases as well as shipping costs. Tokens can be spent or sold back to ATF in exchange for voting shares. The concept has potential – besides direct savings to participants, the company is active in two countries that are poised for high growth. Part of the appeal is that anyone can participate, from an amateur vegetable grower looking for new tools to serious investors. Tokens are still available until May 2018.
Final Thoughts
The cannabis markets carry plenty of potential for cryptocurrency and blockchain applications. Due to the continuing federal illegality of cannabis and the uncertainty from financial institutions, cannabis businesses are left looking for other alternatives for both payment methods and financing channels. Blockchain technology can alleviate both of those issues for the cannabis industry and enable businesses to thrive despite the hurdles they face.
6 Marijuana Cryptocurrencies You Should Know About Today from CannabisNet on Vimeo.
OTHER STORIES YOU MAY ENJOY...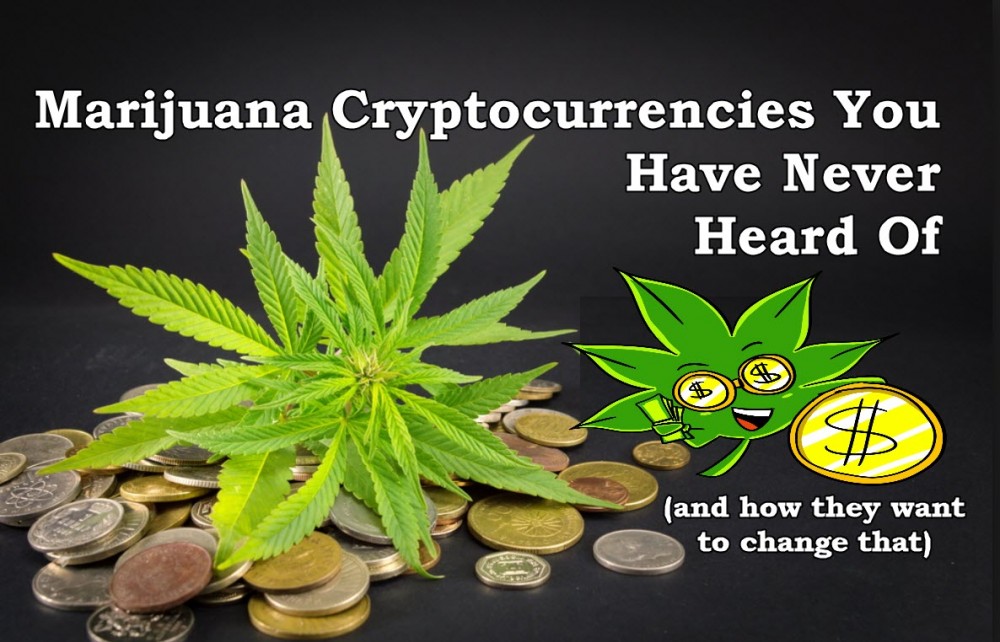 MARIJUANA CRYPTOCURRENCY IS HERE, READ THIS, CLICK HERE.
OR..