Dispensaries vs. Delivery - What is the Future of Cannabis?
Due to the rise of companies like Amazon, GrubHub, and TaskRabbit, the concept of home delivery has gone from being a luxury service to a consumer expectation--and the cannabis industry is no exception to that expectation. What initially began as a service used solely by medical patients with cannabis cards is now a widely used service in the recreational scene as well. Although brick-and-mortar dispensaries are currently the most popular consumer-purchase option, that may soon change.
Current State of Dispensaries
Dispensaries have served as a staple for the cannabis industry and community; they provided an in-store experience with knowledgeable budtenders for the once-controversial medicine and helped transition cannabis into the mainstream. There are over 29 states that have some form of legalized marijuana, and as a result, the number of new dispensaries across the country has been spreading like wildfire. However, changes in laws regarding recreational cannabis have forced some dispensaries--who have not been following regulations--to shut down. A recent study done by High Times showcased the number of dispensaries by state. While most east coast and southern states still show single digit numbers, states on the west coast (Oregon, Washington, California, and Colorado) boast impressive, triple digit numbers. Most notably Oregon, with over 560 dispensaries.
A Push Towards Convenience
While dispensaries were the first to market, delivery services are experiencing growth. According to a study conducted by the cannabis delivery company, in 2016, Eaze customers placed an order every 30 seconds on a typical day. In 2017, that number increased by 200%, resulting in an order every 10 seconds. So what is moving users towards delivery options? Well, the short answer is convenience. As previously mentioned, cannabis delivery is largely a byproduct of the medical use era. Originally, patients battling chronic pains were unable to make the long, and often burdensome, trip to dispensaries. As a result, delivery services were created to bring products directly to a patient's doorstep.
Convenience is still the primary driver, but it takes many forms. The most apparent reason is that some people don't have the time, desire, or resources to make regular dispensary visits. Having cannabis brought to their home is just flat-out easier. Another less apparent reason is privacy. Although cannabis is becoming widely accepted, many people worry about the social stigma surrounding the drug. However, home delivery enables consumers to remain more discreet with their purchases. Many advocates have also argued that having delivery services reduces the potential issue of having drugged drivers on the road.
Issues with Delivery
Marijuana delivery has become a point of contention in many states, like most laws pertaining to cannabis, they differ from state to state and even county to county. Of all the states who've legalized cannabis, Oregon has been the most accepting towards cannabis delivery. Oregonians can order cannabis from the comfort of their homes, similar to pizza or groceries. States like Nevada and California initially followed suit in 2017, but have had legal issues since then. In fact, nearly two months after California legalized cannabis sales, the black market developed door-to-door courier businesses that delivered cheaper, unregulated weed. In the bay area alone, an estimated 60 unlicensed delivery services are operating illegally.
In states like Colorado, lawmakers have pushed back against delivery policies. Colorado Governor. John Hickenlooper has been outspoken in his opposition. "That notion of having a delivery person go around house to house and dropping off potentially significant amounts of marijuana – any amount of marijuana – I think we look at that as just a hazard." Among the chief arguments are that delivery will make cannabis more accessible to kids and it may consequently enable the selling of cannabis in counties that have deemed the substance illegal.
The Future - New Technology
Progress in the space will be determined not just by individuals and politicians, but by companies. Dispensaries are turning to new technology solutions and services to optimize their operations. For example, BDS Analytics provides GreenEdge, a retail sales online tracking platform that provides clients with unlimited access to the most accurate and actionable data available on what is selling, when, where, and for how much, on a daily, weekly, monthly, quarterly and annual basis. And companies like Meadow connect medical marijuana patients with reliable dispensaries to get quality medicine delivered to their door. Meadow has received tremendous support from the cannabis community, especially investors who are betting on technological advancement. David Nikzad, founder of Orthogonal says, "We've transitioned into an era that is highly dependent on e-commerce and technology-driven distribution. It'll be up to companies like Meadow to apply these forward thinking methods to cannabis, and push the industry forward."
Home delivery of cannabis provides a clear utility, one realized by everyone from medical patients struggling with chronic pain to your average couch potato stoner. However, it may take quite some time before recreational cannabis delivery is widely accessible. The cannabis industry is still relatively new, and lawmakers seem set on stabilizing the current market before the national proliferation of cannabis delivery. Moving forward, it will be up to companies like BDS Analytics, Eaze, and Meadow to steer the industry and play a significant role in where the market goes next.
Cannabis Dispensary verse Cannabis Deliveries - Who Wins? from CannabisNet on Vimeo.
OTHER STORIES YOU MAY ENJOY...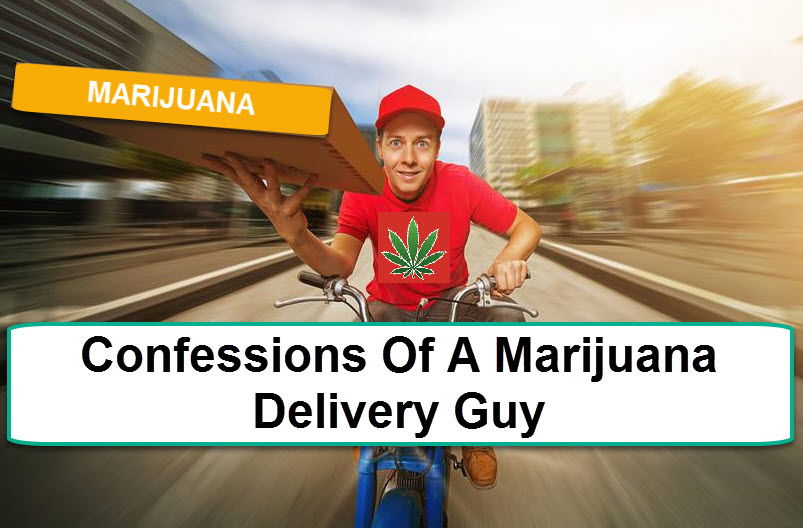 CONFESSIONS OF A WEED DELIVERY DRIVER, CLICK HERE.
OR..