10 Mistakes First-Time Growers Make
The Top 10 Mistakes People Make When Growing Marijuana from CannabisNet on Vimeo.
Growing your own cannabis for medicinal or recreational purposes is one of the most rewarding activities for any enthusiast. But just like most other endeavors, beginners usually have a more difficult time. Making mistakes is common and almost natural!
Learn about the 10 most common mistakes that first-time growers make. Knowing is half the battle – and will help you reduce the errors you'll make, saving you time and money!
Failing to prepare: Growing cannabis isn't like growing a vegetable wherein you can grow a seed just by tossing it into the soil, then giving it water and sunlight. It's much more complex than that. While it's rewarding and fulfilling, cannabis cultivation is also a lot of work in and out of the grow season. There are many things to prepare for including nutrient sources, watering times, seeds to purchase, how to prevent pests, and so much more.
Not taking pictures or notes especially when there are problems: Every grower faces plant growth problems at some point. Whether it's bugs, root rot, nutrient deficiencies… it's not the time to stop documenting your growth. Going back to your old notes and pictures will provide you with tremendous, valuable information in the future especially when you face problems down the road.
Overwatering: Overwatering is a common situation for newbie growers who use containers far too large for their plants. The water ends up accumulating in the pot, inhibiting oxygen supply which is critical to your cannabis plants. Overwatering also happens when you water your plants too often.
Over pruning: If you're feeling zealous, don't make your cannabis plants the victim. Pruning is extremely beneficial for increasing plant growth but too much will have the opposite effect. Prune conservatively and observe how your plants react.
Not paying attention to pH levels: It's far too common for growers not to pay attention to pH levels in the beginning. pH levels are so crucial for health cannabis plant growth since proper pH levels help the plants absorb nutrients through the roots. Too high or too low pH levels can trigger nutrient deficiencies even if the nutrients are already there.
Not paying attention to the strains grown: Many first-time growers end up growing the seeds that are found in their buds. There's nothing wrong with that, but to be a successful grower you also have to pay close attention to a plant's genetics. Doing your homework on cannabis strains and its genetics will provide you with valuable information especially when it comes to expecting how big or small a yield to expect, what the buds will look like, THC and CBD levels, when you can harvest, and so much more.
Giving your grow too many nutrients: Novice growers tend to have the mindset that there's no such thing as too much nutrients. The truth is that it can cause a nutrient burn, which will severely impact the health of your plants. Always try with a little each time.
Stopping your grow because you aren't happy with it: Remember, it's normal to lose your crop once in a while especially if you're just learning. Yes, it's painful and costly to lose a crop but there will always be lessons to be learned. Don't give up: saving your plants is better and easier than starting from scratch. Many cannabis plants that look impossible to recover can actually bounce back as long as you find out what the problem is, and fix it as soon as you can.
Not using timelines: A lot of time and effort goes into properly growing cannabis. There's the 3-5 months it takes from seed to harvest, then there's the time for drying and curing which takes around a month. Many growers don't realize how much time needs to be invested before you can enjoy your grow, and thus don't plan properly. Taking a vacation mid-grow or mid-cure can result in problems. If you figure out how long it will take but don't have that much time to dedicate, autoflowering seeds are your best bet since they harvest quicker.
Not starting: Perhaps the biggest mistake you can make as a wannabe cannabis grower is not starting at all! Keep in mind that the best way to learn how to grow cannabis is by starting. You'll regret not starting sooner! Many wannabe growers end up stuck in the black hole of research. Yes, there's a lot to know and understand but once you get into it, experience will teach you much more than any grow website or textbook.
BEST MARIJUANA GROWER EVER DISHES ON TIPS, READ THIS..
OR...
3 COMMON MARIJUANA GROWING MISTAKES, CLICK HERE.
OR..
HOW NOT TO KILL YOUR CANNABIS PLANTS, CLICK HERE.
OR..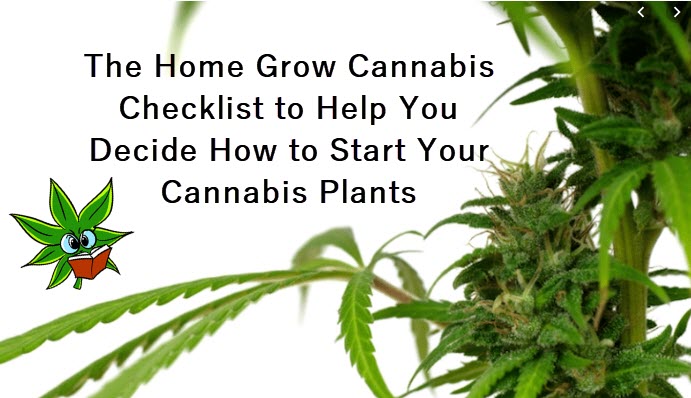 THE CANNABIS GROWING CHECKLIST, CLICK HERE.
OR..
SO YOU WANT TO START GROWING WEED AT HOME, CLICK HERE.