How To Use CBD Cream As Part Of Your Skin Regimen
Recently, there has been a lot of talk about CBD cream and its effects on aging skin. Many people have begun to use CBD supplements to combat the signs and effects of aging, such as wrinkles and face lines. Most experts agree that the body doesn't function as it used to in today's society as it goes through a lot of wear and tear; stress can also manifest on the skin. Thus, newer ways and means of helping the skin are made every day. And the latest exploration centers on CBD products.
How To Find CBD Cream
CBD cream, oil, and gel products are widely available in most states and could be bought over the counter. But the most effective place to start your search for a CBD product is online since it's easy to find stores that sell such products. You will want to look for companies committed to providing quality products, with regular customers that back up their claims and have tried their products. The internet is a good way to find this kind of information as well as compare prices and the ingredients found in these natural products.
Trying CBD Cream For Your Skin Regimen
There is nothing wrong with trying different products until you find one that's acceptable and agreeable for your skin type. You should never try products that you don't understand because they're more likely to damage than they will cure.
Thus, here are a few tips on how to find and use CBD cream.
Settle For A Reputable Supplier
When it comes to CBD products, you will always have more than enough options to choose from in the market today. However, it's going to be tricky since CBD isn't regulated like medicine. It's sold as a supplement, meaning you have to be extra careful when trying out a new brand. Many companies trying to make a quick buck put dangerous chemicals in their CBD products, while some don't even put CBD in their products at all. A reputable company will include the list of ingredients on their product.
Thus, before you buy any CBD cream product, make sure to read through all the information about that specific product and research the brand thoroughly. Compare and contrast brands, if possible. One of the most important things to should consider when researching the product is its safety and effectiveness. Make sure that there's some sort of guarantee offered in case you're unsatisfied with the results of using the company's product.
Match A Product With Your Skin Condition
CBD is claimed to have many uses and benefits, even if this supplement comes in many forms. You can find CBD oil, cream, snacks, edibles, herbs, and so on. The first thing you should do before using CBD as part of your skin regimen is to decide your target result. Once you know why you want to use CBD on your skin, you could narrow down what products you might need and how you could apply or consume them.
For instance, CBD-infused skin products are purported to have anti-inflammatory qualities, making the treatment of certain skin diseases viable. People who have eczema or psoriasis, for example, could consult their doctors, specifically their dermatologists, so they could have a joint assessment of matching a product with their specific skin condition before using it.
Those who have dry or oily skin could proceed with searching for a product that will hopefully help alleviate these conditions by hydrating the skin. It's important to have this match, so make sure to sync your results with your intended product.
Follow The Application Guidelines
Using CBD as part of your skin regimen is as easy as applying it to your skin. However, you need to follow the application guidelines suggested on the product's packaging.
Since CBD cream is a topical product, it could appear as a much more comfortable way to alleviate skin conditions for first-time CBD users. Its molecules are small enough to travel through a thin layer of the epidermis where it will be broken down. Since you're applying it directly onto your skin instead of, say, ingesting it as a food supplement, your skin will receive most of the benefits from the CBD cream and won't reach the bloodstream directly.
It should also be noted that the benefits of CBD for your skin could be more beneficial if used at night, especially if you have dry skin.
Take In Tandem With Other Products
As far as skincare goes, it should be noted that CBD cream could and perhaps should be used in conjunction with other skincare products and general beauty supplements, such as vitamins, minerals, and natural oils. Some of the products on the market have been proven to work by applying different elements to the skin to make sure that it's in the best condition possible.
What CBD could possibly do is assist in cultivating your skin's health and beauty by being an add-on agent of specific skincare routines. For instance, if you have acne, the cream's effectivity could be explored by applying it to a small area at first. But that shouldn't be the sole product to use for it.
Conclusion
Most skincare products today contain a variety of chemicals to increase their effectiveness. They use fragrances, preservatives, and other additives to make the products look more appealing. But using ingredients that you don't really understand could be dangerous. A good skincare product will contain only pure, natural ingredients that could have varying benefits for your skin. One of these is CBD cream.
Although there is no concrete evidence that CBD is safe or effective for medical purposes, many companies have developed products based on the promising findings of initial studies made. It has also been tested time and again to help fight cancer cells, stop seizures, ease muscle spasms and pain, and provide anti-anxiety and sleep benefits. Thus, there could be a possibility that CBD might contribute to having healthy and beautiful skin. But since these products are sold over the counter as supplements, make sure you know exactly what the product contains before deciding which product to buy.
CBD CREAMS, YOU BET...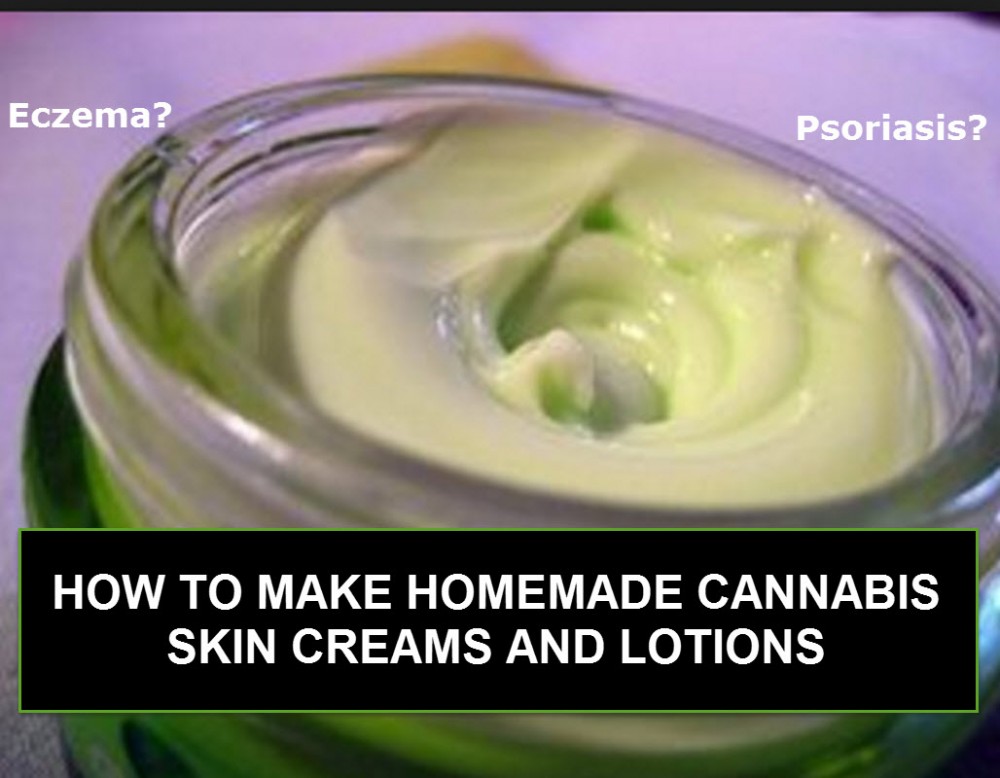 HOW TO MAKE CANNABIS SKIN CREAMS AND LOTIONS!
OR..