Dispensary Reviews On Cannabis.Net – Do's and Don'ts
Don't Ask For Reviews - This may seem completely crazy and counter intuitive but we actually don't tell dispensaries to get people to leave reviews for them on Cannabis.Net.
Are we crazy, as we nuts? Wouldn't that drive more traffic to our site and get more users interacting. Absolutely, so why would we rely on readers to leave reviews on not have dispensaries ask clients to leave them reviews.
Business tend to only ask their best clients for reviews. If a client is very happy and knows them well, they will leave them a stellar review. When a dispensary does this over and over, it greats a very suspicious looking review profile that looks fake or at least edited. No business is perfect and no pitcher can pitch a no hitter every time he goes out on the mound. Even the best pictures give up a few hits and runs in a game. So we want to hear from all the clients, good ones, bad ones, medium, and create a real, life like review page.
Our ranking on the map and listing page uses an algorithm to figure out the order of dispensaries in a crowded area. So the higher dispensary gets on its reviews and the more reviews it gets, the higher it ranks. We don't charge a dispensary for the 3rd listing in LA, or the 2nd list in San Francisco like our competitors. The listing orders is based on the package level they have selected with us in order to give us a starting framework, and then the reviews decide who is first, second, third. So reviews are important, if you like a dispensary or even a few, leave them good, but honest, reviews.
Cannabis.Net exists to connect people with great marijuana doctors, lawyers, vape stores, head shops and dispensaries. We try to supply trustworthy information and honest reviews. If buyers don't trust our content, people will stop trusting Cannabis.Net, and everyone loses: cannabis fans don't have a resource they can trust to make spending decisions, and future customers will stop visiting your business.
There's no silver bullet for a great reputation: the best way to see your favorite dispensaries rank higher on our map is to leave a review that is authentic. Also be sure to claim your business or dispensary on our map. If you know a dispensary that has not imported their menu or claimed their listing, let them know they need to do it and get active.
"I am a dispensary, how do I get more reviews on Cannabis.Net to rank higher?"
We certainly don't mind you telling your clients about Cannabis.Net and that reviews mean a lot on there. We just don't want you to tell them, go review us NOW! Try saying something like "Check out our menu and daily deals on Cannabis.net, the reviews on their move us up in rank." The different is between actively pursuing testimonials and simply creating awareness of your business through social media outlets.
The non-aggressive push when talking to a client about your online reputation is about bringing awareness without feeling like they're being forced to write a review.
Here are some ways to remind customers that you're on Cannabis.Net without being aggresive:
Put a badge and link to your dispensary or doctors listing on your website - we provide the unique graphic for each dispensary, you just paste it into your website. We can then link this to your unique dispensary page on Cannabis.net
Put a "Cannabis.Net Mapping" sticker in your place of business, on the front counter or window. These have even been spotted on business-branded vehicles. We can mail you the stickers and signs and have them to you in 48 hours.
Include a link to your Cannabis.Net profile in your email signature with the words, "Check us out on Cannabis.Net!"
Want to leave a review, find a dispensary, or claim a dispensary or listing? Click on the Map above or type in the address!
OTHER ARTICLES YOU MAY ENJOY...
SO, YOU WANT TO OPEN A MARIJUANA DISPENSARY, CLICK HERE...
OR...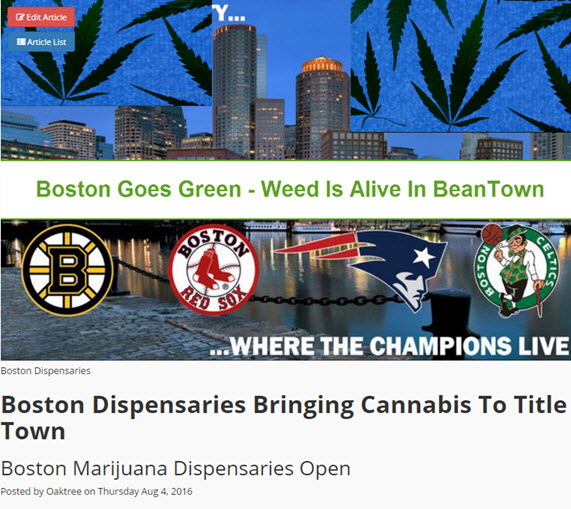 BOSTON DISPENSARIES ARE BRINGING IN THE GREEN, CLICK HERE TO READ..
OR..