Lebanon: First (And Last?) Arabic Country To Legalize Medicinal Cannabis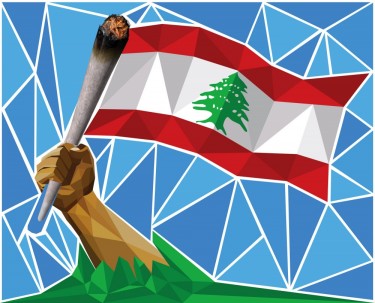 How Far Will Implementation Go?
The Arab world is famous for its exclusivity and conservative values. Much of them are closed out to the rest of the world, notorious for their harsh and strict rules especially when it comes to drugs.
While that's what most of the world sees them as, to say that they are strict about drug use is generalizing. In fact, cannabis use goes back thousands of years. Consider the fact that the entire region is known for its extreme heat: this has, for the longest time, dictated what kinds of plants and animals can survive here. For cannabis to survive in the Arab region, it needs to produce a thick resin to coat the flowers and leaves though the resin also serves as a vital protection by preventing moisture from evaporating into the air.
This resin is known by another name, one that many of us know and love: hashish.
There are several historical texts that refer to the use of cannabis and hashish in ancient times in the Arab world, so why is it still so frowned upon in most of them?
Lebanon Makes A Breakthrough
In July of this year, Lebanon became the first country in the Arab region to legalize cannabis for medicinal use. Lebanon, home to 6.8 million people, actually supplies 6% of the world's cannabis. They are the third biggest exporter of the plant despite it being illegal for many decades.
But in April of 2020 when COVID-19 struck the world, their government was surprisingly still able to legalize pot for industrial and medicinal purposes, making history as the first Arab nation to do so. But it wasn't for any other reason than to save their struggling economy. The Lebanese government didn't consider it until McKinsey and Company, an American consulting firm, told them about how legalization could help the economy.
According to Dr. Nasser Saidi, ex chief economist at the Dubai International Financial Center who also acted as the nation's minister of economy from 1998-2000, the move to legalize cannabis for medicinal use makes sense considering they've long been producing hash. "In particular, the crop has helped the poorer areas of Lebanon, mainly the Bekaa Valley, and allowed agriculturalists to survive because many of their other crops aren't necessarily exportable," he disclosed to Arab News. "For the more traditional crops like potatoes, beetroot, olives and others, there is a lot of competition, whereas for hashish there is much less competition."
"Lebanon can build its reputation as a source of quality hemp. Medicinal marijuana in particular can be an important high-value export product," he says.
Saidi also refers to how the United States and Canada have been able to capitalize on its legalization. "There is no reason why Lebanon should not be abel to successfully and securely decriminalize hashish," he adds.
A Solution For An Ailing Economy
It's not the first time that Lebanon has considered legalizing cannabis. Walid Jumblatt, Druze leader, suggested it before, though it wasn't until McKinsey and Company discussed it with the government that they actually took concrete steps.
Lebanon's outgoing Minister of Economy Raed Khoury told Bloomberg that exports of medicinal cannabis has the potential to rake in $1 billion in sales revenue each year. They need the money to pay off their debt, which is massive considering they have one of the biggest public debt figures in the world, amounting to 150% of the GDP. But legalizing cannabis for recreational use is no longer attracting support.
"Hemp crops in Lebanon cover an area between 200,000 and 300,000 dunums (10 dunums are equivalent to one hectare). One dunum produces between 1,000 and 2,000 kg of raw cannabis that can be transformed into 4 to 8 kg of pure resin," explains Hassane Makhlouf to Le Commerce Du Levant, Lebanese University professor who studies the country's drug trafficking trends. "The army has given up on field destruction campaigns since the beginning of the war in Syria, and the increased pressure on the traffickers this year has generated large stocks of unsold product in the farms," adds Said Gedeon, Zahleh's Chamber of Commerce director of the Agriculture Department.
One Major Hurdle
Though it seems like legalizing cannabis would simply be the best way forward, economy and agriculture considering, there is one major hurdle: Hezbollah.
The Shiite Islamic Lebanese political party is extremely influential in Lebanon, where they also operate as a militant group. They've been opposing legalization of cannabis, which can present serious obstacles to the program's implementation since Hezbollah has a wide following. Many are skeptical that Lebanon would be successful in moving forward with the legalization because of Hezbollah's opposition despite the fact that they could benefit from the cannabis market, but they would need to be directly involved in the program and earn from it.
Hezbollah is aggressive, to say the least. The recent death of Ali Zaid Ismael, a drug dealer who was also referred to as the Pablo Escobar of Lebanon, was blamed on Hezbollah. Ismael's death triggered several protests against the militant and political group, who continues to recruit young men to join their ranks.
However, if young men were given the incentive to grow and sell cannabis then sell it to the Lebanese state at a government-set price, would it be lucrative enough to ensure they are not attracted to Hezbollah recruiting? Doing so could actually do dramatic favors for improving the socio-economic situation in many parts of Lebanon, especially the Bekaa region which serves as the cannabis cultivation hub of the nation.
LEBANON AND WEED, READ MORE...