Colorado Imposes New Regulations On Edibles To Keep Kids Safe
Getting high by accidentally eating space brownies might be fun for adult tokers, but things aren't that funny when children unintentionally consume edibles that contain THC. To address this problem in Colorado, the state issued new regulations that required edible manufacturers to redesign their products to include a diamond-shaped stamp and the letters THC clearly written on both the packaging and on brownies themselves.
The rule was a response to complaints that many marijuana edibles today look too much like innocent candies and treats, which underage kids could accidentally ingest. It's the first ruling of its kind in any state that has legalized marijuana.
The diamond and THC lettering is Colorado's new universal symbol, required for all edibles that contain THC to give it a unique distinction, even after the product has been taken out of the package. This way, treats and candies with THC can easily be identified even by parents without the need to taste or smell them.
Colorado's new packaging requirements also demand that edible manufacturers follow stringent rules for packaging and labeling. The goods should come with lids, childproof zippers, and clear warnings that the contents should be kept from children's reach. Warnings should also indicate that the contents shouldn't be consumed prior to driving, or if the consumer is nursing or pregnant.
State rep. Jonathan Singer, sponsor of the law on stamped edibles, says, "We want to ensure that people genuinely know the difference between a Duncan Hines brownie and a marijuana brownie, just by looking at it."
Although there are currently no studies in any state quantifying the number of accidents that happen as a result of either kids or adults accidentally consuming cannabis in edibles. However, this year there was a study at the Children's Hospital Denver which revealed that after cannabis was legalized in the state, more children were admitted for accidental marijuana ingestion. In 2015, there were 16 children aged 9 and below who had to be admitted to the Children's Emergency Room. Despite legalization, it's estimated that 6 out of every 1,000 ER visits are caused by exposure to marijuana. The results of the study were published online in the JAMA Pediatrics site.
The problem of accidental cannabis ingestions are rare, although it's still a problem that needs to be addressed to ensure safe and responsible consumption in the part of adults with children who keep edibles around at home. When these things happen, it catches the eye of lawmakers, who can continue to make legalization difficult if such incidences continue to happen. While this law was passed over a year ago, it's only taking effect now since there have been challenges in implementation. There has been no other state aside from Colorado which has even considered universal symbols for products that contain cannabis.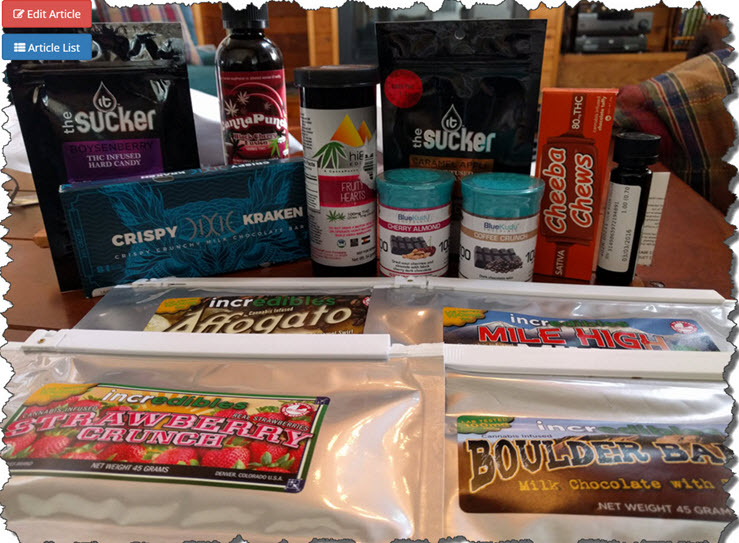 For edible manufacturers, the label requirement has its own difficulties. While it's easy to produce cookies and other kinds of baked goods with stamps, other products just aren't so easy, such as powders, sodas, granola, and other similar things. These items, considered impossible to stamp, still have to abide by the rules. Soda for example, is now required to come only in single-serve packages. Colorado state also requires that all packages for edibles contain the clear warning "Keep out of reach of children."
With the efforts in place, the state still can't estimate how many accidents they can prevent once all the manufacturers abide by the new rules. In 2017, Colorado will also ban the production of edibles that come in shapes that may appeal to children, such as the shape of humans, animals, or fruits. This is on top of the current ban against cartoon characters used in the packaging of cannabis edibles since it would be a lure to children.
According to Ron Kammerzell of Colorado's Marijuana Enforcement Division, ""It's really a step in enhancing public safety and making sure that marijuana is out of the hands of children."
REEFER MADESS, KIDS WILL EAT ALL YOUR EDIBLES, CLICK HERE..
OR..