We traveled far and wide and asked almost every bud tender we could come in contact with a basic question, "What are you favorite edibles, and what are the best edibles on the market?". For those that are new to edibles or the cannabis game, edible marijuana and cannabis is exactly what you would think it is by the name, a food or drink with cannabis or marijuana in it. You may ask yourself, why would someone want to eat marijuana when you can just smoke it? Good question, let's go over a few popular answers.
Best Marijuana Edibles on the Market? from CannabisNet on Vimeo.
1. Edibles are more potent than smoking marijuana - When smoking marijuana the THC and CBD (ingredients in the leaf that make is so much fun) enter your system through your lungs. This works well and has worked well for years. When you eat the TCH and CBD, it enters your system through our stomach and liver. This gets into your blood stream faster and causes a much stronger effect on the brain.
2. Edibles are much more discreet than smoking - If you are a soccer Mom or business man looking to get the marijuana effect going on, it is much easier to pop a marijuana gummy bear into your mouth or a square of chocolate than pull out the pipe, lighter, bong, grinder, and weed bag. Plus, the smell and smoke are a dead giveaway for people to figure out what you just did on your lunch break.
3. They actually work out to be generally pretty cheap per usage and effect. - An adult portion is considered 10 milligrams. Most recreational edibles come in 10mg dosages or 5mg dosage. So the chocolate, lollypop, or gummy bear will clearly be marked as 5mg or 10mg. To be clear, 10mg to a beginner or even advanced stoner is enough to get you sky high for a good 3-5 hours. This is full on high, almost a tripping effect. Most beginners are encouraged to try a 5mg dose to start and see how it feels. The one thing with edibles is that they are similar to hallucinogenic drugs is that, once they kick in, there is no turning them off. You are high and stoned and there is no turning back on a dime, like you may be able to do after smoking a joint.
Most 10mg adult dose chocolate bars run around $25 and have 10 servings each. So you are paying $2.50 a dose for a long and strong high. Hence, we recommend starting with 5mg for beginners.
4. Easier to travel with and conceal - Putting edibles in a bag with other chocolates, nuts, and raisins make them almost impossible to be detected when traveling. Not that we recommend that, but just a lot easier to blend in with regular foods than a pipe, bag of weed , and bong.
5. The dosages can go much higher - If you have a medicinal card and wanted edibles, your dosages can be much higher per serving. Medical bars for example can have as much as 30mg per serving in single chocolate square, as opposed to the 10mg that recreational buyers have to settle for the time being.
We decided to travel to the #1 ranked edibles dispensary in the world, the Giving Tree, in Denver, Colorado. We talked to all their bud tenders and even their owners to see what edibles were their favorites. After that, we hit about 25 more dispensaries and dozens of bud tenders to see what they would recommend for a tasty enjoyment.
In full disclosure, Snoop's line of edibles was just starting to hit the market at the time of our grading. We did not include his edibles, although early reviews said, although they are more expensive, they are excellent.
So let's get right to our review of the best marijuana edibles in the world and what you can expect from each one.
5. CannaPunch by Frosted Leaf - 100mg Bottles - For those that haven't tried the liquid forms of cannabis, you better be ready. Recommended serving is around a table spoon and a half. When we first picked it out our bud tender gave us a sly smile and said, "Oh yeah....it works....wellllll." We were not disappointed as we measured out the serving in the attached cup and tried the Cherry. The cherry flavor was sweet and tasted just like a regular fruit punch you would buy that the store. The high kicked in after we ate a few chips and got the mixture really in our blood stream. This was a full on high and enjoyment. Be prepared to giggle, laugh, and have fun. When tested by a veteran cannabis user, he said the next day, "Oh yeahhhhh, that stuff works. First time on the liquid, and it works well."
4. Blue Kudu - This is a "go-to" for most edible connoisseurs. Blue Kudu has been around awhile and makes a solid product. They have a very large distribution network and you can find them almost anywhere. Their chocolate bars are small and compact, unlike other makers who make bars that are longer and thinner. They are easy to conceal and you feel like you are eating a cube of chocolate, not a square. The high is potent and long lasting, there is no shaking this one off. These guys know their stuff, and they deliver on their dosage. They Blue Kudu comes in different flavors like mint and chocolate cherry almond.
3. Cheeba Chews - Cheeba Chews are the gold standard among some bud tenders. They have a massive marketing channel and have been around a long time. They also have a loyal following and you will not be disappointed by their taffy like, chewy, candies. The feeling is enjoyable as well since it takes longer to chew. You feel like you are getting a longer period of enjoyment in the mouth, as compared to just eating a piece of chocolate.
Cheeba Chews come in a variety of flavors and styles. Flavors you can figure out, but by styles we actually mean you can get sativa only Cheeba Chews, indica only Cheeba chews, and even hybrid Cheeba chews. You can even get 10mg doses on the medical side, and 8mg and 4mg doses on the recreational side.
Cheeba Chews have won many awards and has been featured in High Times as the best edible money can buy.
2. Incredibes Cannabis Infused Chocolate Bars - These guys won the "2015 Cannabis Cup Best Edibles" for their Affagoto cannabis bar, which is a vanilla bean, espresso and caramel swirl cannabis bar. Their chocolates are delicious to eat and they pack a punch. The make a Hershey bar type candy, where you can break of premeasured 10mg square on the recreational side, and 30mg squares on the medicinal side. Some of our judges loved their Mile High Mint, while others loved their toffee infused Boulder Bar.
The Incredibles bars come in some solid child resistance packaging, so if it is your first time, read the directions on the back. This is a very good thing obviously, but it can also be very frustrating if you are already stoned or have had a few drinks. The judges found, that like most edibles, the best way to get the active THC ingredients to kick in, was to eat the sample, wait a few minutes, then eat something starchy to get the liver active. Any potato chips or popcorn will do at that point. That really seemed to get the blood flowing, not pun intended, and speeded up the process.
Overall, a highly enjoyable product that tasted great and worked to perfection.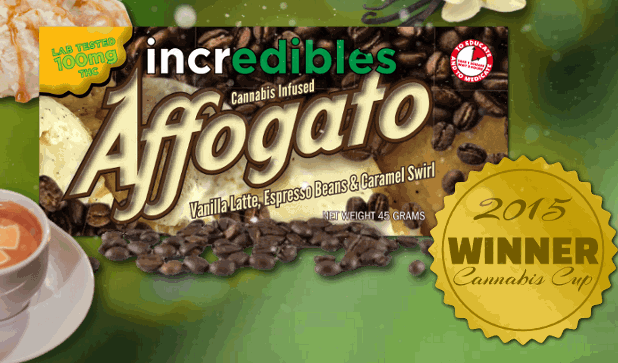 And the winner of our first edibles competition goes to…
Love's Oven Cookies and Edibles – It was surprising how many bud tenders either named Love's Oven Cookies and Edibles as their favorite or top 3 as far as the one edible they would want to take home with them if they could only have one. As one bud tender said, "Even though it looks like a feminine hygiene product on the outside, the cookies are awesome." What makes this high so great? For one, the cookies are made so they are strain specific. You don't just pick your THC, CBD, or hybrid cookie; you can actually see which strain the cookies are made with and pick the cookie or candy by strain. This is a huge plus on the medical side as now you can match up your cookie to your prescription or best strain that helps you with whatever aliment you are dealing with at the time. The cookies also tasted great, and since you are eating sugar and TCH together, the effect in the blood stream is potent.
When asked about the packaging being, well, feminine, we were also told that they have heard that many times and that Love's Oven is actually working on some new packaging. Their medicinal ginger snap cookies pack a massive 20mg per cookie of TCH, while their recreational ginger snaps still pack a wallop at 10mg per cookies.
Honorable Mention – Although it was a new product, the new Snoop peanut butter squares where getting rave reviews from some of the bud tenders as awesome and pushing more to the high end branding market.
Do you have a favorite edible or have a comment, leave it below!
OTHER ARTICLES YOU MAY ENJOY...
TIPS FOR PICKING THE RIGHT EDIBLES, CLICK HERE...
OR...
PROBLEMS WITH EDIBLES RIGHT NOW, GET THE LIST, CLICK HERE