Will Louisiana Go Legal in 2021 after Clearing the States House of Representatives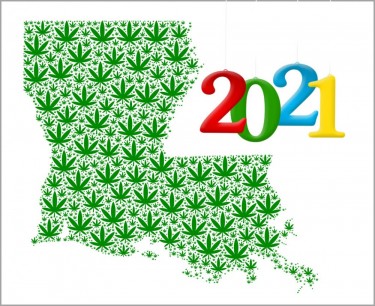 Everyone wonders what the future holds for the cannabis industry in Louisiana. Seeing that a few weeks ago, the House passed a bill that would reduce the penalties for the recreational use of marijuana.
The personal use of marijuana has been illegal for a very long time not only in Louisiana but in some other states in the US.
With this bill, any Louisiana resident found with less than or at most 14 grams of pot is safe from serving jail time. This is the same weight as an empty soda can.
The bill passed on May 12, 2021.
Sponsored by Representative Cedric Glover, this bill is a welcome development to the people of Louisiana. This is because, before the bill, the existing laws allow for the criminal prosecution of Louisiana citizens found in possession of the drug. The law did not waive these penalties for first-time offenders.
Previously, if a person had been found with an amount of cannabis, he or she had to go to trial. Upon conviction, they may pay as much as $300 in fines or be sentenced to at least 15 days in jail— This is for first offenders with less than 14 grams of pot.
For others arrested on possession counts for having more than 14 grams of pot, the fine can go as high as $500 with a jail sentence of six months or more.
This bill would erase any form of jail time for first-time offenders. The fine would also be lessened to as little as $100 for ensuing convictions.
Depending on the financial capability of a convicted person, the court would be allowed to discern the payment plan for fined cannabis users. If it is discovered that the defendant is poor, he/she may either be subjected to community service or installment payments.
This way, the jails will not be congested.
Once this bill gets affected, anyone caught disobeying the new regulations will be issued a summons. This can be likened to a traffic ticket. This bill would be affected in all areas of the state, including the three largest cities— New Orleans, Baton Rouge, and Shreveport.
I wish to point out that these three cities have passed similar acts to reduce the penalties for convicted marijuana offenders. In March 2021, Shreveport was the last of these three to do this, and the penalties of the city include a fine of $50 and/or community service.
The Glover bill is not the only cannabis bill introduced this year
Last year seems to have opened the eyes of several politicians to the benefits of cannabis reforms in their states. This year alone, more than three cannabis-related bills have been introduced to the Louisiana state's House of Representatives. However, only Glover's has been widely accepted by the majority of the reps.
Another bill worth mentioning is that sponsored by Representative Richard Nelson. This bill proposes to totally decriminalize cannabis state-wide. If this bill is approved by the house, a legal market for the growing, selling, and buying of recreational weed would be born. With necessary regulations and tax procedures put in place.
It has been approved by the house administration of the criminal justice committee.
In a few weeks, we will know the direction of this bill, as it is slated for floor debate in the full house before June.
Representative Nelson is also backing a proposed licensing bill for recreational cannabis
This bill has had its second reading in the house with zero objections raised by the Reps present. In the event that this bill is passed, entrepreneurs would pay a yearly charge of $2,500 for cannabis business licenses.
Louisiana citizens that wish to cultivate pot for personal reasons would also pay $100 annually to obtain a cultivation license. These changes would go a long way in improving municipalities and law enforcement in the state.
Taxing Cannabis
There might be a law to impose a tax on cannabis sales in Louisiana. This can also be ascertained as soon as the drug is decriminalized.
From the proposals put out, adults would have to pay a 15% sales tax on cannabis products procured. This will in no way affect the state and local taxes already being paid.
With this law, all illegal cannabis businesses will be required to obtain tax stamps for all products.
However, this can only happen if the drug is legalized statewide.
Medical Cannabis is not left out…
Recently, the house approved a law that would allow patients in the state to procure whole-flower marijuana plants. This bill is meant to reduce the limitations in the Louisiana medical marijuana program.
This bill was passed with a landslide victory of 73 to 26 votes. In the coming weeks, this bill will be heading to the senate. The sponsor of the bill, Tanner Magee, said that the bill would go a long way in reducing the cost of cannabis to the Louisiana citizens that need it. It would also enable them to purchase products that have minimal side effects.
As soon as this bill is approved by the senate, medical practitioners in Louisiana would finally be able to recommend conventional marijuana products to patients. These patients would be permitted to purchase up to 70 grams of cannabis within 2 weeks from licensed dispensaries. They would be allowed to smoke these products.
Last Words
The governor might act as a stumbling block to Louisiana going legal with adult-use cannabis this year. The governor has always embraced his stance on being anti recreational cannabis legalization.
Recently he was quoted to have promised to take a look at the bill that would be sent to his best by the house. "I will take a look at it at that point and make you all know exactly how I feel about it", said the Louisiana Governor.
The state legislators have to maintain their current pace for them to advance these cannabis reform bills. It is not new that the majority of Louisiana residents are in support of the legalization of cannabis for recreational purposes.
I for one am glad that the possession of cannabis will no longer be a sure path to jail in Louisiana.
MARIJUANA UPDATES FOR THE SOUTH, READ THESE..
THE LEGALIZATION UPDATE FOR NEW MEXICO, LOUISIANA, AND MORE!
OR..