Missouri Cannabis Companies Can No Longer Advertise Strain Names
In 2014, the Missouri Legislature enacted HB 2238, founding the Missouri Hemp Extract Registration Program (MHERP). The program enabled residents of Missouri diagnosed with intractable epilepsy to buy, possess, and use cannabis extract legally. However, the extract program only sanctioned extract use with a minimum of 5% cannabidiol (CBD) and 0.3% tetrahydrocannabinol(THC). The idea was that extract shouldn't contain any intoxicating substance.
The state also rewrote the Missouri criminal code in 2014 to lessen the sanctions toward marijuana possession with Senate Bill 491. These changes properly took effect in 2017, and since then, cannabis possession above 10 grams has been punishable by a fine.
In 2018, Missouri legalized cannabis for medical use but not for recreational use. Amendment 2 was passed down in the state in 2018. And in late 2019 and early 2020, Missouri began granting licenses to labs, producers, cultivators, and dispensaries. As dispensaries began to open, sales of medical marijuana slowly rolled to program participants.
A New Policy
It's the year 2021, and there's a new policy in town. Under a new directive from the chief compliance officer, Missouri medical cannabis companies can no longer advertise strain names. Not just that, medical cannabis companies can't also use other types of advertising aside from quoted prices listed on their website.
The confirmatory letter was sent from the Missouri Department of Health and Senior Services by the Medical Marijuana Regulatory Program director, Andrea Balkenbush. The letter also prevents cannabis companies from receiving online payments via third-party sites.
Balkenbush explains in the letter that the department believes a promotional event is any activity designed to increase public interest. Primarily, public interest in the purchase of medical marijuana or specific brand or product of medicinal marijuana. For instance, medical companies are prohibited from advertising discounts on the price of particular products. This is because advertising discounts would result in distributing medical marijuana based on a promotional event.
The president and CEO of Vertical Cannabis, Chris McHugh, also talked about his beliefs to the News-Press. He believes the direction taken to block third-party payment is a strategy to curb cannabis delivery services. He went on to say that it is also an attempt to avoid adult-use-like advertisements in the medical cannabis program.
Attorney Dan Viets, the chairman of the group that oversaw the organization of cannabis in the state, also supported the new policy. He mentioned that the policy would help weed out the competition within the industry. During the press conference, Dan Viets said that the welfare of patients is highly dependent on the level of competition.
Greenway Magazine, the company that monitors the Missouri cannabis industry, made some interesting claims. Greenway claims that medical cannabis sales in Missouri have passed over $100 million as of last month, both for year-to-date and cumulative sales.
Missouri medical marijuana laws
Since the legalization of cannabis in Missouri, some measures have been implemented to manage its medical use. At the top of the project, the Missouri Department of Health and Senior Services controls the entire medical marijuana program in the state. Most are also responsible for licensing new applications for caregivers, patients, and businesses.
It costs caregivers and patients about $25 to apply for medical marijuana and about $100 for a patient cultivation license. To qualify as a patient for medical use of marijuana, you must meet certain health conditions. These include;
Epilepsy

Cancer

Glaucoma

Constant migraines that are unresponsive to other treatments

A severe medical condition that causes persistent and severe pain, muscle spasms such as seizures, Tourette's syndrome, multiple sclerosis, and Parkinson's diseases.

Depleting psychiatric disorders such as but not restricted to post-traumatic stress order. A state-licensed psychiatrist must diagnose these disorders.

A terminal illness

Human Immunodeficiency Virus (HIV) or Acquired Immune Deficiency Syndrome (AIDs)

Severe medical conditions that are generally treated with prescription medication can result in psychological or physical dependence. In this case,e physicians must determine that the medical of mar ana could effectively treat such conditions. Not just that, the physician must also assert that medical use of cannabis is a safer option than prescription medication.

Competent diagnosis of a physician, other debilitating, chronic medical conditions such as amyotrophic lateral sclerosis (ALS), Crohn's disease, and neuropathies. Others include hepatitis C, wasting syndrome, cachexia, agitation of Alzheimer's disease, and sickle cell anemia.
Purchasing cannabis in Missouri
Caregivers and patients with DHSS-issued ID cards can buy medical cannabis from a state-licensed dispensary or have it delivered. In Missouri, patients can buy up to 113 grams (4 ounces) of unprocessed, dried cannabis or its counterpart in a month.
If there's news of getting more cannabis in a month, such a patient will need approval from two independent physicians. The physicians must also agree to the specific amount for such patients. As affirmed by state regulations, 3.5 grams of unrefined marijuana equals 100 milligrams of THC-infused product or 1 gram of concentrate.
As a general rule, all medical cannabis bought from a dispensary must come in original packaging.
Consumption of cannabis in Missouri
In Missouri, patients can only consume cannabis in private. And unlike every other state, Missouri has a special provision for property owners to dedicate a consumption space for patients. A family member, physician, or caregiver is allowed to follow patients to these consumption spaces. According to the provision, property owners can restrict the consumption of medical cannabis to edibles or non-smokeable forms.
Possession of cannabis in Missouri
Patients can possess a maximum two months supply of 226 grams (8 ounces) of dried marijuana or its counterparts. Caregivers and patients who cultivate marijuana can also possess up to 3 months' supply of 339 grams (12 ounces). However, patients and caregivers who grow cannabis can only possess this amount, provided the crop doesn't leave where it's grown.
A patient who possesses a quantity of cannabis more than the required amount will face a fine. Such patients may pay a fine of $200 and have their medical ID card rescinded.
Regarding non-patients, possession of more than 10 grams of cannabis or synthetic marijuana is a crime punishable by a $500 fine.
MISSOURI ADJUSTS TO LEGALIZATION, READ MORE...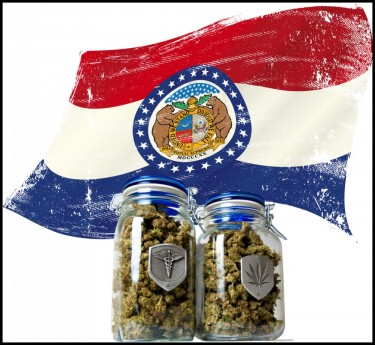 MISSOURI LEGALIZES MARIJUANA, READ HOW IT HAPPENED HERE!
OR...