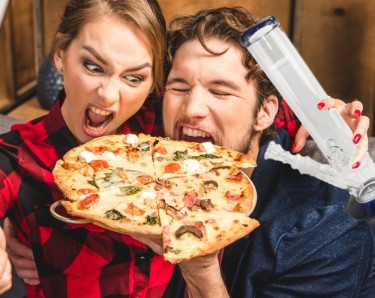 Why Does Food Taste Better High?
Most cannabis users can relate to the feeling of serious hunger after consuming cannabis or while in the midst of a cannabis high. You know what we mean; that immense craving to eat every snack in the fridge or quickly fix yourself a pickle and peanut butter sandwich in a split second. This common craving among cannabis users is what is termed "the munchies."
A lot of cannabis users will agree that one of the best feelings from smoking weed is the ample satisfaction derived from eating a bag of chips. Unsurprisingly, there are scientific reasoning that support why food tastes a lot better when high.
In this article, we will explore both the anecdotal and scientific evidence that surrounds munchies. Keep reading to learn more!
Why does cannabis make food taste so much better?
The existence of the munchies has not only been supported by science but also by anecdotal evidence. For as long as cannabis has been consumed, users have experienced munchies. This is why cannabis is majorly recognized by researchers as an appetite stimulant. However, it is not until recently that science was able to prove the theory behind it.
Food tastes better when high for many reasons, some of which include;
THC promotes euphoria
One of the central reasons why food tastes better when you are high is because of the body's distinctive endocannabinoid system (ECS). The ECS stimulates a feeling of joyful, psychoactive "high" when THC is consumed. THC, the psychoactive compound present in weed, interacts with the brain's CB1 receptors, resulting in munchies.
THC naturally affects the brain by stimulating dopamine production (the feel-good compound). Dopamine flooding the brain leads to a feeling of exaggerated pleasure and mind-altering euphoria while simultaneously reducing inhibitions. Meanwhile, existing anecdotal evidence implies that similar feelings also apply to the heightened feeling of eating high.
People who have smoked weed and went to town on a plate of food or box of ice cream can testify to this heightened feeling
Weed heightens hunger
In all of history, people have noted that smoking cannabis helps to improve their appetites. As a matter of fact, at the peak of the HIV/AIDs pandemic, a hospital volunteer popularly known as Brownie Mary shared cannabis-infused brownies to HIV/AIDS patients in the hospital.
Mary Jane Rathbun who went by the moniker Brownie Mary was a volunteer at San Francisco General Hospital at height of the AIDS crisis in the 1980s. She offered patients cannabis-laced confections to deathly ill men which helped patients eat more as they normally could not.
Brownie Mary reportedly baked more than 600 cannabis-infused confections every day by banking on weed donations from local cannabis farmers. She paid for the sugar, flour, chocolate, and butter using her monthly checks. Luckily, the effect of cannabis on hunger not only boosts appetite but also has vital medicinal properties.
Two decades after the heroic display of Brownie Mary at a time when cannabis was believed to have no medical value, it turns out it does. Now, cannabis has proven to be a wonder drug for the treatment of epilepsy, Alzheimer's, anxiety, chronic pain, and so on. However, it was cannabis's unique ability to boost appetite that initially had people to have to rethink the "War on Cannabis".
THC helps to play a vital role in the production of ghrelin. Ghrelin is a hormone that acts on the appetite center in the brain to facilitate hunger. And according to science the more hungry we feel, the more satisfaction we get from eating.
THC enhances food smell and taste
Giovanni Marsicano led a research study at the Université De Bordeaux in 2014 to determine if weed can certainly make food taste and smell better. The results and conclusions made by the neuroscientists who experimented proved positive. They discovered that cannabis interacts with the CB1 receptors in the brain and amplifies the sense of smell.
Considering the human sense of smell and taste are closely related, an amplified sense of smell rightly heightened the satisfaction derived from flavourful food. Hence, the cravings many experiences after smoking a joint.
To test the hypothesis, the team of neuroscientists observed mice fed wine banana, and almond oils. The study revealed that mice exposed to THC ate more than those who weren't. Also, mice exposed to THC spent more time sniffing the oils and didn't habituate as fast as those who weren't exposed to THC. This means at a time when odor detection is sensitized and increased, you are likely to eat less. However, you are also more inclined to relish the aromas, texture, and flavors of food
THC may not prompt you to eat more vegetables
While food cravings are heightened after smoking a joint, you may not be inclined to eat more veggies. So the question remains, why do we tend to seek sugary snacks and junk when high? Well, a recent study published in the Journal Neuropharmacology answers the question. The study also supports the scientific reasonings behind munchies. The study proves that THC amplifies the pleasure we get from eating sugary, delicious, and high-calorie foods but has little or no effect on the food we already hate. This conclusion was made by a team of scientists at the University of Cagliari, Italy.
In simple terms, smoking weed is unlikely to magnify your love for food or vegetables you don't already like.
Certainly, smoking a joint might prompt you to tap into your inner chef, making a concoction of every ingredient in your kitchen. However, stoners sometimes just hit their snack stack after getting high. A research study evaluated data in hundreds of counties across the United States and discovered that the legalization of recreational cannabis can be linked with increased sales of junk foods such as cookies, chips, and ice cream.
Conclusion
Everyone who has ever smoked a joint and experienced the munchies can testify to the cravings. Eating at such a time can become another high of its own. With science backing this feeling, now you understand why you experience munchies. You can now fully enjoy that bag of chips, ice cream as well as PB&P with the scientific understanding of why food tastes better when high.
MORE ON THC AND APPETITE, READ THIS...