Hat tip to Alan Brochstein, CFA on Twiiter @invest420 for tweeting this out.
The Cannabis Industry Will Be Worth $10 Billion By 2020 from CannabisNet on Vimeo.
How big is the medical marijuana industry expected to get? Well, if you have checked out Vice on HBO or read any research reports, you know we are on the cusp of a generational type opportunity. We recently published our top marijuana investments and why you need to get started, if even part time, in this niche.
Ackrell Capital now forecasts a $100 Billion cannabis and marijuana market by 2029. They have just published a 118 page report on the "state of the industry", which you can check out by clicking here.
To summarize:
The research piece covers a lot of background for the industry, including an overview of the basics of cannabis, the legislative landscape, and legal issues for investors to consider. One of the more interesting aspects of the report is the forecast of the size of the industry, which is based upon a 2020 end to federal prohibition. Ackrell Capital expects the legal market to rise to almost $10 billion by 2019 and then really take off following legalization. The company forecasts a $50 billion market within a decade for recreational and medicinal cannabis, but it also expects to see a very large pharmaceutical component that accounts for half of the overall forecast of $100 billion in 2029.
That would be $100,000,000,000.00, as in more money than Dr. Evil demanded to not blow up the moon!
For a look at how the pace of the industry should be picking up as more states and countries legalize it, check out this chart.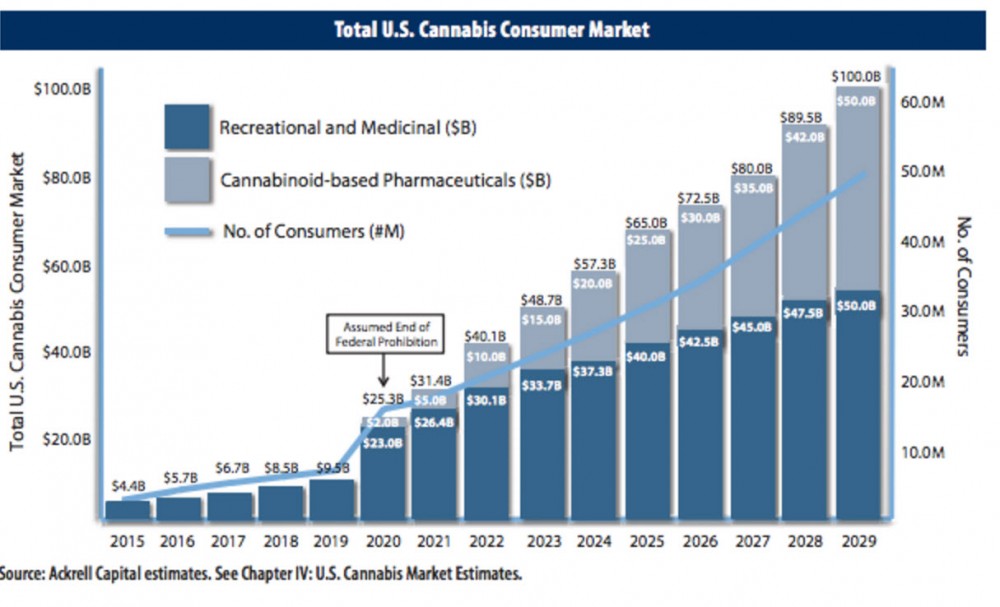 MARIJUANA BUSINESS PLANS THAT GET INVESTORS TALKING, CLICK HERE TO READ...
OR...
TOP 5 REASONS TO INVEST IN MARIJAUAN RIGHT NOW, CLICK HERE...