Europe Cannabis News
Switzerland Teams Up With Israel To Create Better Medicinal Cannabis
A Swiss cannabis company, Pure Cannabis Research AG, has teamed up with Israel-based NRGene, a gene sequencing firm, in order to create improved strains of cannabis for patients.
In a press release revealed last week, the collaboration was announced with the intention of breeding cannabis varieties that would be customized to meet the needs of customers. Researchers will be creating cannabis strains that yield hardy and healthy plants for maximum production.
The new strains will have tailored cannabis, terpene, and flavonoid profiles for specific ailments, such as sleep problems and pain. They will also develop unique flavor profiles for use in energy drinks, as well as products that can be used as an alternative to tobacco.
The non-exclusive collaboration "will facilitate more rapid development of cannabis varieties than the current industry standard," says the release.
Steve Senn, CEO of Pure Holding Group, explains that the partnership will assist Pure Cannabis in identifying the ideal genetic traits of cannabis needed to create new strains to maximize the expression of these desirable traits. The end product will be used in their new line of CBD products.
"We're at the forefront of providing safe, non-addictive, CBD-based products for tobacco alternatives, beverages, cosmetics, and other uses for the Swiss and European markets," Senn explains. Pure Holding Group and their subsidiaries currently operate two facilities with a combined total of over 300,000 square feet of both indoor and outdoor high-CBD cannabis grows.
NRGene has already successfully mapped genomes of several crops including strawberry, barley, potato, oats, and wheat. "NRGene has refined the process for identifying key genetic traits across virtually any species of plants, so we are partnering with them in order to support our breeding program and develop plants with any trait that is biologically possible to best serve the international and national markets with new varieties," he explains.
According to Dr. Gil Ronen, CEO of NRGene, the partnership with Pure Cannabis will create a better understanding of the therapeutic benefits of all kinds of cannabis.
"The recognition of the importance of cannabis in specific and hemp in general is growing globally, whether for a plethora of medical problem or as a valuable, renewable resource with many eco-friendly uses," Dr. Ronen explains. "Cannabis is being increasingly recognized as the most viable solution for many health problems, and we're gratified that we can contribute to people's well-being."
Medical Marijuana Seen To Lead Growth In European Market
The first 6 months of 2018 revealed impressive growth in the European cannabis market, eclipsing the growth of the last five years combined.
The data, compiled in the European Cannabis Resort, was released by Prohibition Partners. It explains that the growth of the market is expected to be enhanced by social, economic, and political factors, combined with the fact that 6 nations in the region are already working on legalizing cannabis on the medical level.
The report also states that the growth of medical cannabis, as opposed to recreational, is expected to be the main cash cow in Europe because of the rise in political conservatives – at least for now. The continent, home to some 740 million people and a massive public health care system, and if all member states of the European Union would legalize medical cannabis, this segment alone could be worth more than $62 billion, a figure achievable by 2023.
Most politicians in the continent are prioritizing medical marijuana although some governments are already seeing the benefits of legalizing recreational pot. Cannabis makes up a significant portion of the black market in Europe, but research shows that legalizing it for recreational purposes may offer benefits in reducing drug use in teens while decreasing crime rates. Additionally, a legal recreational cannabis market would also spur job creation and tax revenues in Europe as a whole.
Germany, in particular, plays a pivotal role because it has the most influence in the European Union. They tend to pave the way for policies that other nations follow suit. Other countries, including Malta, Denmark, Italy, and Greece have also considered legalizing cannabis for recreational use.
The European cannabis market is still very much in its infancy, unlike other established and mature markets like the USA and Canada. Growing, R&D, and distribution are among the areas that continue to see growth in Europe.
European Cannabis News Update from CannabisNet on Vimeo.
OTHER STORIES YOU MAY SHOULD READ...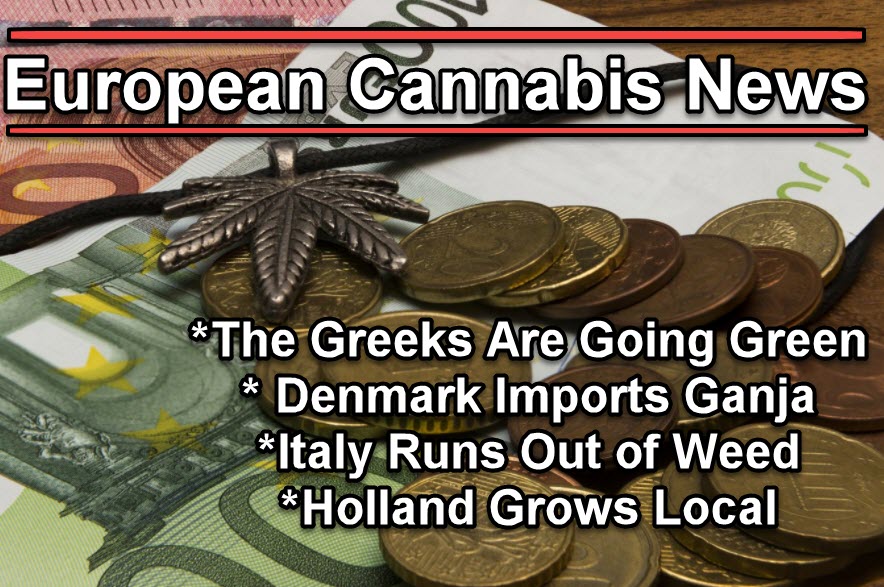 EUROPEAN CANNABIS NEWS FOR GREECE AND ITALY, CLICK HERE.
OR..