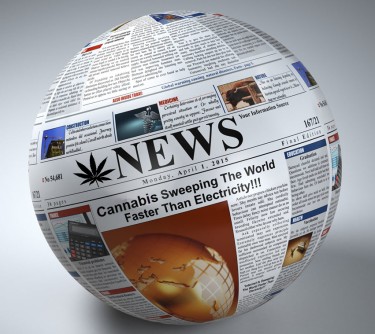 Swiss Town To Pilot Recreational Cannabis Sales
Basel-Stadt, a region in northern Switzerland, announced that they will be starting pilot trials of legal marijuana sales by September 2022.
This marks an milestone for Switzerland, a potential first step towards marijuana legalization, reports The Straits Times. "The scientific knowledge gained from this provides a basis for discussion for a future responsible cannabis policy," said the region in a statement. Currently, cannabis can only be bought for medical uses, though non-medical marijuana use is widely available but it only contains under 1% THC.

Even though they have restrictions in place, marijuana use is popular throughout Switzerland.
These will be the first of many pilot trials that have received the green light from the Federal Office of Public Health, with the intention of possibly regulating adult-use cannabis sales. It will last for 2.5 years so that they can study "the effects of regulated cannabis sales on consumption behavior and the health of cannabis users compared to the status quo in which cannabis is illegally available," they said.
The Federal Office of Public Health adds that most of the Swiss population have expressed interest in changing the current drug laws. Trial participants must be over the age of 18, live in the canton of Basel-Stadt, and have already tried marijuana in the past. They will be experimenting with 6 various products, four of which will be in hash and cannabis flower form, with varying THC and CBD levels.
Germany's Health Minister Now In Favor Of Cannabis Legalization
Karl Lauterbach, health minister for Germany, was previously against the legalization of cannabis, reports The Local.

But he seems to have had a change of heart, admitting on the Heute Show that he smoked marijuana in the past. "It was pleasant, I have to say. It brings back pleasant memories," he said. Heute Show interviewers Lutz van der Horst and Fabian Koster confirmed with him that he was against it in the past, which Lauterbach then verified. "But the safety and security aspects of legalization have changed in the last years, in my opinion. I'm now for legalization," he responded.
According to Justus Haucap, the Dusseldorf Institute for Competition Economics' director, legalizing cannabis would bring tremendous economic benefits for the European nation. They forecast that taxes from a legal market could rake in some £4 billion in a year, plus savings from resources that were normally spent for capturing those who enjoyed using cannabis, reported The Guardian.
Germany's authorities also know that it will help minimize underage access. "We are talking about a regulation of the market," said Germany's commission on narcotic drugs, Burkhardt Bienert. "If we do it well, we can prevent adolescents from entering into intensive use. We don't want to repeat the mistakes we made with alcohol," he said.
After Thailand, Could Malaysia Be Next To Legalize Weed In Asia?
Thailand's wildly popular, albeit rather chaotic, transition to legal marijuana has made waves in the Asian region.
Now, Malaysia, another nation known for its strict drug laws, is mulling doing the same. At the moment, anyone found in possession of more than 200 grams of marijuana will be subject to mandatory death penalty. But a health ministry representative announced last week that the country is looking to learn from their Thai neighbor, after Thailand's health minister said they would be meeting Malaysia during a meeting this week.
The meeting's objective is for Thailand to share with APEC health ministers their work in legalizing the drug.
"We are developing our own framework for the usage of cannabis for medical purposes, and want to learn from Thailand," the official disclosed to Reuters, choosing to speak anonymously. The Malaysian government is specifically keen to learn how to regulate marijuana for medical use.
However, unlike in Thailand where the police turn a blind eye to recreational use, Malaysians shouldn't hold their breath when it comes to adult-use marijuana. Malaysian Health Minister Khairy Jamaluddin made it clear that they won't be allowing recreational use, while he was in Thailand on a visit to learn more about their practices and strategies. "I am here in Bangkok to better understand the clinical evidence and regulatory framework," he said.
"If the clinical evidence shows that cannabis is safe and efficacious for medical use, we will draw up a robust regulatory framework and clinical practice guideline," he adds. "Rest assured, recreational use is not being considered," he announced on his Instagram page.
Costa Rican President Reveals Recreational Marijuana Plans
President Rodrigo Chaves has just announced that they intend to propose recreational marijuana use to the Legislative Assembly. In addition, they intend to create separate rules for the hemp and medical marijuana industry.
Costa Rica already legalized MMJ and hemp even before Chaves was elected, so now they are moving forward with hemp cultivation as well as framework regulations for MMJ. They will also be adjusting the high cost of licenses. "They had to have very expensive licenses, some people told me that they are setting up the business for a group of influential businessmen," he said, as reported by The Costa Rica News.
"The licenses will not cost more than a symbolic amount and whoever wants to and can comply with the Law will be able to plant that product and will have the opportunity to process it," Chaves clarified.
With regards to recreational marijuana, he says that his office is working on the bill and they have already gone over the first draft. He also suggested that they will try to convince the deputies about approving it, adding that criminals are benefiting from the fact that recreational marijuana isn't legalized yet.
MORE CANNABIS NEWS, READ ON...