Corporate Cannabis Carves Up South African Marijuana Market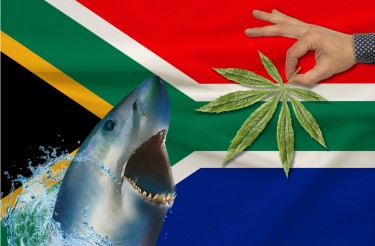 As countries and states take advantage of the new cannabis rush through legalization, South Africa is also embracing all the potentials it has to offer. The South African Government is set to introduce its cannabis master plan, enabling cultivation in the multi-billion dollar industry.
The government's plans have sparked a lot of interest in cannabis entrepreneurs, thus leading to mergers and takeovers within the South African corporate cannabis sector.
South Africa's masterplan
The government's plan entails creating novel programs for hemp cultivars and indigenous dagga* growers within the cannabis value chain. The master plan is set to take off in October 2021 when the country starts rolling out supervised permits for cannabis production.
Increasing the cannabis plant's plowing acreage, enabling corporate cannabis players to mentor South African growers, and the industrialization of cannabis production is also a part of the master plan.
Before this moment, the South Africa cannabis market, like most African countries, operated underground, which means the country didn't fully maximize the potentials of the cannabis economy.
Merger deals aplenty
As soon as South Africa's master plan got underway, varying merger corporate cannabis deals started to occur amongst industry players. For example, in May, Labat Africa offered R11.25 million ($816 000) to get a 75% stake in Leaf Botanicals.
Now Leaf Botanicals is one of the local companies with a cannabis production license given by the South African Health Products Regulatory Authority.
Leaf Botanicals also has a South African Health Products Regulatory Authority license to produce dagga for the medical community in the country. With this company taking the lead with corporate cannabis deals, it is safe to conclude that other companies will do the same.
One of the best ways countries maximizes the cannabis economy is to grant companies willing to invest in the cannabis sector. South Africa is already sending the signal to its cannabis corporate world that it is ready to move away from underground operations to mainstream investment.
The motives of corporate cannabis mergers
The South African cannabis market is still low-cost and virgin compared to other well-established cannabis markets like what is obtainable in some American states. Such a company as Labat reaching out to the cannabis market is understandable.
Before now, there weren't cannabis stocks registered on the Johannesburg Sticks Exchange (this is the largest stock exchange in Africa). This realization is different from mature exchanges such as the Toronto Stocks Exchange. The Toronto Stock Exchange currently has ten listed stocks that deal with cannabis.
Hence Labat in South Africa is seeking some early corporate move advantage because they know there will be a flood of cannabis stock on South Africa's Exchange.
Currently, South Africa's startups are cheaper in market capitalization compared to American and Canadian cannabis firms. This realization means that companies with a lot of money but with little cannabis corporate experience can get cannabis stocks in South Africa.
The entry-level for the companies to get into this new master plan will be at a lower price (for now), with operations left to the specialist startups. Their portfolio will grow ad they will have a lead with maximizing and expanding their cannabis revenue stream.
The cannabis startup potentials
So the question is simple: will the proposed startups succeed with this new move from South Africa? Well Leaf Botanicals which Labat bought for 816,000 with a 75% stake in a specialized cannabis startup, shows the viability startups hold.
Interestingly, the 75% stake is positively shocking compared to North American or EU cannabis companies. You cannot buy a growing and highly accelerated cannabis startup for that price. Yet, it is possible in South Africa because the country is ready to take the cannabis revenue streams seriously.
Corporate investors realize that the underground market is about to get busted and are ready to buy out the new South African cannabis business opportunities. They prefer investing in South African startups and corporations before considering Japanese, Canadian, Dutch or American corporations.
But the scramble for the South African cannabis market is not only for indigenous and local players. The South African investors realize that foreign players will start coming into the market to invest.
An example that confirms this international interest is Labat partnering with an American company Ace in May. The partnership was aimed at producing and selling smokable CBD in South Africa. They also desired to set a new trend with foreign firms entering the South African Market while relinquishing control to local players.
High profile investments in the South African cannabis industry (Highlands Investments)
The high-profile merger deals in the South African cannabis sector show that the corporate master plan is in motion. There are several high-profile deals in the South African cannabis market, but the agreement between Highlands Investments (called Canopy Growth) and Gold leaf tops the list.
Highlands Investment is in the neighboring country of Lesotho, while Gold Leaf is one of South Africa's pioneer cannabis brands. The merger is valued at R650 million ($45 million), which is a lot of money.
This deal is also the biggest vertically integrated cannabis venture in Africa. The Highlands investors take home 35% of the shareholding, and Gold Leaf takes 65%, which is the more significant share.
Initially, Lesotho, a country that Highlands operates from, quickly legalized cannabis cultivation ahead of South Africa's master plan. Lesotho gained the license for its growers to export medical cannabis to other countries. So when South Africa's new master plan is in progress, it will attempt to take over the Lesotho market.
Bottom line
Cannabis has a bright future and will play a crucial role in contributing to the economic boost of any nation. The South African government has unraveled the massive financial pockets and its potential and has created the master plan to hasten the process.
Investors want to explore the Lesotho and South Africa market solidly. South Africa is doing its best to attract these foreign investors who will work with local players. If South Africa gets things right with their cannabis market using their master plan, they will set a precedent for others to follow.
*The term "Dagga" is used in some parts of Southern Africa to describe cannabis.
MORE ON MARIJUANA IN SOUTH AFRICA, READ THIS...