State of Weed in Canada
The State of Weed in Canada from CannabisNet on Vimeo.
Marijuana Business Daily just released their first ever Canadian Marijuana Industry & Market Snapshot Report.
The report gives a glimpse into the state of pot in the Great White North, where the industry is so progressive that it can set the benchmark for the rest of the world. Canada has legalized cannabis at the federal level and as a result, they have a booming and robust market that has spawned some of the most prolific names in the cannabis industry. The success enjoyed by players in the Canadian cannabis industry has made it easier for them to expand in international shores.
Additionally, a green future lies ahead for Canada: in the near future they may be recognized as the first G7 country to ever legalize recreational cannabis, a sign of the industry's approach to maturity. Companies are gearing up for recreational legalization, knowing that with it comes billions of dollars more in revenues but will also attract competition and bigger players. Business opportunities continue to grow at a rapid rate, so much so that it's attracted stakeholders in the American cannabis industry as well as policymakers who aren't familiar with the dynamics of these new industries.
Marijuana Business Daily's report takes a dive into data obtained from Canadian government entities including Health Canada as well as the Office of the Parliamentary Budget Officer. The federal status of cannabis in Canada makes it easy to access quality data in bigger quantities than the United States.
Here are 7 of the best graphs from the report:
Number of Plant-Touching Marijuana Businesses in Canada Compared To The United States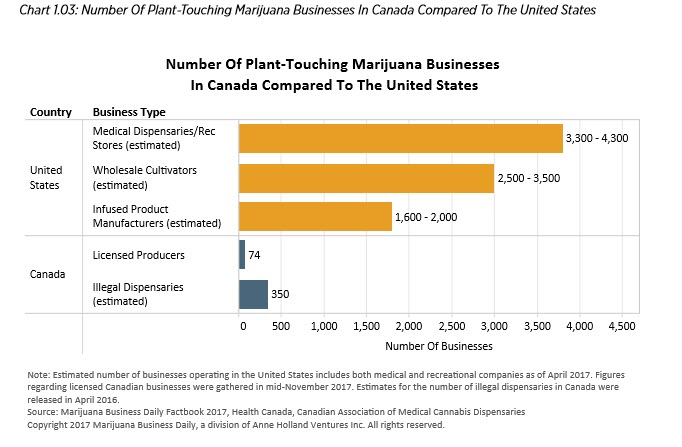 In the US, cannabis is still illegal at the federal level but each state has autonomy in operating their own cannabis industry. On the other hand, cannabis is legal federally in Canada and the government has allowed a small group of companies to produce cannabis and cannabis products.
Additionally, in Canada all MMJ producers are required to growth their own plant, make their own extracts, and take care of all sales functions in-house. While some MMJ markets in the US apply the same vertical integration, most states still license businesses throughout the supply chain. Dispensaries are still illegal in Canada but that doesn't mean they don't exist. You'll find dispensaries operating in major cities such as Toronto and Vancouver, and they can get away with it because unless there are complaints, law enforcement hasn't been prioritized.
Total Number Of Registered MMJ Patients In Canada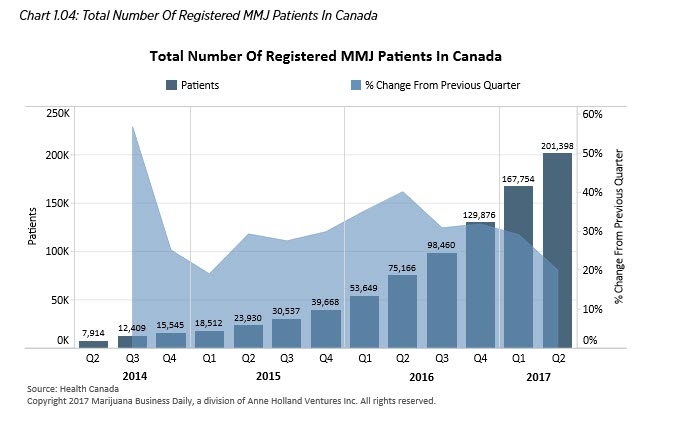 MMJ patient numbers have seen dramatic increases, relevant to the growth of more federally licensed cannabis producers in Canada. Observers believe that MMJ patients are making the most out of the fact that Canada has a liberal list of medical conditions for legally obtaining cannabis even if they are using it for recreational reasons. Others say that the rise in patients is due to the increased awareness of cannabis' medicinal uses among both physicians and the general public. The truth is that it's likely the result of both factors.
Estimated Retail Value Of Canadian Medical Marijuana Market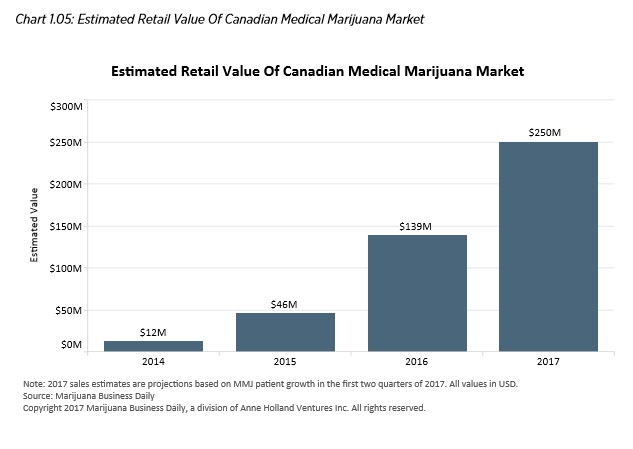 Naturally, the increase in MMJ patients resulted in a significant increase in sales as well. The Canadian medical market is predicted to bring in $250 million in sales by the end of 2017, a 65% increase from last year's sales. Rapid growth in turn has made Canadian investors and MMJ businesses eager for a piece of the green pie.
Sampling Of Publicly Traded Marijuana Company Market Caps: Canada Compared To The United States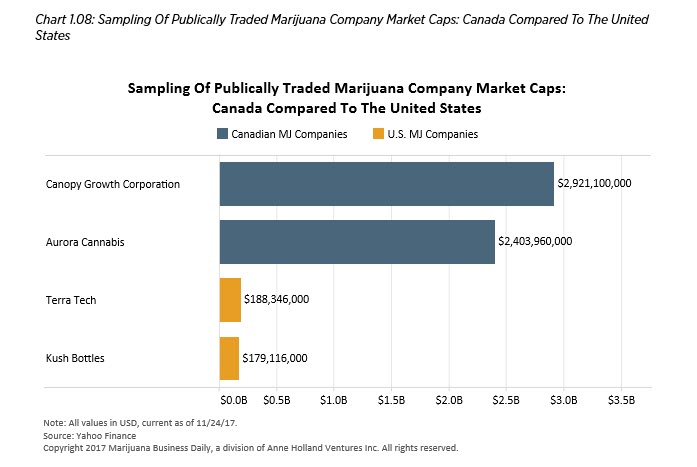 Canada's licensed cannabis companies are growing at a much more rapid rate than those in the United States. This is because the market only has a limited number of MMJ producers yet the number of medical cannabis patients continues to grow, as well as an increase in MMJ sales. The federally illegal status of cannabis in the US doesn't permit the biggest publicly traded cannabis companies – specifically, Terra Tech Corp. and Kush Bottles, to work as straightforward with cannabis as their Canadian counterparts. Terra Tech is a holding company whose subsidiaries touch the plant, and Kush Bottles doesn't work with the plant at all. These American companies are permitted to trade on over-the-counter markets however their value is limited when compared to cannabis companies in Canada.
Sampling of Canadian Marijuana Company International Activity
American cannabis products stay in American shores, but it's a completely different story in Canada. The federally legal status of cannabis of Canada enables cannabis producers to export products and operations abroad, provided that the countries they work with have also legalized cannabis. In the US, shipping of cannabis products across state lines is already illegal.
Many Canadian cannabis companies have taken advantage of this opportunity, setting up shop in budding markets abroad. These include:
Cronos Group: The Toronto-based firm expanded internationally through Peace Naturals Project, its wholly-owned subsidiary. Since October 2016, the Cronos Group has already been supplying medical cannabis to Germany.
CanniMed: The Saskatoon-based company just sent its first shipment of commercial cannabis oil to Australia, selling 3,600 ml of oil to Health House International, a renowned medical cannabis wholesaler based in Perth.
Tilray: BC-based Tilray has allocated $20 million for the development of an MMJ production facility in Portugal to supply cannabis to the European Union. Tilray is set to start operations in 2018, and is forecast to produce 55,116 pounds of MMJ come 2020.
Maricann Group: The Ontario-based group started Maricann GmbH, a subsidiary in Germany. They have just raised $42 million in funding to expand their presence in Germany.
Estimated Number of Cannabis Users In Canada In 2021: Breakdown By Frequency Of Use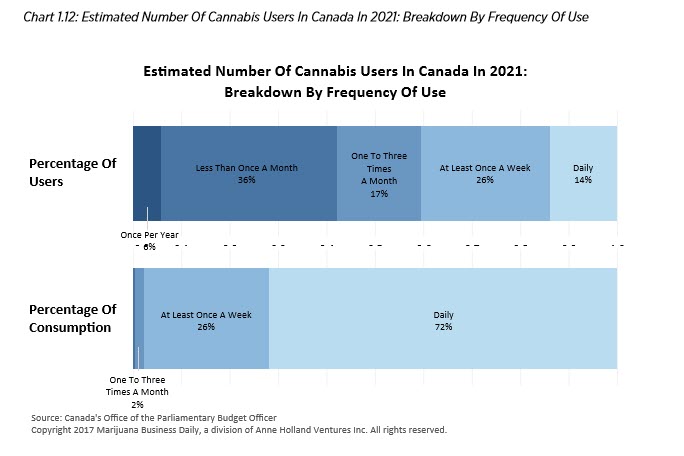 According to Canada's Parliamentary Budget Office, the number of cannabis users (both recreational and medical) 15 and up will be at 3.6 million by 2021, although they've provided a midpoint estimate of 5.2 million. It doesn't seem like any Canadian province will legally permit individuals under 18 to purchase cannabis; however this range provides a snapshot into the potential size of the Canadian consumer market after recreational sales begin.

Interestingly, the figures show that the greatest majority of consumers use cannabis less than once a month, while 14% of consumers use cannabis daily. 26% of Canadian cannabis users consume at least once a week, but the staggering majority use it daily.
Estimated Sales Of Recreational Marijuana In Canada To Domestic Users In 2021
It's difficult to determine the retail value of Canada's recreational cannabis market as of now, since the government has yet to decide on final regulations. An estimate of potential domestic sales can be extracted using the number of estimated cannabis users combined with their consumption rates and other assumptions on the Canadian recreational market, from which the report gathers there will be between 3.4 million and 6.7 million users by 2021. The initial price of recreational cannabis will be $8 per gram, but considering the nature of Colorado's recreational cannabis market, this figure may drop to $6.25 by 2021. If the black market prices decrease at the same rate as legal cannabis prices, around 80% of all cannabis consumption will be in the legal market. Lastly, 95% of all legal cannabis users will be purchasing from the recreational market.
Canada is poised to be the first major country with legal recreational cannabis. This is seen to impact tourism, as it may attract international tourists who are looking for a way to consume legally. However, buying cannabis in a foreign country may be tricky and will also have an impact on estimating the the size of the market. However, conservative estimates show that tourist spending for recreational cannabis may be in the hundreds of millions of dollars.
Investments In Canadian Marijuana Companies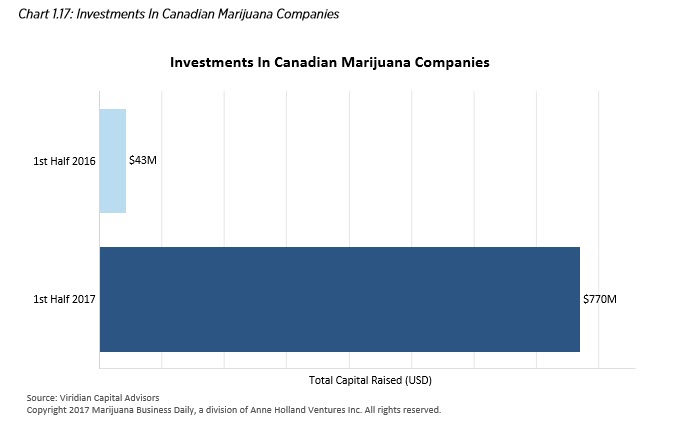 Investors are generally bullish on the entire Canadian cannabis industry. Companies are gearing up to intensify the supply to meet the demands of recreational sales by summer of 2018 as well as the growing MMJ market plus international demand for Canadian cannabis products.
Investments in Canadian cannabis companies rose significantly; during the first half of 2016 investments were at $43 million but one year later it grew to $770 million.
To get the report or to contact Marijuana Business Daily, just click here.
CANADIAN CANNABIS GERMANY, CLICK HERE.
OR..
WHAT THE USA CAN LEARN FROM CANADA LEGALIZATION, READ THIS.