Why Did Trump Extend the Federal Spending Bill That Protects MMJ Programs?
Last Friday, POTUS Donald Trump just enacted a $1.3 trillion federal spending bill that would include the extension of protections for state-legal MMJ operations from the Department of Justice.
Why?
Trump is looking at a 2020 re-election where 86% of the voters favor legalizing marijuana for medicla purposes and he knows Democrats are aligning themselves with pro-pot policies already.
The Rohrabacher-Blumenauer Amendment, also known as the CJS Medical Marijuana Amendment, has been renewed by Congress repeatedly with each approval of federal spending budgets since 2014. Almost 30 states already have a bill on MMJ in one form or another, yet cannabis remains a federally illegal substance in the United States. However, the CJS Medical Marijuana Amendment doesn't protect operations in states where recreational cannabis is legal, which includes Washington D.C. and 9 other states.
US Attorney General Jeff Sessions sent tremors to state-legal operations and advocacy groups as he strongly opposed the re-passage of the amendment. In May 2017, Sessions wrote to Congress lobbying against the extension of protections, which led many in the cannabis industry to think he was going to be successful in meddling with state medical cannabis regulations.
"I believe it would be unwise for Congress to restrict the discretion of the Department to fund particular prosecutions, particularly in the midst of an historic drug epidemic and potentially long-term uptick in violent crimes," Sessions wrote to Congress.
Thanks to the extension of the CJS Medical Marijuana Amendment, licensed cannabis operations in states where the drug has been legalized can breathe a sigh of relief…. At least for the next 6 months.
"The inclusion of the CJS Amendment in the House budget shows that Congress knows it must protect medical cannabis patients from AG Sessions and his Department of Justice. We are extremely grateful to the sponsors, Congressman Rohrabacher and Congressman Blumenauer, and the other members that showed leadership on the issue," says Americans for Safe Acces Executive Director Steph Sherer.
However, many lawmakers feel that the extension alone isn't enough.
"While I'm glad that our medical marijuana protections are included, there is nothing to celebrate since Congress only maintained the status quo," says Rep. Dana Rohrabacher. "these protections have been law since 2014. This matter should be settled once and for all. Poll after poll shows that the priority of Americans, across every party, strongly favor the right to use medical marijuana."
There has been strong and diverse support in re-passing the amendment. Last November 2017, 66 House members signed a letter to Congressional Leadership which indicated their plea to ensure that state medical cannabis programs remain protected. The letter was signed by 38 Democrats and 28 Republicans.
The bill is now being sent to the Senate and will undergo a limited time of debate to change the provisions.
The House Appropriations Committee will reassess the bill come fall, and if all goes well, it will be ready for fiscal year 2019 which means that it should be confirmed by November. During the assessment, at least 59 bipartisan lawmakers hope that adult-use cannabis is included.
"We are concerned about the Department of Justice enforcing federal marijuana law in such a way that blocks implementation of marijuana reform laws in those states that have passed such reforms," says the lawmakers, headed by Reps. Tom McClintock (R-CA) and Jared Polis (D-CO), in a letter to the House Appropriations Committee.
"The issue at hand is whether the federal government's marijuana policy violates the principles of federalism and the Tenth Amendment. Consistent with those principles, we believe that states ought to retain jurisdiction over most criminal justice matters within their borders. This is how the Founders intended our system to function."
The lawmakers even proposed how the bill should be reworded, which would then include all state-legal cannabis in the provisions:
"None of the funds made available in this Act to the Department of Justice may be used to prevent any of the several states from implementing their own laws that authorize the use, distribution, possession, or cultivation of marijuana on non-Federal lands within their respective jurisdictions."
Previously, the wording used to protect medical cannabis was passed with bipartisan votes annually since 2014 by both the Senate and the House. We're optimistic that by 2019, the entire cannabis industry will be included. Even if rescheduling cannabis may still be a far-fetched dream, at this point it's good enough to acknowledge that Congress knows states have the right to manage prohibition as they deem fit.
Why Did Trump Extend The Federal Spending Bill That Protects Legal MMJ From The Feds? from CannabisNet on Vimeo.
OTHER STORIES YOU MAY ENJOY...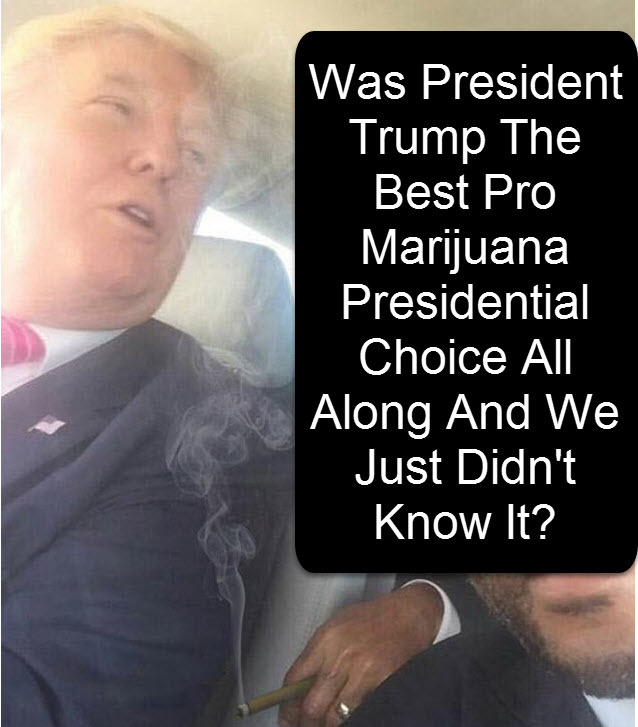 TRUMP ON CANNABIS LAWS, CLICK HERE.
OR..