Booze, Bud and Bang – Things people are Hoarding during the current Faux Apocalypse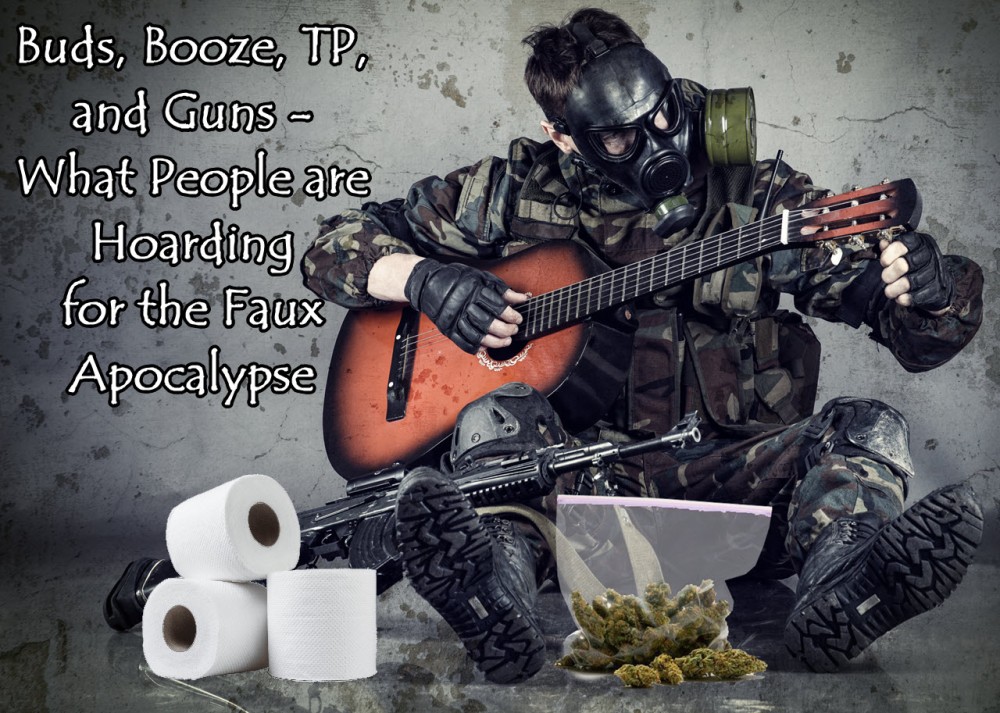 Y2K was my first "real apocalypse". I say "real" is because it was the first time that I was fully-aware of a 'potential world-ending event' that could have had devastating side-effects. The world didn't end but for a few weeks – people were running around submerged in beautiful ignorant hysteria; stocking up on canned foods, water, toilet paper, gas, guns – you name it, they got it.
What was all the hype about? It was a simple question that humanity had never faced before – what happens to a computer when the clock goes from 1999 to 2000? Hence the title Y2K or "Year-2000".
If you're sitting there thinking to yourself just how ridiculous all of this sound – you're not alone. Everybody that went through that experience felt ridiculous, especially if they spent thousands of dollars on shit they really didn't need.
Why were people scared? At that time, computers were responsible for maintaining most of society. If, and this was a BIG IF – the computers would have crashed on a global scale; it would have certainly set humanity back 100-200 years. However, the computers were just like, "Meh – it's numbers you dumb apes!" and went on about their operations.
If you've seen one Apocalypse – You've Seen 'em All!
Since that apocalypse, I became very desensitized to the hype machine and between three to seven years later – I accepted all impending doom as a given and focused on enjoying the little time I have left on this planet.
While some might think this to be a tad bit pessimistic – it's quite the opposite. Accepting that – at any given time you could cease to exist – there are only two possible responses;
Spiral into a deep depression contemplating the futility of even trying anything [The Nihilistic Approach]
Say "Fuck it!" and start enjoying your life on your own terms [The Absurdist Approach]
I am of the belief that 'high functionality' is a desirable approach for most tough decisions in life, and so – despite all rationale, Absurdism provides a greater sense of fulfillment and happiness compared to the nihilistic approach.
Fortunately – I met a good friend Mary Jane which helped me stay inoculated against the fear-a-torium known as "consensus reality". The problem is that while I may have chosen a more absurd path – most of the world opted in for "hidden option C" – Selective Amnesia!
---> NOTHING TO SEE HERE!!!
We're balls-deep in 2020 and right now we've evaded WWIII [for now] and are in a pandemic where a virus is rampaging the world – except it isn't really, but it sort of is…there was something about it on Joe Rogan!
Our current apocalypse – compared to Y2K – has a lot MORE HYPE and is far more PERSONAL due to the immersive nature of technology and the convenience of social media. Now – fear is no longer broadcasted to your television set by massive faceless organization – it's being fed directly to your pockets via social media networks who also happen to be massive faceless organizations.
What's the effects?
A recent LA Times Article's headline read "Liquor, marijuana and guns are also popular among c******** hoarders".
NOTE: I bleeped out the name of the virus for the sake of your own sanity. You can thank me later!
It makes sense – if I was in a state of panic, thinking that "The Last Man on Earth" was "for realz happening now", I'd be buying booze, weed and guns. Hopefully these folks also buy bullets – because guns without bullets just doesn't make any sense.
I really do hope that those running around panic-buying everything at least have the courtesy to bundle all their shit together. That way – when they are dead it would be easier to loot their bodies.
I KID! I kid! Stop taking shit so seriously! Smoke a Blunt! RELAX!
LET'S GET SERIOUS FOR A SECOND!
For all of the folks that are flaring their nostrils at me for making light of this entire faux-apocalypse let's say that EVERYTHING from the fear-MACHINE is telling us is true. What then?
Under a pandemic of these proportions, there's a few things that will happen.
Depending on whether enough essential people die – as in, people who keep the city running [electricity, water, gas, etc] – society would collapse within roughly 14 days [MAX] before everything becomes a Prepper's End-O-World Cream Dream!
Once everything goes haywire – people will revert back to their reptile brain and begin doing a whole bunch of awful shit. If things aren't restored back to status quo quickly – society would crumble and we'd be living in Mad Max!
Let's be honest – 90%+ of the population would not be able to survive life without a phone telling them what to do, how to get things done, how to get anywhere…
If Y2K was real – 2020 would be a time where it would be CATASTROPHIC! But – Y2K wasn't real, and this apocalypse too will become a footnote in history.
Therefore – Be the Absurdist and find meaning in a world that is always tip-toeing on the edge of catastrophe. The moment you accept your impending doom – is the moment you can truly be free.
So while the world runs around in a state of panic – why not light up a big fat blunt [or eat an edible] and think about what you would do if everything stopped working tomorrow. What are the odds that you would survive? Honestly?
CORAVIRUS, CANNABIS, AND HOME LIFE, READ MORE...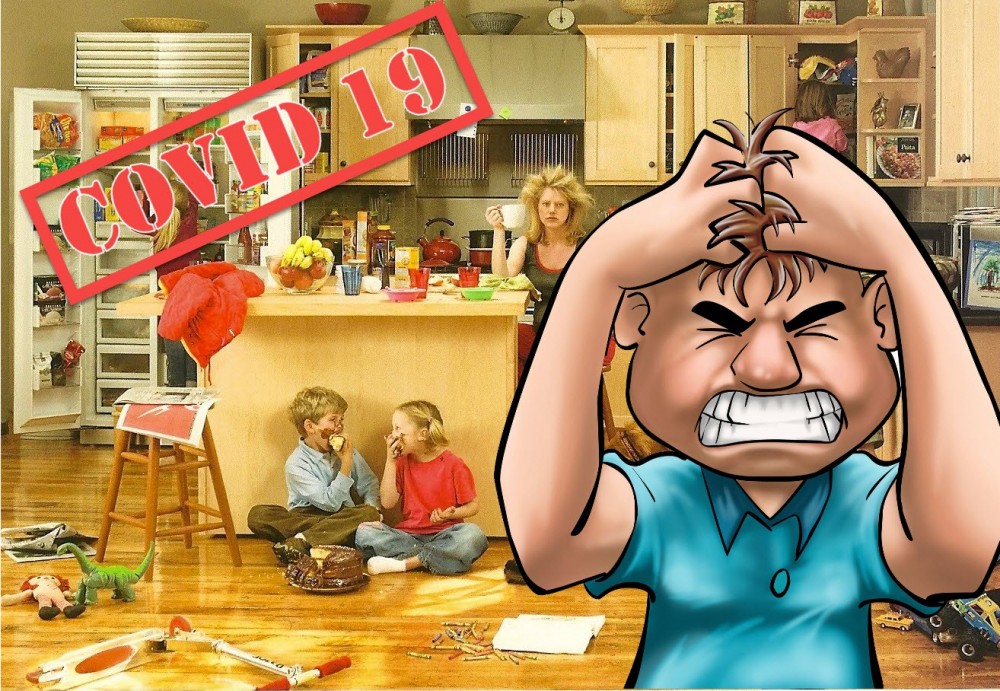 HOW GUYS ARE FAILING AT HOME QUARANTINES, READ THIS.
OR..
HOW CANNABIS HELP KEEP US SANE IN COVID19 TIME.
OR..