How to Avoid Fake CBD Products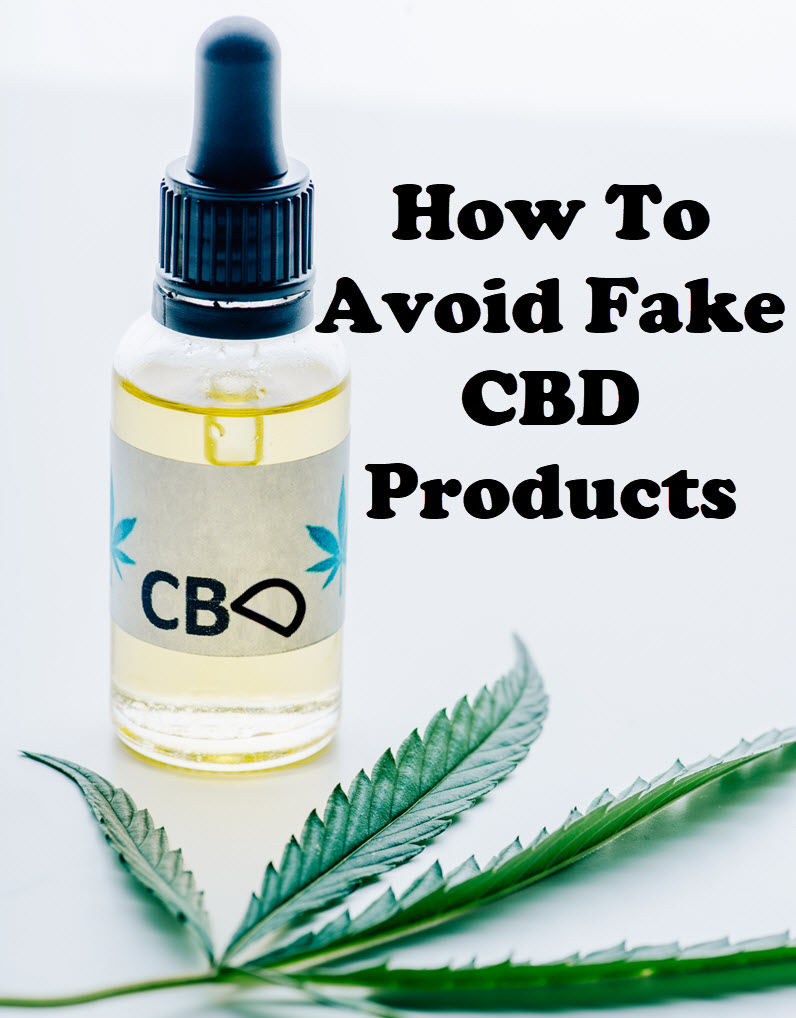 What's CBD Oil?
Cannabidiol, popularly known as CBD, is among the identified cannabinoids in the cannabis plant. It makes up close to 40% of the extracts created from the cannabis plant. It is directly manufactured by the cannabis plant, but recently, and as time goes by, we tend to see fake CBD products.
Whereas there is a way that anybody can find out if their CBD oil is real or fake, but most people do not want to go through the stress of doing it. These five (5) steps are necessary to prevent serious health complications that arise with the use of fake CBD products.
1. Check out the product label
The essential thing you should look out for when buying products is the label to know if you're on the right path or you're being misled. As consumers of commodities, labels are the foremost thing we should glance at as soon as we come in contact with a product. The label consists of information that will convince you either to use the product or not.
By constant use of CBD products, with the time you will be able to tell when you've just gotten a right product or a bad one.
Nevertheless, there are certain things one should watch out for when taking a glance at CBD products label which include:-
- The fact that it is derived from pure CBD
- It's a derivation from hemp
- The CBD used is certified
- And also full spectrum
Having those few things listed above on the product, then you're good to go. But if it does not have all those things listed, or it only has one or two of those listings, you should know it is certainly not an original CBD product.
2. Know your farm's hemp plants
CBD oil products are manufactured from the hemp plant. Hence, you should be fully aware that you will be expecting all your products initially from hemp. Not only being informed, but the most important thing is also to know where the hemp used to manufacture the CBD products are grown and the area they come from geographically.
3. Third-Party verification plan
Creating a third-party verification plan is essential to avoid buying fake CBD products. Third-party labs are there to make sure you are on the right track, so all you have to do us to ensure the manufacturers of the CBD products you buy, occasionally test all their products through the labs.
If, in any case, you find out they don't test their products, you should regard it as a fake CBD product, and therefore, you should stop using it immediately because legit CBD products are always run on third-party lab tests to make sure it's very safe for the health.
4. Be careful of how the products are manufactured
Not all CBD is created equal. Which is true. Even if it comes from the same hemp plant, that does not mean it goes through the same manufacturing processes or methods. Some methods of extraction are safer and more eco-friendly than others, so you will want to make sure that you're having only the best: these more reliable methods are;
-Alcohol extraction: This method is a process free from harmful solvents that their job is preserving the flavor of CBD and terpenes other cannabinoids products.
-CO2 extraction: It is also free from toxic chemicals. For example, heavy metals and toxins, and it is a perfect option for sustaining our planet!
If you cannot find out how your CBD product is extraction/ manufactured, then you could be in contact with a potentially dangerous or fake product.
5. Call trusted companies for proper directions
Call the company up! Trusted companies have a customer support team that is accessible, and they help guide you in the right direction and answer any questions you may have about their product. Meanwhile, fake CBD oil companies, in contrast, are not accessible to customers to avoid problems. They'll not want to answer your inquiries.
Two types of CBD oil are known to be good and will be explained briefly here :
Hemp oil is made up of over 80 components of phytocannabinoids, all with the presence of CBD. It has so many health benefits to the human body because it interacts with the human body in a variety of ways. It appears to help in the mental, physical, and emotional well being of humans.
These are a few benefits derived from the use of Hemp oil Cannabidiol:-
It gives us full control over stress by helping us resist the possible stress penetrating space.
It helps to reduce pain, lack of concentration, and also in nervous pull.
The inflammation incurred while practicing sports and other activities can be relieved by hemp CBD oil.
A brand like Vitahemp oil lets consumers see test results and is available to answer question about products and pricing and their blends are mixed together with two beneficial components, which are the terpenes and flavonoids.
Hemp oil differs from the CBD (cannabidiol) oil. It takes the leaves, stalks, and flowers to produce the CBD oil of the hemp plant, which has contents of a higher concentration of CBD and potentially beneficial compounds of the hemp plant.
In the cannabis sativa plants, there are small seeds that generate the production of the hemp seed oil. These seeds from the cannabis sativa plants do not consist of the same level of compounds as the hemp plant itself, but we can say they contain the higher nutrient, bioactive compounds, and fatty acids.
Only a few people can recognize pure CBD oil because there are so many firms producing fake content and oils, and only a few people can acknowledge the due process involved in creating a good quality CBD hemp oil. The right CBD is simple, pure, and effective, and it won't have to include expertly harvested plants.
THC FREE CBD OIL
THC free CBD oil comes with 0% THC. Its products are beneficial as experts have scientifically tested the products for no traces of THC in most cases. People that have used this type of oil often share how it helped to relieve them from insomnia, pains, and so many other health issues.
The Benefits of THC Free CBD oil
There are so many benefits you get from the THC free CBD oil that won't ever have adverse effects that THC can cause in some people. It will help you reduce stress, relieve you from chronic pains, insomnia, and enhance relaxation. It also gives you full mental support, helps to retain cardiovascular function, and aid in lightening up your mood occasionally. It makes the body joints more flexible and helps the body resist diseases. Nevertheless, before purchasing a THC free cannabidiol, you have to ensure that the quality meets up to the potency standards making it safe and pure for consumption.
How THC free cannabidiol can be used
Cannabidiol that doesn't contain THC comes in various forms, which include the topical serums, body and hair creams, water-soluble, edibles, tinctures, and more. Topical serums and the creams are used to apply on the body for a softer texture and maintenance of the skin. It makes the skin tender to penetrate tissues into the bloodstream. Tinctures are taken orally, and they are taken directly under the tongue. Water soluable tablets are taken directly into the body through dissolving in any water or drink before consumption. The fastest way one can absorb CBD is by making use of the Water-soluble. And lastly, the edibles can be eaten.
CBD oil is best suitable for consumption when it's broken down into smaller molecules. Test a CBD product today and have no worries about several illnesses, but all the same, you should be on the watch to avoid purchasing the fake products.
FAKE CANNABIS AND CBD, READ MORE...
FAKE CBD PRODUCTS GET 52 PEOPLE SICK IN UTAH, READ THIS.
OR..