How to Win the Cannabis Game in 2021 - Don't Overcharge for the Cannabis Plant
"Los 3 B's" of Weed"
Did you hear? Jay-Z just announced the release of his new cannabis brand "Monogram" making him one of the hundreds of Celebs jumping in on the cannabis game. It makes sense for a rapper to jump into the weed game since the culture overlaps quite easily.
However, Jay Z has long not been an "average" human being. He and Beyonce are the closest thing that the U.S has to the Royals of Europe. This is probably why he thought that $50 for a pre-roll is "affordable".
That's right – here's some of the product prices of Jay Z's new cannabis brand:
Loosies Pack Roll = $40 for 4 joints of (0.4g) or 1.6 grams total
4 Grams of Monogram Flower = $70
2 Grams of Monogram = $40
Monogram OG Handroll = $50
According to the brand, these plants are 'hand selected and hand finished' by experts – or in other words, exactly like any dispensary bud you buy that's primo.
While some of you may scoff at the notion of these RiDankulous prices – it seems to be the norm for these "premiere" cannabis brands. The problem with these premiere brands is that they are forgetting something very important – THE AVERAGE CONSUMER CAN'T AFFORD THESE PRICES
The Average Budget of the Cannabis User
At most – the average cannabis user will spend up to $300 per month, but usually it sits between $70-$140 per month. According to some research they say it's $600 a year – but I'm sure they don't smoke weed.
Even if it is $600 a year – that would mean that the price tag of $50 a joint would translate to about 30 joints a year – definitely something that folks will think twice about buying.
Most cannabis users prefer quality, but can compromise on quality if the quantity of the bud is sufficient. It's better to have an ounce of decent but than a few grams of amazing weed.
Covid Happened – people's gonna be broke!
Here's an interesting thing that probably didn't affect Jay-Z in any way whatsoever – COVID! That's right, Between 30-40 million Americans are at risk of being evicted in 2021 according to some studies. [Source] . Jay-Z has also started a $10 million cannabis investment fund for minority owned marijuana businesses.
This means that $50 a joint is quickly becoming a pipe dream. Hell – more people will begin growing weed in 2021 simply because it will be cheaper to do so than to buy weed. I always recommend that people grow their own weed regardless – but mark my words that 2021 will have a spike in home growing.
Because of Covid – people will probably more conservative with their money, which is some5thing that these mega-million dollar cannabis companies cannot understand – The plight of the commoner.
To them, it's about profits – however, unlike alcohol – cannabis is as easily grown as putting seeds into soil, and watering them under the sun. If you don't believe me – check out this pic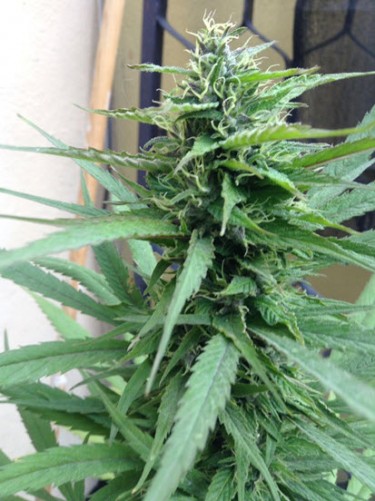 Winter Balcony Weed 2020 – 1 seed, coconut substrate mixed with potting soil – tap water and sun.
That plant gave me over 2 ounces of sticky-icky, purple buds with yellow pistils. It smells like bubblegum.
The point is that growing weed can be incredibly simple and when you're broke – putting that seed in the soil becomes ever more tempting.
Winning the Weed Game in 2021
I wrote a few months back about a company that is trying to produce weed for the average Joe & Jane – this in my opinion is the key to victory. If you can the dollar x gram price at about $2-$4 max, while maintaining good growing practices – you're sitting on a gold mine.
Of course, craft cannabis will always be more expensive since the cost of production is higher – but if you're one of these mega-cannabis corporations, I would open up a few facilitates where you'll be growing the fattest buds at the most cost effective measures.
Don't try to pump the THC levels too much. People actually enjoy milder smokes, so if you can hit between 10% - 15% THC, you're golden.
If you can get ounces down to about $70-$100 max, you're sitting on the winning strain. So how would you go about this?
Grow more outdoor – use less resources
Implement Greenhouses
Work with more generic strains
You could be either a "premium brand" of cannabis, or the Walmart of cannabis. In the up and coming economy, I wonder whether the Walmart approach to weed will be the ticket to success. I don't see many people dishing out their cash for smoking Jay Z's weed.
Especially if they can grow the same quality at home for $50. All they need is about 3-4 months, and some patience.
How much do you spend on weed?
I think that people will buy Jay Z's weed along with other premium brands, but not as their constant supply. These high-end brands will be novelty purchases for most people. However, the brand that manages to get decent quality and low price – will win the weed game in 2021.
CRAZY THINGS GOING ON IN WEED RIGHT NOW, READ MORE..
AFFORDABLE LUXURY IN MARIJUANA, WHO WINS, WHO LOSES?
OR..​
TIBURON IS CHEMICALLY ALTERED WEED THAT ACTS LIKE COCAINE?
OR..
JAY-Z STARTS A $10 MILLION CANNABIS INVESTMENT FUND!