Cannabis Juicing: Recipes and Secret Juicing Tips
The cannabis sativa plant may be familiar to many for the marijuana it produces, but it's easy to forget that cannabis is actually a plant that has many medicinal purposes. Certainly, there is a lot of grey area around marijuana's medical use and its potential for treating depression and anxiety, but you may not be aware that you can take advantage of this herbaceous vegetable's potential in your very own kitchen.
With our on-the-go lives, juicing has become a popular means of getting in much-needed vitamins and nutrients in recent years. Fortunately, like many other leafy greens that can be consumed in juice, the cannabis plant is full of fiber, iron, calcium, and many other nutrients for the body. As a result, look no further than cannabis sativa to get in your leafy greens and juice away.
It's common to be suspicious of what cannabis taken for health purposes can do, but fortunately, fresh cannabis lacks the psychoactive ingredients associated with marijuana. So, whether you just like juicing or are looking for trendy new greens to test out, juicing cannabis may be the next popular medical trend.
Before You Juice
If you want to take advantage of the nutrient-rich cannabis plant, it's important to consider a few things first. In order to juice effectively, you'll need to use freshly picked cannabis that has not been dried. Some suggest soaking it helps when it comes to softening the leaves.
According to Dr. William Courtney, you will want to juice approximately 15 leaves and 2 large buds, about 2-4 inches in length. Once complete, you may think you'll have a tasty cup of health, but cannabis is bitter so you may want to mix 1 part with 10 parts vegetable juice for added flavor. It's just important to remember, through the process, not to heat your greens since this can enable their psychoactive abilities.
A Little About Health Benefits
Hemp may be a different strain than marijuana, but given hemp's superfood status and derivation from the same plant, it makes sense that cannabis is a great source of many nutrients. Not only is it a complete plant protein that is rich in omega-3 and omega-6 fatty acids, it's high in magnesium and rich in fiber. Beyond its many minerals and vitamins, raw weed is also believed to decrease inflammation that can lead to disease and illness. Some tests have even proven that, in conjunction with chemotherapy, CBD oil benefits include the ability to kill off leukemia cells.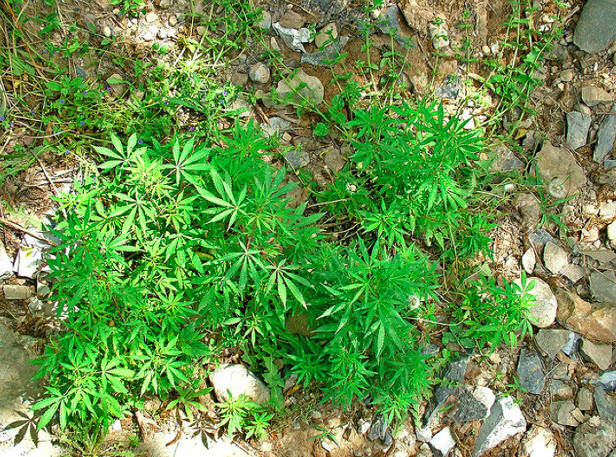 Guilhem Vellut. Marijuana. 2005. Flickr.com. Web. Nov 7. 2017.
The Endocannabinoid Chemistry
You may have heard of the presence of cannabinoids in cannabis, which are found in everything from marijuana seeds to CBD oil, but you might not know how they can help you. Fortunately, because our endocannabinoid system is used in our body to regulate an abundance of things including our appetite, mood, nerve and immune function, marijuana and CBD oil can be used to assist in balancing out the body. Because plant cannabinoids work to stimulate the body and bind to receptors, consuming leafy cannabis sativa greens in the form of juice can have myriad positive effects without the 'high' that comes along with using edibles or marijuana.
Basic Juicing Tips
Choose Organic- Try to purchase organically grown produce. Nutrients in the plant will also be in your juice extract.

Go for Fresh - For juicing cannabis, you must use fresh cut cannabis – the fresher the better. Preferably you should make cannabis juice right after cutting the plant down.
Leaves or buds? Use a combination of 15-20 large fan leaves, 30-40 sugar leaves, or 2 large buds.

Blend it Together- Try to blend your cannabis with other fresh juiced greens and vegetables for better taste and results.
Consuming the Juice-the Dosage
Dr. Courtney recommends that patients should start taking 1-3mg of fresh ground buds. Once accustomed to this dose, it can be progressively increased from 10 to 15gr of fresh, raw cannabis buds every day.
As a supplement, you should consume about 30gr of fresh cannabis leaves every day.
She adds that the juice will be more efficient if consumed in several intakes. Since the human body eliminates it very fast, approximately 50 minutes after its assimilation by the intestinal tract. For 300ml of raw cannabis juice, you should divide into 5 intakes of 60ml during the day, every 3-4 hours.
You should keep the juice with ice and shake it before using it, so the fatty acids are evenly distributed in the watery part of the juice.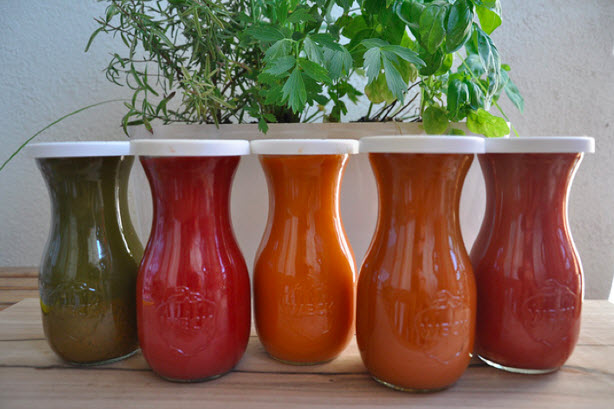 masurianlake. Fresh Juice from carrot, beet and greens. 2013. Flickr.com. Web. Dec 17. 2017.
Try these Green Juice Recipes

Cannabis leaves are best juiced with a wheatgrass-style juicer.

However, when juicing flowers or buds, you should use a blender and then strain out the pulp using a sieve. This prevents the buds from getting caught in the filter of your juicer.

Alternatively, you could run the buds and leaves through a centrifugal or masticating juicer and then squeeze the pulp by hand to let out any remaining juice.

You should go for masticating (cold-pressed) juicers when juicing cannabis since they operate at a lower temperature and retain the most nutritional benefits of the plant.
Refreshing Basic Green Juice:
5 handfuls of spinach
3 kale leaves
7 large cannabis fan leaves
½ cucumber
½ lemon
1 Fuji apple

Spicy n Sweet Greens:
3 handfuls of spinach
5 kale leaves
10 large cannabis fan leaves
20 small sugar leaves
1 large cannabis bud
1 cup pineapple
½ jalapeño
1 cucumber

Super Green Juice
½ head Romaine lettuce
1 handful spinach leaves
10 sprigs cilantro
1 green apple
½ lime
1-inch fresh ginger root
1-inch fresh turmeric root
2 large fresh cannabis buds

Green Goddess
6 Swiss or rainbow chard leaves
2 handfuls spinach
1 cup green grapes
1 cucumber
½ green apple
1-inch fresh ginger root
20 fresh cannabis fan leaves

Beetroot Green Blast
1 large red or golden beet
1 bunch beet greens
1 cucumber
1 green apple
3 Swiss chard leaves
10 sprigs parsley
2 large fresh cannabis buds

Minty Greens
1 cucumber
1 green apple
15 large fresh cannabis fan leaves
15 sprigs of fresh mint
½ head Romaine lettuce

Kale Green Grass
2 cups dinosaur kale
1 cup curly kale
5 sprigs parsley
2 handfuls spinach
½ cup wheatgrass
½ cucumber
½ green apple
30 fresh cannabis sugar leaves
Juice the ingredients and enjoy your nutritious glass of greens!

OR..