Cannabis For Psoriasis and Eczema from CannabisNet on Vimeo.
It's estimated that around 7.5 million people in the United States live with psoriasis. It can happen to people of all ages, and while it isn't contagious many of those who have to live with it suffer from a poor quality of life because psoriasis can be excruciatingly painful.
Symptoms of psoriasis include cracked dry skin which may bleed; red patchy skin covered in thick silvery scales, burning and itchiness, thick and ridged nails, and swollen joints. Severity can vary depending on the cycle of psoriasis; during certain times it can be worse while at other times it can be more tolerable. There are many medications available for easing the symptoms of psoriasis although many patients still live in pain because pharmaceutical medications aren't enough to relieve the discomfort.
Many pharmaceutical medications used to treat psoriasis can also cause side effects:
Topical corticosteroids are a popular anti-inflammatory medication that is commonly prescribed to psoriasis patients, although long-term use can result in resistance and even make the skin's layers thinner.
UVB phototherapy may be used to treat singular psoriasis patches but its side effects include dry skin, itchiness, and redness.
Photochemotherapy is an aggressive form of treatment that enables UVA light to penetrate deeper into the skin, and is used for severe cases. Photochemotherapy has short-term and long-term side effects; it can cause nausea, itching, and burning but it can also increase the risk for skin cancer.
Excimer laser is a type of light therapy used to treat moderate cases of psoriasis, although it can cause blistering and redness in the affected area.
Retinoids is a group of medications that is related to Vitamin A. Retinoids are prescribed for severe forms of psoriasis, particularly for patients who aren't responding to other kinds of treatments. The side effects of retinoids include hair loss and inflammation of the lip; in addition exposure to retinoids can also cause birth defects.
These are just some of the many forms of medications prescribed to treat psoriasis which can also lead to debilitating side effects.
However, more people are opting to use cannabis to help ease the symptoms of psoriasis. The condition is autoimmune in nature, which means that cannabis makes it an ideal natural treatment that won't result in side effects.
Cannabis as Treatment
A 2007 study published in the Journal of Dermatological Science found that cannabinoids are beneficial in preventing the accumulation of dead skin cells as well as other psoriasis symptoms. According to the researchers, "Our results show that cannabinoids inhibit keratinocyte proliferation, and therefore support a potential role for cannabinoids in the treatment of psoriasis."
Humans also have an endocannabinoid system in the skin located in the dermis. According to a 2009 research, "Recent studies have intriguingly suggested the existence of a functional ECS (endocannabinoid system) in the skin and implicated it in various biological processes (e.g. proliferation, growth, differentiation, apoptosis and cytokine, mediator or hormone production of various cell types of the skin and appendages, such as the hair follicle and sebaceous gland). It seems that the main physiological function of the cutaneous ECS is to constitutively control the proper and well-balanced proliferation, differentiation and survival, as well as immune competence and/or tolerance, of skin cells. The disruption of this delicate balance might facilitate the development of multiple pathological conditions and diseases of the skin (e.g. acne, seborrhea, allergic dermatitis, itch and pain, psoriasis, hair growth disorders, systemic sclerosis and cancer).
Cannabis is particularly effective with psoriasis because the condition is autoimmune in nature. The cannabinoids in the plant work directly with the receptors of the body's endocannabinoid system. The CB1 and CB2 receptors, most of which are found in the nervous system, brain, and immune system. Cannabis has been shown to be effective in addressing inflammation as well as its primary symptoms without the harmful side effects of conventional medications. Cannabis is especially helpful in reducing the pain and discomfort that most patients with psoriasis have to deal with, because of the plant's powerful analgesic properties.
Topical Cannabis
Topical cannabis medications can help psoriasis patients. There are dozens of effective cannabis topicals in the market that contain THC, CBD, or a combination of both that can isolate and treat mild to severe psoriasis. Topical cannabis can also help alleviate the joint pain associated with the condition, as well as treat psoriasis of the scalp. Cannabis oil is also another great option for those with psoriasis.
Have you used cannabis to treat psoriasis? What was your experience like?
OTHER STORIES YOU MAY ENJOY...
MEDICAL CANNABIS SOLUTIONS FOR PSORIASIS PATIENTS?
OR..​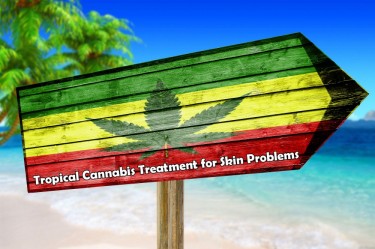 TROPICAL CANNABIS HELPS WITH SKIN PROBLEMS, CLICK HERE.
OR...​
TOP CANNABIS STRAINS FOR PSORIASIS, CLICK HERE.
OR..
CANNABIS FOR SHINGLES, READ THIS FIRST, CLICK HERE.
OR...
THE BENEFITS OF HEMP FOR YOUR SKIN AND HAIR, CLICK HERE..
OR...