New Study Says 97% Of Elderly Patients Say Cannabis Makes Them Feel Better, Decrease Prescription Meds
Why Over 97% of Senior Citizens Approve of Medical Marijuana from CannabisNet on Vimeo.
There is an increasing body of evidence proving that cannabis is beneficial for the elderly.
One of the latest studies comes from Israel, whose findings were published in the European Journal of Internal Medicine. The report says that "cannabis use may decrease the use of other prescription medicines, including opioids."
The Israeli researchers state: "During the study period, 2736 patients above 65 years of age began cannabis treatment and answered the initial questionnaire. The mean age was 74.5 ± 7.5 years. The most common indications for cannabis treatment were pain (66.6 percent) and cancer (60.8 percent). After six months of treatment, 93.7 percent of the respondents reported improvement in their condition and the reported pain level was reduced from a median of 8 on a scale of 0-10 to a median of 4. Most common adverse events were: dizziness (9.7 percent) and dry mouth (7.1 percent). After six months, 18.1% stopped using opioid analgesics or reduced their dose."
A whopping 93.7% of the patients reported experiencing improvements in their condition after using cannabis, as well as less pain. Few, if any, prescription drugs can hold a candle to the success rate that cannabis has exhibited in this study.
Older Studies Show Seniors With MMJ Access Use Fewer Prescription Drugs
A study from 2016 reveals that elderly and disabled patients used fewer medications and prescription painkillers if they have access to medical cannabis.
"When states turned on medical marijuana laws, we did see a rather substantial turn away from FDA-approved medicine," says the study's senior author, W. David Bradford. To come up with their findings, the researcher analyzed data from Medicare from 2010 to 2013, looking at FDA-approved drugs that were used to treat 9 conditions including depression and nausea – conditions that cannabis may be able to be used as an alternative.
The researchers weren't surprised with the results: aside from glaucoma, they found that doctors wrote less prescriptions for all 9 conditions once medical cannabis laws were put in place. Medicare prescriptions saw a substantial decrease for pharmaceutical drugs used to treat depression, pain, nausea, anxiety, seizures, psychosis, and sleep disorders. Pain prescription meds saw the largest drop – prescriptions fell by more than 11%.
"The results show that marijuana might be beneficial with diverting people away from opioids," says Bradford, who is also a professor of public policy at the University of Georgia.
"We wouldn't say that saving money is the reason to adopt this. But it should be part of the discussion," Bradford adds. "We think it's pretty good indirect evidence that people are using this as medication."
Because cannabis remains a federally illegal substance, physicians will never be able to recommend cannabis until this changes. Insurance companies will also never cover the cost of cannabis as long as it's still a Schedule 1 substance; this means that patients will always need to pay for it out of their own pocket.
The Elderly Are Victims Of The Opioid Epidemic
The current opioid epidemic in the United States is affecting the elderly too.
Although drug-related deaths have significantly increased across all age groups, the greatest increase has been seen in elderly adults aged 55-64.
As the senior population increases, so does addiction. According to Dr. Stuart Gitlow, former president of the American Society of Addiction Medicine, the risk of addiction is proportional for adults although the difference is in the individual response. When people are given an opiate, most will experience physical discomfort. "But about 20% of the population will say, 'Oh, that feels amazing," he says. "Those are the people we worry about. And you're just as likely to run across those 20% in older age as you are in younger age."
Additionally, since the elderly are more prone to suffering from physical ailments and pain, they are prescribed deadly and addictive painkillers more than the younger population. It's extremely common for the elderly to be prescribed with potent painkillers such as Vicodin and OxyContin, which have serious overdose risks. Older individuals also experience the effects of these strong medications in a much more intense way and for a longer time compared to young people due to the physiological changes their body goes through at old age. Since the elderly are much more likely to be prescribed several painkillers at a time, this also increase the serious side effects that can cause damage to their health, even death.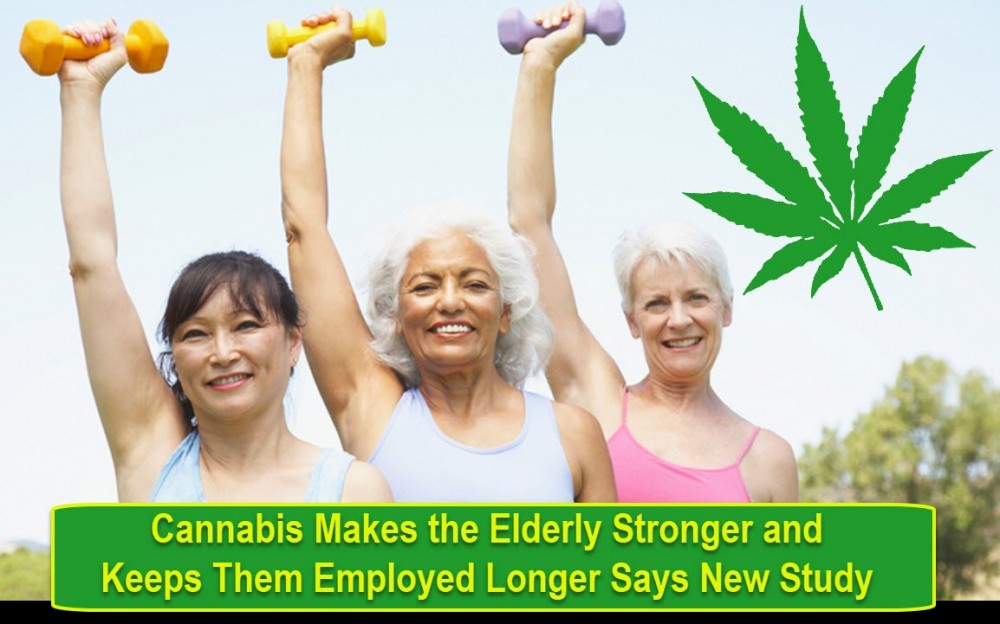 HOW CANNABIS IS MAKING THE ELDERLY STRONGER, CLICK HERE.
OR...
CANANBIS FOR SENIOR CITIZENS, WHAT YOU CAN AND CAN'T DO, READ THIS.
OR..
ELDERLY CAN GET MEDICAL MARIJUANA, HERE IS HOW, READ THIS.
OR..
GUESS WHO SPENDS THE MOST ON WEED, CLICK HERE.
OR..