Ex DEA Agent Now A Successful Executive In The Cannabis Industry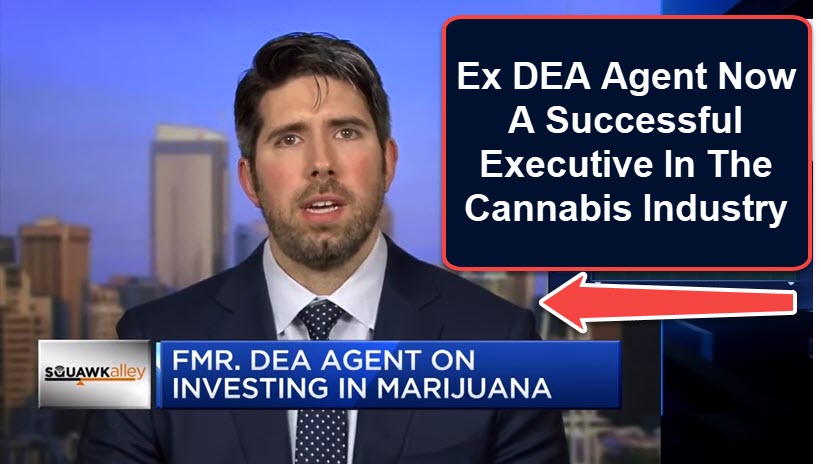 A former US Drug Enforcement Agency (DEA) agent is now a big name in the booming cannabis industry. Patrick Moen is managing director of Privateer Holdings, a Seattle-based cannabis investment firm. Privateer Holdings' portfolio includes other big names in the cannabis industry including media company Leafly, Canadian cannabis producer Tilray, and the lifestyle brand Marley. Moen's job is to ensure that these companies are compliant with the law.
Before Moen moved to the cannabis industry in 2013, he was on the other side of the fence. He headed the Portland's DEA task force, overseeing a team of 15 agents and officers as they spent their days running after drug rings and shutting down laboratories around Oregon.
But what exactly made Moen want to leave the DEA?
According to an interview with Straight, Moen experienced frustration with the DEA's internal policies on cannabis. Eventually, he decided to pack up and leave. He reports that he was also frustrated by the 2012 testimony of DEA administrator Michele Leonhart to Congress, since she refused to admit that cannabis was less dangerous than heroin or crack.
"That in particular really struck in mind," he told Straight over the phone. "I had a really hard time reconciling that this was the official position of our agency."
Moen moved from his DEA job in the East Coast to Portland, Moen witnessed how Leonhart as well as others in the agency continued to slam cannabis but regulations proved effective. To him, prohibition was nothing more than a failed policy.
"When I came to the West Coast, I realized that regulating cannabis was a good thing," Moen says. This is also why Moen has faith that even despite Sessions' attempt to crack down on state cannabis laws, it will take a lot more than that for the entire United States to change the way they've been treating cannabis cases.
According to Moen, Sessions' announcement was "largely symbolic" and shouldn't be seen as a change in policy. He remains confident that common sense combined with a reduction in resources will make it highly unlikely for the US to adjust how cannabis cases are treated in court. "We're looking at federal prosecutors and federal agents that have limited resources and competing priorities," Moen says. "But the bottom line is, the state regulations are working. We're taking money away from criminal organizations, we are generating tax revenue, and we're creating jobs."
Straight asked Moen if he thinks Sessions' move will impact the cannabis market in Canada, and he responded by saying that it's also unlikely it would have a long-term negative effect. In fact, he thinks that it could even make the prospects in Canada look more attractive. However, Moen thinks that the Canadian market still needs to innovate more when it comes to creating cannabis products. "On the medical side to date, they've been very restrictive on those factors, and early indications about the adult-use side are only incrementally better," he said.
"We've had enough experience with them here in the US in terms of portioning and packaging and THC content, that they've ironed out a lot of the difficulties," Moen adds.
Privateer Holdings was founded by two graduates of Yale MBA, and in 2016 had acquired $7 million in funding. Instead of investing in dispensaries or growers, Privateer purchases cannabis consultants, websites, and insurers that offer services without actually buying or selling cannabis.
Moen on Sessions
Moen told CNBC that Sessions' announcement that he would rescind the Cole Memo shouldn't cause fear or worry. "It's clearly out of touch with what the American people want," he says. Moen foresees that potential cannabis investors will eventually be undeterred.
"We might see a short-term chilling effect on investment and banking," he says, while retailers learn to come to grips with regulations. "But we're seeing steady and continued growth in terms of access to capital," he says.
Moen also thinks that the cannabis industry reaction to Sessions' announcement was "knee-jerk, approaching panic,"; however, investors overall are still optimistic about the industry. In the last 6 years, Privateer has raised over $150 million in investments, much of which come from Silicon Valley venture capitalist Peter Thiel, also the PayPal founder and an early investor in Facebook. But Moen says that much of their money ended up in Canada where it's legal and the regulations are more stable than in the United States.
OTHER STORIES YOU MAY ENJOY...
SMOKING A JOINT WHILE THE DEA EMPIRE CRUMBLES, CLICK HERE.
OR..
ROBERT DUPONT WANTS TO DRUG TEST AMERICA, YES, ALL OF US. CLICK HERE.