Holy S#(@ Do Old People LOVE Weed! No Seriously…
People Over 50 are Driving Marijuana Sales Across the Country from CannabisNet on Vimeo.
In case you missed it during the crazy holiday shopping season, there was a breathtaking report released by the National Survey on Drugs and Health that had 45,000 respondents. Christopher Ingraham of the Washington Post wrote up the story on how grandparents and seniors are by far the fastest growing cannabis population by far. How fast? No medium fast, and not pretty fast, but check this out light speed fast stuff.
From the Washington Post article:
The first study found that, since 2006, marijuana use has increased significantly among adults age 50 and up. A decade ago, roughly 4.5 percent of people ages 50 to 64, and 0.4 percent of seniors age 65 and up, had used marijuana in the past year. By 2013, those numbers had increased to 7.1 percent and 1.4 percent, respectively.
In percentage terms, marijuana use among 50- to 64-year-olds increased by 57.8 percent, while among seniors ages 65 and up, it ballooned by a whopping 250 percent.
Hold the train. 250%. With only 23 or so states at the time of the survey having medical marijuana programs and a handful having recreational? What on God's Green Earth does that number look like if we had a national medical program, or God forbid, a national recreational program.

Grandma and Grandpa are stoners!
The article continues to show increases in married couples, people who have depression or anxiety, and even breaks down usage by income and race. In the end, even with the small percentage of people having access to legal marijuana, the numbers are all going up.
How concerned are doctors and authorities about this marijuana explosion around the shuffle board court? Not much. As the Washington Post article continues:
For starters, older adults are still way more likely to drink than they are to smoke pot — 63 percent had drunk alcohol in the past year in the period from 2013 to 2014. But from a public health standpoint, researchers are more concerned about the prevalence of binge drinking — having five or more drinks on the same occasion.
In the period from 2005 to 2006, 12.9 percent of older adults had binged in the past month. By 2013 to 2014, that share had risen to 14.9 percent. Monthly binging was more common among Hispanics (17.2 percent) than other races, among wealthy individuals (20.9 percent), and among those who regularly used tobacco (27.2 percent) or other drugs (35.6 percent).
Is there a serious health risk to our seniors with all this cannabis smoking going on? Aren't we worried about the health care system and increased costs? No, as the article points out, the biggest worry is criminal justice system.
"As always, my biggest concern [related to marijuana use] is the risk for arrest or incarceration," he said in an interview. Given that the recreational use of pot is still illegal in most states and at the federal level, seniors who smoke weed may face consequences including jail time, asset forfeiture and crippling legal fees stemming from marijuana possession.
"Nobody wants their grandma to be arrested or incarcerated," Palamar added.
There you have it.
No one wants to see Grandma in the slammer folding laundry and making license plates.
Nursing home visits just got a whole lot more interesting over Christmas.
OTHER STORIES YOU MAY ENJOY...
WHY DO OLD PEOPLE LOVE WEED SO MUCH, CLICK HERE.
OR...
IS IT TIME TO GET GRANDMA AND GRANDPA SOME WEED? CLICK HERE.
OR...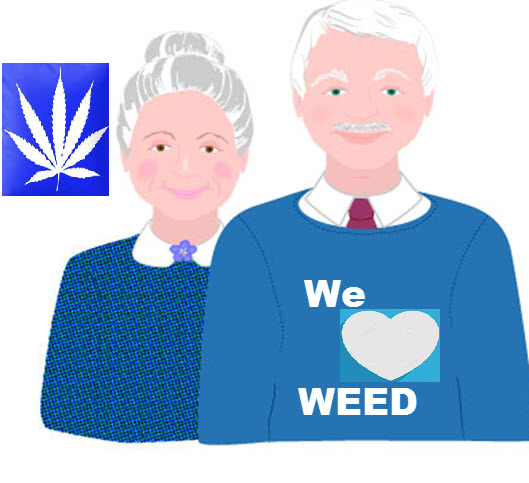 ELDERLY MEDICAL MARIJUANA, WHAT YOU CAN AND CAN'T DO..CLICK HERE.