On April 5th, 2017, both Tobacco Depot locations in Alexander, and Watford City North Dakota, were raided by law enforcement in search of hemp cbd products.
(Cannabis.net asked the store for a fist hand write up of what a police raid looked liked and felt like for CBD hemp products.)
I do not use the word "raided", lightly.
Law enforcement from the Watford City Police Department, the McKenzie County Sheriff's Office, the Williams County Sheriff's Office, and the North Dakota Bureau of Criminal Investigation, executed search warrants at both locations because they had reason to believe the local smoke shop had been distributing controlled substances.
Upon arriving, police had their firearms drawn, and search warrant in hand. The owner and manager that were there when they arrived, were caught off gaurd by their approach but encouraged the law enforcement to do what ever it was they came there to do. As the police entered the building, it seemed they were simply following protocol.
Soon after, we realized this was not the case.
Once police had been inside, they attempted to deactivate the security camers in the Alexander shop.
Nevertheless, they failed. However, they DID deactivate the security cameras at the Watford City location.
Being we have footage from the Alexander location, I feel it is safe to talk about what we all witnessed. So, I'll break it down for you.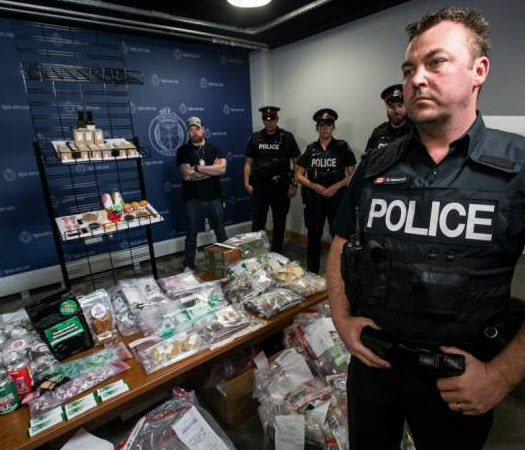 (picture not from tobacco store)
At one point during the raid, the manager of the store simply asks (and i quote), "May I ask, why you are taking pictures of my personal things?" His reply made me sick. He says, (and I quote) "I don't have to answer any questions from you so if you're going to get an attitude with me, that's when I'm going to start taking people to jail"
Might I add, the remaining police officers stood in a line by the door, laughing.
After asking what seemed to be a simple question, they wanted to search her vehicle. Another officer picked up her cellphone, tried to unlock it, threw it on the counter and ordered another officer to go get her consent to look throught the cellphone because it had a lock on it.
An officer did speak to her about the cellphone, but not asking for consent. His words exactly, were "i need the password to your phone"
Another thing that was said, was that "Hemp is the same thing as marijuana"
Almost every question asked by the owner followed with "I'll shut this place down if that's what you want" by the officers.
The manager was put in a patrol car with threats that she would be arrested.
So now I ask you, is this reasonable behavior?
The report that was released to the public states that the reasoning behind the raid was for selling controlled substances. Nothing more was released to the public. Keep that in mind for a minute.
On May 2nd, 2017, KX News aired a report on CBD oil and the health benefits it contains. They featured Terry's health store, and the Bisman CO-OP in Bismarck, North Dakota, where they had carried CBD oil. The news encouraged citizens to purchase these CBD products and informed them that it is legal in all 50 states and contains less than .03 percent thc, making it nonpsychoactive.
On May 11th, 2017 another story was aired about the CBD products. Both of the Bismarck businesses had also been raided.
Now, hear me out.
When law enforcement approached the Bismarck stores, it was hardly a "raid". Two detectives spoke to the owners of the businesses and demanded they remove the CBD products from their shelves. They also bought samples of the products for testing. It was clear that what had happened to them, was for their CBD products.
For over a month, the Tobacco Depot has struggled to convince customers and potential customers that what took place at their business was in no way caused by anything other than the CBD products.
Law enforcement also informed the owner that the business has been under investigation for six months. They also claim that CBD has been illegal since December of 2016. In other words, they were investigating a business for selling CBD , before CBD was "illegal"?
Since I started working at the Tobacco Depot, I have witnessed much discrimination from law enforcement, simply for being employed there.
My question is, why?
I believe this is abuse of power, and nonetheless, discrimination.
Terry's Health and the Bisman CO-OP have shown an outstanding amount of support and love for us here at the Tobacco Depot. My above statements are not to discriminate them in any way.
Chapter 19-03.1
UNIFORM CONTROLLED SUBSTANCES ACT
19-03.1. Definitions.
18. "Marijuana" means all parts of the plant cannabis whether growing or not; the seeds compound, manufature, salt, derivative, mixture, or preparation of the plant or its seeds. The term does NOT include the mature stalks of the plant, fiber produced from the stalks, oil or cake made from the seeds of the plant, any other compound, maufacture, salt derivative, mixture, or preparation of mature stalks, fiber, oil or cake, or the sterilized seed of the plant which is incapable of germination.
Chapter 4-41-01
INDUSTRIAL HEMP (CANNABIS SATIVA) OILSEED
Industrial hemp having no more than three tenths of one percent of tetrahydrocannabinol is recognized as an oilseed. Any person in this state may plant, grow, harvest, possess, process, sell and buy industrial hemp having no more than three tenths of one percent of tetrahydrocannabinol.
They want to charge him with 40 years in prison for selling CBD .
OR..