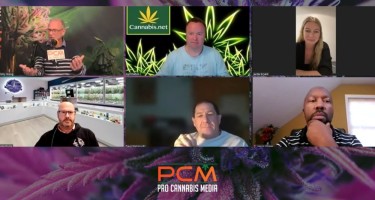 (Click here to watch the full show, now!)
Join Jimmy Young of Pro Cannabis Media as he delves into the name viral series of articles by Curt Dalton of Cannabis.net entitled, "The Marijuana Industry is Dead". While a comparison to Prince's statement "the internet is dead" back in 2006, the foreboding warning is now ringing true to many in the cannabis industry. Curt Dalton, former co-host of Weed Talk News, comes back and joins Jimmy and a slew of cannabis industry professionals to discuss the current turmoil in the marijuana industry.
Current financial issues are well known in the cannabis industry from higher inflation and costs, to a oversaturation of supply, to labor issues, to a lack of funding and loan options, but what about the emergence of Delta-8 and Delta-9 THC derived from hemp? Due to a loophole in the 2018 Farm Act, Delta-8 and Delta-9 THC derived from hemp are Federally legal, and due to the wording of "0.03% THC by weight", the floodgates were open for "hemp that gets your really high" due to liquid forms of Delta-8 and 9. Because liquids are so much more dense than dry flower and weigh so much more per square inch, a large amount of hemp-derived THC could be packaged into seltzers and sodas, and still be well under the federal legal limits established in the 2018 Farm Act.
While some large-scale cannabis states like California and Colorado have banned Delta-8 in a war known as "D8 vs. D9" within the industry, many feel the health concerns around hemp derived Delta-8 are being overblown in order for states to protect their heavily taxed marijuana industries. The question remains is, how much are hemp-derived Delta-8 and 9 contributing to the margin compression and slowing sales in the cannabis industry?
Join cannabis industry heavyweights like Moran Fox, Political Director for NORML, Michal Correia, Director of Government Relations at the NCIA, Scott Moskol, Partner at Burns and Levinson, Jeff Finkle, CEO of the Arcview Group, Chris Walsh, CEO of MJ BIZ, Carl Giannone, Co-Founder Trade Roots, David Rabinovitz, Cannabis Consultant, Aaron Goines of Emerald Turtle Delivery, and Jackie Bryant, managing editor of San Diego Magazine as we discuss the current trouble trends in the cannabis industry and what the future looks like going forward.
Watch the exciting show on the Pro Cannabis Media's YouTube channel below!
What do you think about the cannabis industry now? Leave a comment!
THE MARIJUANA INDUSTRY IS DEAD, HEMP GETS YOU HIGH NOW, READ THIS...
THE MARIJUANA INDUSTRY IS DEAD, CLICK HERE!
OR..
THE GREATEST LOOPHOLE IN DRUG LAW HISTORY? READ ON!