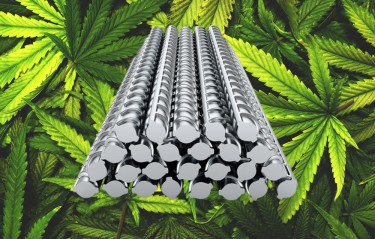 Researchers from Rensselaer Polytechnic Institute, Troy, New York, confirm that hemp rebar could be a suitable alternative to steel in cement construction. Dan Walczyk, director of the manufacturing innovation center and professor of mechanical engineering, and Alexandros Tsamis, associate director of the Architecture Science and Ecology Center and assistant professor of architecture at Rensselaer Polytechnic, say they have produced an alternative to steel in concrete buildings and various infrastructure projects. Both scientists agree that hemp-based natural fiber-reinforced thermoplastic rebar has the potential to displace steel as the most preferred reinforcing technology in a few years. These hemp rebars are partially guaranteed to eliminate corrosion challenges, and they are more durable than steel bars.
Rebar is a crucial component in the frameworks of cement buildings. They help construct perfectly standing and durable skeletal frameworks for convention infrastructure projects. On its own, concrete lacks tensile strength, and this is the primary reason why rebars are used—to provide tensile strength.
The Manufacturing Potential of Hemp
About 150 years ago, before the onset of cannabis prohibition and the criminalization of offenders, hemp was used to produce over 75% of the goods consumed by Americans. The manufacturing of hemp-derived goods was scrapped when the government banned the cultivation and usage of the drug based on the threat of abuse. Currently, hemp is at the forefront of manufacturing discussions due to its undeniable potential to serve humans and the global ecosystem.
At the crucial point of severe environmental degradation and climate change, an environment-friendly crop like hemp could be the world's savior. Hemp is a biodegradable harvest crop that can derive recyclables, renewables, and reusable products. For products that can't be recycled, they are guaranteed to degrade into the environment as quickly as possible. Environmentalists who are researching the benefits of hemp claim that the mass production of the crop could go a long way towards limiting global warming effects through the reduction of carbon monoxide compounds in the air.
The industrial use of hemp plants could help produce thousands of essential items needed for day-to-day activities, including plastics, paper, clothing, linen, and drugs. It could also produce several technological tools and building items like rebar.
Hemp and the Steel Industry
Studies at Rensselaer Polytechnic and other reputable institutions point out that hemp could be a perfect replacement for steel. These scientists claim these plants are phenomenal crops meant to be mass-cultivated on industrial scales to produce dozens of products.
For example, the various car parts produced from steel or plastic can be alternatively made from hemp. And hemp is a much stronger and more durable raw material than steel and plastic. Yes, hemp is stronger than both materials and products derived from the crop that have long-lasting lifespans.
The New Study
The preliminary study confirms that hemp possesses better strength capabilities than steel and has a higher chance of substantially reducing greenhouse gas emissions.
The Rensselaer Polytechnic Institute for Energy, Built Environment, and Smart Systems (EBESS) are in charge of this new research. The institute is committed to developing a broad strategy for a durable and cost-effective hemp industry to address the constant climate change challenges in a traditionally powered ecosystem. The institute is an interdisciplinary initiative that the private school believes will close the gap between business, engineering, and design.
Walczyk and Tsamis said the research was borne out of a need for innovative and affordable hemp technologies. They also stated that hemp rebar is not the only technology being researched. These other innovations include new hemp biocomposite processing techniques and the development of decortication technology to separate hemp fibers without reducing their mechanical properties.
More Details
Concrete does not possess the internal strength required to stand on its own without support. Construction workers and engineers use steel rebars to provide tensile or inner strength. Rebars are more sturdy rods, conventionally made from steel, but not long.
The research team at the private research university published that the newly developed hemp rebars can provide the necessary framework for building and infrastructural construction. They also stressed the non-corrosive properties of proposed rebars.
Hemp is not the only material that could replace steel for construction purposes. In 1958, Roger Bacon discovered that graphite whiskers possessed ten times more tensile strength than steel and three times its stiffness. After this discovery, graphite was used to make carbon fibers. Recent findings of hemp claim hemp fibers are much stronger than these carbon fibers.
Another notable material in construction is graphene. The Science Journal discovered that graphene sheets have at least a hundred times the strength of steel. The carbon variant is an excellent conductor of electricity and can be combined with polythene products to allow conductivity. It has also been used to produce super-energy batteries and electric vehicles. The downside to this material is the cost of production. Another reason hemp is famous. The plant mimics many features of graphene, steel, and graphite whiskers. It could store as much energy as graphene and has more tensile strength than steel, and can be mass-produced at cost-effective prices.
Note that for hemp to be mass-produced for day-to-day products and industrial tools or components, there are still a few technical challenges that must be overcome. Some of this includes developing efficient processing methods and equipment that would best fit the hemp materials, manufacturing methods, and property data. Failure to overcome these hurdles would result in low-quality hemp rebar samples, among others.
Bottom Line
Hemp can be used to bring multiple high-end products to reality at far lower costs than steel and other traditional production materials. The ongoing development and research on the potential usefulness of hemp plants will shed more light on this. Rensselaer's Seed to City Hemp Initiative will not only place the school on the hemp industry radar but also contribute to the progress of the New York engineering, design, business, and hemp industries. This proposed natural fiber-reinforced thermoplastic rebar derived from hemp plants will keep hemp structures intact for a long time.
Note that steel cannot be replaced entirely in the industry because it remains the best option for producing some substantial items and electrical tools.
HEMP BUILIDING MATERIALS, READ MORE...
IS HEMPCRETE THE FUTURE OF CONSTRUCTION? CLICK HERE.
OR..