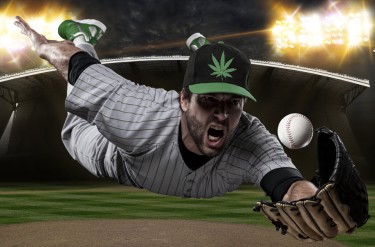 In a huge move, Major League Baseball just announced that their teams can now freely sell CBD sponsorships.
A report by Terry Lefton of Sports Business Journal discussed that during a recent conference call, CBD has now been made into an "approved category" provided that they have been vetted by a testing organization and do not contain psychoactive amounts of THC. However, other leagues around the country are still not open to CBD sponsorships due to the stigma surrounding THC, though MLB was wise to see the potential of getting a share in the massively-growing CBD market.
"We've been watching this category for a while and waiting for it to mature to the point where we can get comfortable with it," explains Noah Garden, MLB CRO. "We told the clubs if you want to do a deal in the CBD category, it will require two things: One is NSF certification – and none of them are there yet, although around three to five (brands) are in process. The other is to get approval from the commissioner's office… Our fans are very much the kind of customers they are looking for, and we like being first," he said.
Last December 2019, MLB made an announcement that they would be removing cannabis from their abused drugs list, following the death of Tyler Skaggs, a renowned baseball player, due to an opioid overdose with fentanyl. It was an unfortunate and avoidable death, as Skaggs was only 27 years old. Painkiller medications are commonly abused by athletes, who have easy and legal access to them. While opioids do not by any means improve their performance as athletes, they are prescribed to help treat moderate to severe pain.
During the June 13-15 Brand Innovation Summit that took place in Chicago, Grant Norris-Jones, the Ultimate Fighting Championship (UFC) VP for Global Partnerships discussed the benefits of CBD for athletes. "It's a better alternative to addictive products, like pain killers, opioids, and sleeping aids," he said. "The big problem has been the different standards and practices by our various broadcast partners when it comes to CBDs," he added.
"In the UK, Love Hemp is sold in the equivalent of Walgreens and CVS. Here, their activations have to be outside of ESPN currently. So it's been a lot of digital, social and a brand ambassador program with our athletes," Norris-Jones explained.
Will Other Sports Follow Suit?
Until this happened, none of the Big Four Leagues in the United States didn't accept any kind of league or team sponsorship from any cannabis brand. However, it hasn't stopped other leagues from accepting sponsorships from CBD or cannabis companies, pioneered by the United Soccer League's Las Vegas Lights FC who, back in 2018, became the first American sports team to sign on a cannabis sponsorship. They inked a deal with a dispensary located close to the stadium called NuWu Cannabis Marketplace.
This was followed by the United Soccer League signing on a partnership with Synchronicity Full Spectrum Hemp Oil in 2020. The USL has 47 teams in North America, and their games are all shown on ESPN.
Soon after, other leagues followed around the country though it's a milestone moment for one of the Big Four to do so, marking a revolution for professional sports leagues around the country.
What about the other leagues? While they have yet to allow sponsorships from cannabis or CBD companies, they have relaxed their cannabis policies already.
For the National Hockey League, they have been among the first to relax their stance on players using medical marijuana. "Of the 31 teams in the NHL, 28 play in states where players have access to legal marijuana, whether it is for medicinal or recreational purposes. That's the highest percentage (90.3) of any of the major four North American pro leagues, but hardly an anomaly," said the ESPN in 2019. They do test for marijuana although there are no consequences for players who test positive though if a player had abnormally high levels of THC detected, it would be treated in the same way alcoholism would be – essentially, a health matter.
On the other hand, the National Basketball Association has decided to stop randomly testing basketball players for cannabis use. This policy started during COVID-19 to help them with the "restart bubble" though it's expected this will continue. "We have agreed with the NBPA to extend the suspension of random testing for marijuana with the 2021-22 season and focus our random testing program on performance-enhancing products and drugs of abuse," said Mike Bass, NBA spokesman, last October 2021.
Meanwhile, the National Football League recently changed their marijuana policy as of 2020. It was done for the collective bargaining agreement, an important document for the league as it contains all their regulations for operation including the rules for suspension to how to play football, and everything else in between. "Under the new collective bargaining agreement [which was ratified on March 15, 2020], players who test positive for marijuana will no longer be suspended. Testing will be limited to the first two weeks of training camp instead of from April to August, and the threshold for the amount of 9-delta tetrahydrocannabinol – or THC, the psychoactive compound in marijuana – needed to trigger a positive test will be raised fourfold," says the New York Times.
Conclusion
These moves only makes sense as numerous athletes already advocate for cannabis and CBD products to help with pain and muscle recovery, such as Nate Diaz, James Haskell, Eugene Monroe, Megan Rapinoe, and so many more. As more people discover the benefits of CBD, it's only a matter of time until a great deal of athletes use cannabis products as opposed to opioids and other pharmaceutical drugs because of their addictive qualities and harmful side effects.
CBD IN SPORTS, READ MORE..
WHICH NFL FANS USE THE MOST CANNABIS? HINT - ITS NOT THE DENVER BRONCOS