They say when Google enters your industry it is time to sell and move on, but has that time finally come for internet website giants like Weedmaps and Leafly? With Google Maps now listing dispensaries and reviews, and lowering both Weedmaps and Leafly's organic search traffic, the end may be near for these historic giants in the cannabis industry.
The landscape of online cannabis advertising witnessed notable challenges in the third quarter of 2023 as industry leaders Weedmaps and Leafly grappled with financial setbacks. California-based WM Technology Inc., the parent company of Weedmaps, reported a $2.5 million loss for the quarter, showcasing a mixed financial performance compared to the previous year. Simultaneously, Leafly Holdings Inc., an online cannabis advertising platform, faced a loss of $2.2 million, contributing to a yearly loss surpassing $9 million. Both companies experienced declining revenues and client bases, prompting strategic adjustments to navigate the evolving cannabis market. This comprehensive overview delves into the financial intricacies of Weedmaps and Leafly during Q3 2023, shedding light on the industry's challenges and the companies' responses to position themselves for future growth.
Weedmaps Struggles with Losses and Declining Metrics
In the competitive realm of online cannabis advertising, Weedmaps faced a challenging third quarter in 2023, posting a loss of $2.5 million. At the same time, this loss signifies an improvement from the preceding year, where Q3 losses amounted to $10.5 million and an annual loss of $82 million; several critical metrics indicated a concerning downward trend. Total revenue for the year decreased from $50.5 million to $47.7 million year-over-year, signaling a decline in the company's financial performance. Moreover, the average monthly paying clients dropped from 5,576 to 5,414, and the average revenue per client also experienced a dip, falling from $3,019 to $2,938.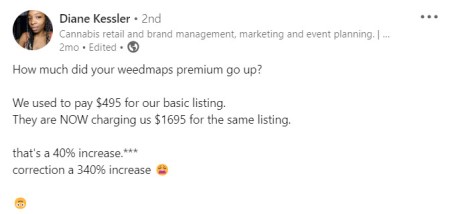 The challenges were widespread across various segments, as highlighted in the company's regulatory filing with the U.S. Securities and Exchange Commission. Notably, the only segment that showed gains was the WM Ad solutions, constituting 8% of the company's total revenue. Weedmaps, in response to the financial headwinds, undertook cost-cutting measures to enhance operational efficiency. Executive Chairman Doug Francis acknowledged the quarter's results, emphasizing the commitment to navigating constrained end markets. Operating expenses dropped year-over-year at $53.2 million from $70.1 million, underscoring Weedmaps' determination to streamline operations and recover from financial setbacks.
Despite these challenges, Weedmaps maintained a positive outlook, with Francis expressing satisfaction with the results as they reflect the company's dedication to operational efficiency in a challenging market. At the close of the quarter, Weedmaps held $27.7 million in cash and $63.9 million in total liabilities, signaling a cautious financial position amidst ongoing efforts to return to profitability in a competitive and evolving industry.
Leafly Continues Downward Revenue Slide with Client Exodus
Leafly Holdings Inc., a prominent player in the online cannabis advertising sector, faced a challenging third quarter in 2023, marked by a loss of $2.2 million. This loss adds to its annual deficits, which surpassed $9 million. Leafly reported an overall revenue decline to $10.6 million from $11.8 million year-over-year, indicating a persistent downward trajectory. The company witnessed a significant loss of 795 retail clientele accounts sequentially, dropping from 5,261 to 4,466 in the second quarter. This client exodus underscored Leafly's hurdles in retaining its customer base during this period.
Despite the notable decline in paying retail clients, Leafly highlighted a positive aspect: the increase in the average paying client's monthly bill year-over-year. The monthly bill rose from $556 to $644, attributed to the implementation of new rate cards and the strategic churn of lower average revenue accounts. Leafly's management, acknowledging the challenges faced by the wider cannabis industry in 2023, expressed commitment to building a sustainable business in a difficult market. Miyashita, a representative of Leafly, stated that the third-quarter results reflect progress toward this goal. Leafly has implemented several cost-cutting measures over the past year, including layoffs and restructuring its marijuana news division, leading to a 33% decrease in operating expenses to $10.9 million from $16.3 million year-over-year.
Despite the financial difficulties, Leafly's CFO, Suresh Krishnaswamy, emphasized the company's continued focus on operating with efficiency and managing costs. The company's gross margin improved by 2%, reaching 89% from 87% in the same timeframe, showcasing Leafly's commitment to financial stability and efficient operations amidst a challenging market.
Strategies and Outlook for the Future
Cost-Cutting Measures and Nasdaq Compliance:
In response to the challenging market conditions, both Weedmaps and Leafly implemented strategic measures to control costs and enhance financial sustainability. Weedmaps reported a significant year-over-year drop in operating expenses, reducing from $70.1 million to $53.2 million. The company's commitment to operational efficiency was underscored by Executive Chairman Doug Francis, who highlighted the positive impact of cost-cutting on their financial performance. Weedmaps also achieved Nasdaq compliance with the minimum bid price rule in September, ensuring the continued trading of its shares on the exchange.
Pricing Adjustments and Service Enhancements:
Leafly, facing difficulties in its retail and brand customer environment, rolled out strategic changes during the third quarter. These included implementing "new rate cards and price increases in select markets" to better align pricing with its services. Additionally, Leafly revamped its API for "order integration," aiming to streamline online ordering for its retail partners. The company also introduced "scheduled delivery" for online customers, designed to drive customer retention and loyalty. These pricing adjustments and service enhancements reflect Leafly's proactive approach to adapting its business model to market demands.
Financial Guidance and Future Projections:
Looking ahead, both Weedmaps and Leafly provided insights into their future outlook. Weedmaps expressed satisfaction with its third-quarter results, emphasising a focus on profitability and careful management of expenses in the face of constrained end markets. Leafly, acknowledging the difficulties in its retail and brand customer environment, stated its commitment to building a sustainable business in a challenging market. Leafly issued financial guidance for the remainder of 2023, projecting $9.5 million in revenue for the fourth quarter. However, this projection signifies another decrease, and the company anticipates an adjusted EBITDA loss of around $1.3 million. These projections highlight the cautious optimism of both companies as they navigate a dynamic and evolving cannabis market.
Bottom Line
The third quarter of 2023 marked a testing period for online cannabis advertising giants Weedmaps and Leafly, as both faced financial setbacks amidst a dynamic industry landscape. Weedmaps showed signs of improvement with a reduced loss compared to the previous year, implementing cost-cutting measures and achieving Nasdaq compliance. Conversely, Leafly grappled with a persistent downward revenue trajectory but showcased resilience through strategic adjustments, including pricing changes and service enhancements. As both companies cautiously navigate a challenging market, their experiences highlight the crucial importance of adaptability and strategic decision-making in the ever-evolving landscape of online cannabis advertising.
(Hat tip to Matthew Shterenberg, Diane Kessler, Jeremy Johnson, and Seth Yakatan for great LinkedIn posts, follow them on LinkedIn, they know what they are talking about!)
MORE ON DISPENSARY LISTING SITES, READ ON...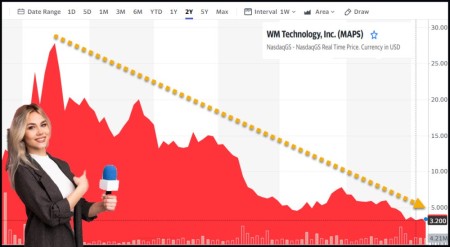 WHY WEEDMAPS FOUGHT SO HARD TO KEEP ILLEGAL DISPENSARY LISTINGS?