Why Now is the Right Time to Quit Your Day Job and Go For That Cannabis Dream Job
Yes, you can now leave your day job and pursue that cannabis job you've always dreamt of.
Here's why you can now be more confident than ever about the US cannabis job market…
A new report released last month by Joblift, an international job and hiring website, employment growth in the medical cannabis industry has been eclipsing the national average. To come up with the data, Joblift relies on big data algorithms and machine learning to assess more than 3,000 online job ads for cannabis in the last year. They found that nationally, job prospects in cannabis continue growing although job growth in California's cannabis sector was seeing a drop.

Joblift's report also revealed an analysis of Google searches for medical cannabis jobs jumped up 43% from the last half of 2017 through the first half of 2018, signifying increased public interest in the sector. On the other hand, job ads also continued to grow; they found a 24% increase in postings for the first half of this year compared to the last half of 2017. Meanwhile, employment ads for the whole country's labor market saw just a 16% growth.
Surprisingly, the report also found that New York could soon beat California in the cannabis market. They findings said that California, Florida, and New York were the top three states when it came to the total MMJ job listings in the last year. But Pennsylvania, Massachusetts, and New York were those that saw the most significant job growth.
When it came to skill, the Joblift report revealed that the growing MMJ market has created openings for more professionals of various capacities from graphic designers to security personnel. But Joblift says that around 15% of the 3,367 listings they studied in the last year revealed that demand for highly-skilled medical jobs such as nurses, physicians, and pharmacists is growing while 6% of the listings were for sales and marketing professionals.
"The medical marijuana sector is one that everyone should keep an eye on," Matt Kopjak, Joblift's US Market Managing Director says. "The job sector in general is incredibly lucrative; medical marijuana should be no different. It has the potential to create employment opportunities for a wide variety of professionals and, based on our numbers, could prove to be a boon to the American labor market."
Findings From The First Cannabis Jobs And Salary Guide
Vangst just released the first ever guide for the cannabis market jobs and salaries. Vangst is a platform that calls itself the Monster.com for cannabis jobs, and they analyzed data from more than 1,200 cannabis companies, around 70% of which had medical cannabis programs.
Their report revealed that the cannabis industry saw a whopping 690% growth in job postings from January 1, 2017 to August 1, 2018. They predict that cannabis jobs will continue to soar in demand and see 220% more growth come 2019. The average salary for cannabis jobs also grew 16.1% between 2017 to 2018.
The rise in jobs is, of course, a good thing. It also has the potential to cater to an inclusive workforce. "Given the industry is so young, current businesses and influencers in the space have the opportunity to build the cannabis industry into the most inclusive industry in the world," says Karson Humiston, Vangst CEO. "Cannabis businesses need to build diversity recruiting programs and prioritize building highly diverse companies from the start. While we are seeing many companies do this well, there is room for improvement."
The Vangst report included interesting insight into the salaries of common jobs in the cannabis space, revealing figures from the low to the top end:
Director of Extraction ($47,000 to $191,000)
Director of Cultivation ($47,000 to $250,000)
Compliance Manager ($45,000 to $149,000)
Dispensary Store Manager ($41,500 to $98,000)
Outside Sales Representative ($28,000 to $150,000)
Budtender ($12/hour to $16/hour)
Trimmer ($11.50/hour to $14.50/hour)
"We were surprised to see the drastic difference between low salaries and top salaries," Humiston says. "It's very clear the companies that are scaling the fastest are those which are paying on the high end and prioritizing recruiting top talent from other industries."
Humiston adds, "Cannabis technology companies are growing extremely quickly. The demand for CTOs, front and back-end engineers, product managers, business intelligence managers, and designers is rapidly increasing."
How To Quit Your Job and Get a Cannabis Industry Job from CannabisNet on Vimeo.
OTHER STORIES YOU MAY ENJOY...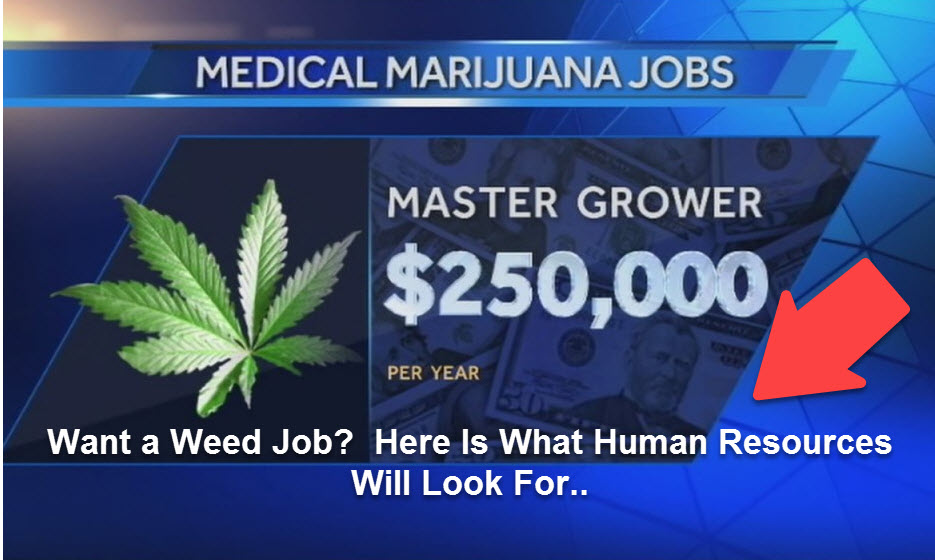 GOT A CANANBIS JOB INTERVIEW COMING UP, READ THIS..
OR..