You Can Die If You're Caught With Cannabis In Singapore, But These Businessmen Get Away With It
In Singapore, like many other countries in Asia, cannabis-related crimes can get you the death penalty. Your government will probably be unable to save you, even if you come from a country where cannabis has been legalized. Drug trafficking in Singapore will lead to the death penalty, or up to 10 years in jail if you're caught with it.
However, the sign of the times may be evident in the Lion City.
Singapore is notoriously conservative and strict when it comes to anything to do with drugs, but they may be joining the ranks of other Asian countries who are loosening up their stance when it comes to cannabis. May 2018 saw Singapore play host to the world headquarters of CannAcubed, a cannabis firm involved with growing industrial pot, particularly hemp, although most of their plantations are found in Yunnan, China, reports the South China Morning Post. CannAcubed can only grow cannabis strains that contain less than 0.3% THC, which is the cannabinoid responsible for the "high.". Even though cannabis remains illegal in China, the government allows hemp cultivation in Yunnan.
"We export CBD into Europe and other northern markets," says CEO Glenn Davies. "Then there's the domestic focus on China, with hemp textiles and garments. Third, we are developing our own seed bank."
CannAcubed gets away with it in Singapore, how exactly? Well, they're registered in Singapore as a biotech company, one that's a "diversified cannabis company." Their business is completely legal, as long as they conduct their business outside the country. "The base in Singapore is simply set up as a holding entity so whether we have operations in China, or someday in Thailand or Laos – that doesn't affect us being in Singapore," says Davies, who has 15 years of experience working as an entrepreneur. He is no stranger to the challenges that come with doing business in emerging markets.
Hemp is growing to be an increasingly hot market in western nations, renowned for its ability to produce strong fibers but it's much more lucrative for this purpose compared to trees due to its ability to grow at a quicker rate. However, hemp's use in Asia dates back centuries; it's long been used for numerous purposes especially in China, Japan, and Korea.
Singapore's Reaction Towards Hemp
"Singaporeans are very intrigued, very interested," says Davies. "They get excited and want to know about it and understand the industry. From our perspective it's always constant education… people want to learn what we do, how it works, where we buy, and how CBD is extracted."
CannAcubed's first crops were planted back in July, and this November they were already able to make their first harvest. Four months' turnaround time is nothing short of impressive.
"We're looking at focusing on a few areas for the potential of cannabis," explains Davies, before finalizing more goals for the company. "Waste reduction by introducing the world's first true biodegradable plastic; solving some of the world's energy crisis by looking at hemp as an alternative biofuel; tackling deforestation by introducing cannabis as an alternative to paper and materials made from trees."
The Role of The National Research Foundation In Singapore
The National Research Foundation in Singapore announced earlier this year that they would be conducting research on synthetic cannabinoids. CannAcubed has reached out to play a role for the study, as Davies sees potential in Singapore potentially exploring the economic benefits of cannabis. "Knowing now that Singapore has already been interested in the therapeutic benefits of CBD, I do think it's just a matter of time."
Even though working with synthetic cannabinoids is vastly different from using actual cannabinoids, it's a step in the right direction especially for a country with notorious drug laws. "Scientists in Singapore hope to unlock the therapeutic potential of cannabinoids – chemical compounds found in the cannabis plant – with none of the negative side effects and social ills," reports the Strait Times.
The National Research Foundation will be delving into a 5-year study, which makes up part of a $25 million program for Synthetic Biology Research Development.
However, don't think you'll be seeing cannabis plants in Singapore any time soon. The program won't be studying actual plants, but will reproduce these cannabinoids within a laboratory.
If You are Caught with Pot in Singapore You Can Get the Death Penalty, But These Businessmen Get Away With It from CannabisNet on Vimeo.
OTHER STORIES YOU MAY ENJOY..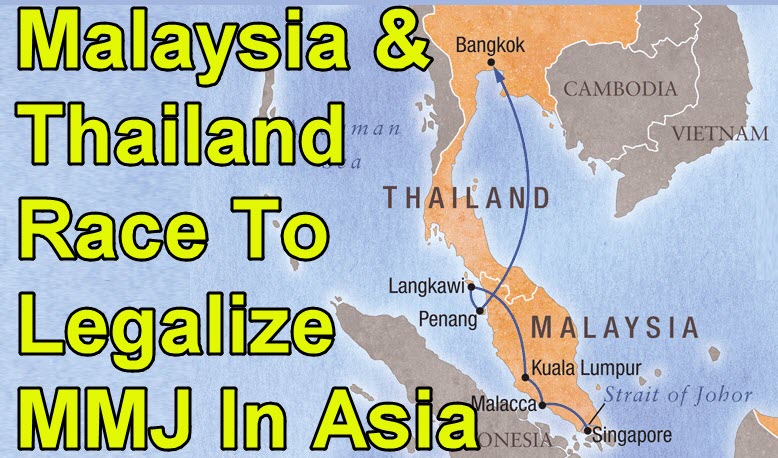 THAILAND AND ASIA GO FOR MEDICAL MARIJUANA, CLICK HERE.
OR..