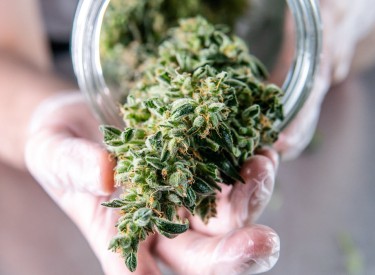 Now that using cannabis is finally finding its way out of the dark corners, weed-related gear is becoming more sophisticated than ever. Gone are the days when cannabis enthusiasts were stuck with primitive tools, often homemade, when dispensaries still weren't prevalent. Today, weed-related products are now easier to find and purchase.
If you're reading this and the holidays are looming in, take this as a heaven-sent list. Particularly now that the legalization of medical and recreational marijuana is a regular discussion across more and more states and nations, you're sure to find quite an increasing number of family and friends who become enthusiasts themselves. The reason? The undeniable, science-backed potential benefits that cannabis from quality sources like Cannassentials weed in DC, among others, may bring.
With that in mind, here's a holiday gift guide for cannabis enthusiasts, so you're sure to give them something they'll truly enjoy.
Vape Pen
Vape pens are becoming quite popular nowadays, especially for those who want nicotine-free. While vape juice is usually used to power vape pens, for cannabis enthusiasts, there's a new type of juice you can use, too. This is what is known as cannabidiol (CBD). It's still like a vape juice or liquid, only that its main ingredient is cannabis so that you can feel the effects of it.
With that, a vape pen is a no-fail gift idea, just like the classic top rated weed pipes. It's perfect for those who want to smoke CBD discreetly. By using CBD as your vape juice, no one will even know what you're smoking is cannabis.
Box Of Cannabis Gumdrops
A box of chocolates is a crowd-favorite during the holidays, especially when you don't know what to give or are looking for a last-minute gift. For that cannabis-lover dear to you, a box of chocolates can be made better with a secret ingredient—cannabis.
There are chocolates, but there are gumdrops, too. It's not just cannabis flavor; many are also masked with sweet delights. On top of cannabis, gumdrops can be in various flavors, including orange, lemon, elderflower, and grapefruit. That way, you won't have to worry about any strong cannabis flavor destroying the pleasantry of taking in sweet treats.
Cannabis Cook Book
Here's something for someone who loves both cannabis and cooking. Because they enjoy experimenting in the kitchen, making homemade cannabis treats is easily something they can do. They'll need recipes to whip up cannabis-infused food like brownies, cookies, and salads.
While there are loads of recipes to get by online, there's still something special about having your collection of cookbooks in the kitchen. Who knows, with that cannabis cookbook, you may just become an expert at cooking with weed.
Botanical Tea
One of the main reasons why many have learned to love CBD oil is that it helps them relax and relieve stress and anxiety. The best way to elevate those feelings of relaxation is to enjoy a cup of tea in the afternoon or to end your day.
This tea can come in various flavors like CBD gummies, gumdrops, and chocolates. This allows you to shop for your favorites, as with any other ordinary type of tea. Each bag comes with around 20mg of cannabis. So you get both the benefits of the tea ingredients and those of the cannabis.
Cannabis Perfume
Every holiday gift guide has that one thing for someone who has it all. For those classified under this category, the usual way to go about gifting is to opt for perfumes. If you're wondering why, the answer is simple—you can never have too many perfumes.
If you have a friend who loves perfumes and is also a cannabis enthusiast, you'd be glad to know some dispensaries or apothecaries have perfumes with weed in them! It's more than just about smelling good now, and it's also about feeling good and relaxed after spraying and smelling your perfume.
Cannabis Candles
Still around the realms of relaxation, here's another item for that homemaker who is also about setting the right mood at home with the help of scented candles. Sure, you'll have your own tried and tested candle scents, but why not try cannabis? Say you've gotten hooked on using cannabis to relax and unwind. This scented candle should then become your very own must-have at home.
This gift is best given only to adults who live alone. Or, if you have kids around, light them up only when they're already asleep in their rooms. While CBD products are generally safe even for children, the last thing you want is to have them basking in their scent.
Leave this for adults' me time. You deserve that peace and relaxation, too.
CBD Body Lotion
This next item is for that lady who loves her skincare! CBD has many astounding benefits, some of which relate to the skin. You may be surprised to hear of many friends and loved ones who may have switched to a CBD-infused skincare routine.
CBD lotion is one of the top must-haves in their skincare collection. Every pump of lotion is filled with full-spectrum CBD, so your skin absorbs the maximum potential benefits.
THC-Infused Condiments
There are those individuals who like their meals plain, while there are those who want to elevate basic and dry food with condiments. Ketchup, mayonnaise, hot sauce, and sriracha are a few favorites. However, did you know that there are also tetrahydrocannabinol or THC-infused condiments? It sounds pretty adventurous, but why not try it if you love cannabis, anyway?
Don't worry about the dose, as the condiment is as thoughtfully dosed as it is delicious.
4/20 Isn't The Only Time To Give A Weed-Themed Gift
Now that you have this list of the best weed wonders and canna-buys, you're only a few steps away from handing out great gifts to cannabis enthusiasts. Remember, 4/20 isn't the only time to give a weed-themed gift. For cannabis lovers, it's all year round.
The holiday season, in particular, can be exciting but buying gifts year after year can bring you to a loss as to what to give next. Add the items above to your shopping list, many of which you can find from quality dispensaries in your local area.
CANNABIS WNNING OVER THE HOLIDAYS, READ ON...