Is Marijuana "Big Tobacco 2.0"?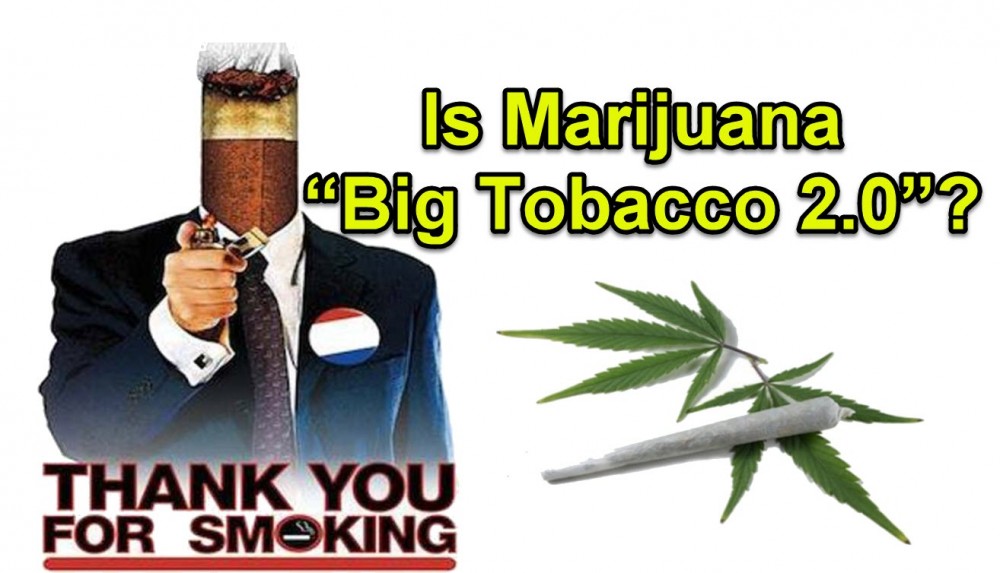 I know, you hear this statement and roll your eyes. You know for a fact that cannabis is nothing like tobacco, however, this doesn't stop a number of people screaming this claim at the top of their lungs.
People like Kevin Sebat and more recently, J. J. McCullough, who is a columnist for the National Review Online who wrote a long column about making the comparisons between cannabis and big tobacco.
Of course, for someone who hasn't studied cannabis his writing style might dupe you into believing his bullshit. Today, while I'm not going to go through all of his arguments, I will touch on the most important ones to debunk the theory that Cannabis is just Big Tobacco 2.0.
Government Subsidies
The first most important point we have to make in the case against this asinine argument is that unlike tobacco, cannabis has never and will never be subsidized by the government. You, the tax-payer are actually paying insurance on tobacco crops.
There was a measure in place to end these subsidies but you are still paying for tobacco in one way or another. In fact, between 1995-2012, the United States paid out $1.5 billion dollars in subsidies.
This is not the case with cannabis. Cannabis has restrictions on banking, advertisement, staunch regulatory processes and vetting processes for people wanting to work within the industry. The cannabis industry had to fight through decades of negative propaganda funded by the government itself. Pharmaceutical industries pay out millions in anti-cannabis campaigns.
Even police unions and prison unions are chipping in to keep cannabis illegal. During no time during the rise of the tobacco industry did tobacco ever had such staunch opposition.
Bunk Science Claims?
We know that the tobacco industry funded studies and swayed results to fit their narrative that cigarettes won't kill you. J.J McCulough states that cannabis is doing the same thing. The problem with this claim is that there are more than 20,000 studies on cannabis, some of them from the U.S government itself.
Unlike tobacco, cannabis actually does have medical benefit. From helping with nausea, pain management, epilepsy, PTSD, mood disorders, IBS and much more…cannabis provides relief and helps with the healing process.
The U.S government even has a few patents on cannabinoids found within the plant itself. These studies weren't funded by the cannabis industry. Some of them were funded by the U.S government itself with the hopes of finding "negative consequences of consuming cannabis", only to find the opposite to be true.
McCulough doesn't seem to understand this point. He believes that the industry, due to financial incentives are funding studies to dupe the American public into believing that cannabis is a good thing. The problem with this point is that he fails to recognize studies from other countries such as Israel, Spain, Canada and so forth dating back to the early 1970s. There is absolutely no way that those studies were influenced by an industry that still didn't exist back then.
The fact of the matter is that the U.S has been funding studies to outline how bad cannabis is for you, only to find the opposite to be true – to the point where they patented cannabinoids for medical purposes.
Thus, his claim about cannabis and bunk science only truly reflects his ignorance on the topic.
The Liberty Argument
During his rants, we hear that he makes a connection between the "liberty argument" that the tobacco companies used and one of the main arguments for legalization of cannabis – freedom of choice.
Here's an excerpt from his column;
"As was the case with smoking tobacco, smoking marijuana is said to prove you're sociable, hip, and modern.
As with tobacco, marijuana is portrayed not only as largely harmless, but as objectively good for you, with a credible function as self-medication for all sorts of ailments.
As with tobacco, marijuana is presented as a signifier of individual liberty and self-empowerment.
As with critics of tobacco, critics of marijuana are cast as petty tyrants trampling on freedom while peddling hysterical junk science.
And as with the tobacco industry, a cash-flush marijuana industry is eager to use its wealth to slant scientific study and political debate, lest its flattering claims begin to sire organized suspicion."
The problem with this part of his argument is that cannabis is an issue of liberty, as is tobacco. The right to consume anything is a human right. If this premise is not true, that would mean that you are the property of the state and they have a right to dictate what you can and cannot put into your own body.
If the words "Life, Liberty and the Pursuit of Happiness" means anything anymore in the U.S, it would be the only argument we needed to legalize cannabis. Choosing to consume any narcotic, even heroin, is a right you as a free person has. It's not the job of the government to keep you "healthy". Their only function is to protect your freedoms…however; statists like J.J simply can't understand this.
His conditioned mind warps his outlook on objective science, his eagerness to prove that cannabis is "bad" makes him blind to his own biases.
The bottom line here folks is that cannabis and Big Tobacco has absolutely nothing in common, except now, people are making money off cannabis.
OTHER STORIES YOU MAY ENJOY...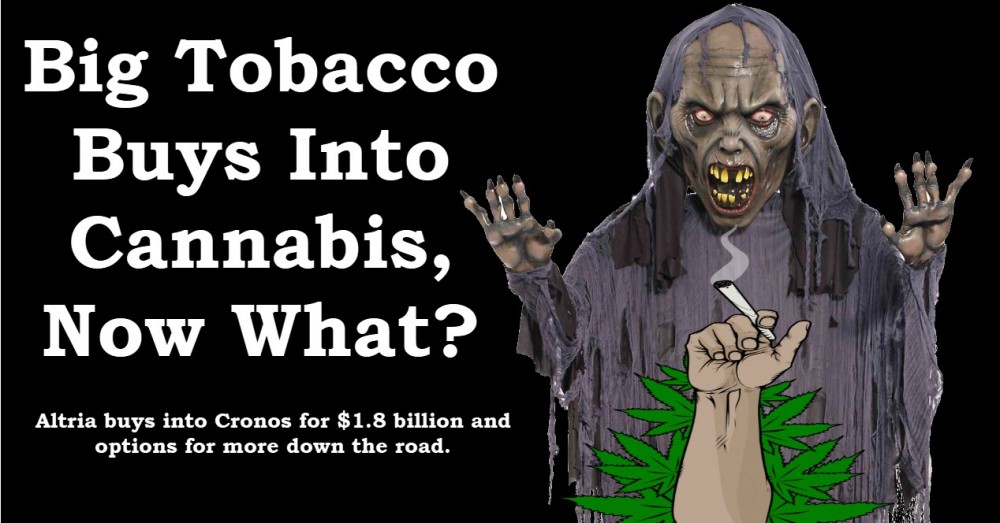 ALTRIA BUYS INTO CRONOS, BIG TOBACCO IS HERE, CLICK HERE.
OR..
IS THERE A CANNABIS CONSPIRACY IN AMERICA, READ THIS...
OR..