Great Cannabis Content on YouTube?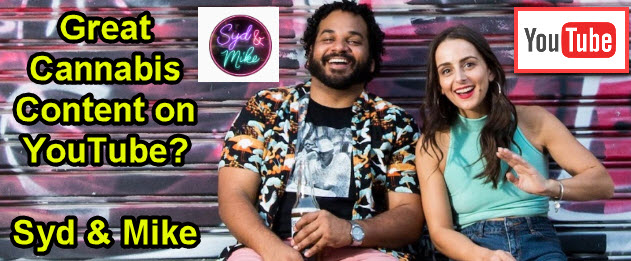 Why you have to absolutely check out Syd & Mike!
A Youtube Channel known as Syd & Mike is a jewel unbeknown to many cannabis enthusiasts, which is a shame. Their channel's description simply reads – "The Misadventures of Syd & Mike". While this doesn't give you a lot of insight of what to expect, the moment you press play on their videos...it makes perfect sense.
The channel was original started in 2016, and currently has about 25 videos on it (at the time of writing this article).
All of the content is super charged with cannabis related antics that will get you laughing and saying, "Yep…that seems accurate!" Recently, they were added to Hightimes TV, and hopefully they will receive more love from the public and grow as a channel.
With only 757 Subscribers (me included), I decided to write this article to help boost their presence online. They have a very witty, creative approach to video making which has a very good quality of production. The jokes are well-formed and the subject matter is spot on.
Let's take a look at a few of their sketches to give you an idea about why you should absolutely subscribe to their channel.
The Weed Guy Face Off
This is the latest entry in their video catalogue and it was a beauty. The video starts off with Syd talking on the phone trying to scrape some weed together only to cut her conversation short with the comment, "I've got an emergency".
For those who have been in similar situations…it definitely is an emergency.
Instead of simply calling up their usual contact, they decide to have a "Weed-Guy Face Off" where they interviewed different dealer stereotypes in a "Law & Order" type setting.
What ensued was a few minutes of comedic gold. Probably my favorite "dealer" in the video was the guy bringing back "Regs".
"Quantity over Quality!" he says. Of which Syd responds, "Don't you mean Quality over Quantity?" The dealer whipped out a bag of schwag and said, "It's making a comeback, only $40!" Mike responds, "$40 an eighth, that's typical prices…"
The Dealer responds…"for a quarter pound".
Blackeroni and Cheese ft Kenan Thompson
This skit is the third installment of a mini-series (if we can call it that) of related videos. "Yo, yo ,yo" part 1 and 2 show how Syd interacts with Mike's black friends. She immediately changes her behavior and tries to be "jive" when interacting with them.
Of course, this doesn't sit well with them and eventually it culminates beautifully in "Blackeroni and Cheese".
Mike convinces his friend to come with him to try some Blackeroni & Cheese using some illegally obtained truffles. Being the stoner she is, she wholeheartedly agrees to come along, only to be met with a "Blacktervention".
All of Mike's friends pointed out her sudden change in behavior when interacting with them. Oblivious to her own behavior, she denies that she is guilty of such atrocities.
To remedy this, all of Mike's friends berated her with stereotypical "white utterances" such as "OMG, did I ever tell you about my Yoga Retreat in Bali?" and "I have some tickets to TED talk if you wanna come!" and "Sometimes, I put a little cumin in my mash potatoes" to name a few.
At the end, a shell-shocked Syd is sitting around a table eating Blackeroni and Cheese with her black friends...cured from her "Black Out" as Kenan dubbed it.
Subscribe to their Channel!
I don't usually do endorsements like this, but to be honest this duo deserves some love. They have unique, original comedic material and great potential. They remind me of a "Broad City" style show that can evolve into something amazing.
They currently have under a thousand subscribers, which I think is criminal. I really hope that anyone who reads this considers to support their channel at least with a subscription or merely sharing one of their videos.
Don't forget to subscribe to our Cannabis.net channel here, we put up about 4 new videos a day, click here.
Finding Good Weed Entertainment
There's a lot of folks online trying to push weed-comedy, however, for the vast majority I have seen over the years, it fails to hit those nuanced notes within the stoner-subculture. Syd & Mike takes the stoner-subculture and eloquently touches on a wide variety of topics.
Considering that they have recently uploaded a video a few weeks back, I can imagine that we have plenty more coming up, especially since Hightimes TV added them to the roster.
If you do decide to subscribe to them, why not drop them a comment and let them know that Reginald Reefer sent you there. Not only would I appreciate it, it might help inspire other channels to contact me to make a review. I am always scouring the internet to find good cannabis content for you guys, and if folks can reach out to me with their shows, music and ideas…I'd be more than happy to write about it.
It's important to note that Syd & Mike did not ask me to write this, I did it for the pure love of cannabis and comedy.
If you have a show or music, or a book on cannabis…feel free to reach out to me @ReginaldReefer on Twitter and I'd be more than happy to give it a look.
You can also reach me at my official Twitter @JeandreGerber for quicker responses. Reginald is my cannabis pseudonym.
Anyhow, I hope you enjoy Syd & Mike like I did. I can't wait for more content to be uploaded.
OTHER STORIES YOU MAY ENJOY..
YOUTUBE AND MARIJUANA VIDEOS, IT'S COMPLICATED, CLICK HERE.
OR..