10 Spooky Strains for Halloween
If there's one occasion that's the most fun to get stoned for (next to 4/20), it's Halloween. After all it's way more entertaining to see people in costumes, watch scary movies, and get spooked with friends when you're lit AF.
With ghouls and ghosts, freaks and creeps out to party on the scariest time of the year, why not take things a notch higher by partaking with these strains that are a match made in heaven with Halloween?
Ghost OG is a popular Halloween favorite because of its well-balanced mental and physical high. This award-winning strain is perfect for smoking right before you head off to a Halloween party because it's potent but won't overwhelm you. Ghost OG is widely used by recreational users who love that it delivers a focused, euphoric, relaxed, and uplifted high.
Jack the Ripper is a "killer" cannabis strain, hence its name. Loved for inducing an uplifting cerebral euphoric high, Jack the Ripper is a great companion this Halloween especially if you need to fight off stress and depression to have a good time. This strain is known for delivering an intense, psychedelic effect that energizes, making Jack the Ripper ideal for a fun night out (just don't smoke too much).
White Widow is a world-famous strain loved for its happy, euphoric, and relaxed high. This strain is so renowned that it's graced all the coffee shops in Amsterdam. White Widow will relax both body and mind; have a few tokes to wind down after all the trick or treating to settle into bed for the night (or day).
Blue Dragon is a top choice for a Halloween hybrid strain. Thanks to fantastic genetics, Blue Dragon can either wake you up or help put you to sleep, so use as needed this Halloween. Users love Blue Dragon for delivering a euphoric, happy, relaxed, and uplifted high. This strain is an excellent relaxant, ideal for those of you who need a little calming down after a few too many scares.
Ghost Train Haze is one of the most well-loved sativa strains in the world. It delivers a powerful punch of THC, so medicate with care. Ghost Train Haze is an excellent uplifting and energizing strain that most users enjoy using during the day, but if you need a little help facing a long night of monsters in all shapes and sizes, this strain is for you.
Alien OG ain't no Marvin the Martian… more like Predator, perhaps. Alien OG enjoys the reputation of being one of the most powerful strains, with THC levels sometimes reaching as much as 28%. If you're feeling brave enough to get spookily high on Halloween, Alien OG's for you.
Incredible Hulk is loved for its quick and strong high combined with the added creativity and euphoria it delivers. If you have social anxiety or worry about facing too many freaks at the Halloween parties, Incredible Hulk will help facilitate social interaction. Incredible Hulk can also help put you to sleep after a night of festivities.
Space Queen is one of the most legendary hybrids out there thanks to celebrity genetics. Its strong psychoactive high will elevate you to outer space while helping you feel relaxed, uplifted, and creative. If you need some last-minute help picking out a Halloween costume, Space Queen may just do the trick.
Green Goblin is a monster sativa that will hit you pretty hard. This strain is an excellent choice if you have a long day full of crazy Halloween antics, and are ready to scare or be scared. It offers a blissful head high combined with a relaxing body high that will continue even after your mind clears. Smoke a few puffs of Green Goblin as soon as you wake up on the freakiest day of the year!
Durban Poison is a spooky sativa strain that is loved for the amazing alertness it delivers. Users love Durban Poison for its ability to enhance productivity and creativity, particularly during the day. If you need some help with crafts and DIY costumes for your party, Durban Poison will help you get everything done.
OTHER STORIES YOU MAY ENJOY...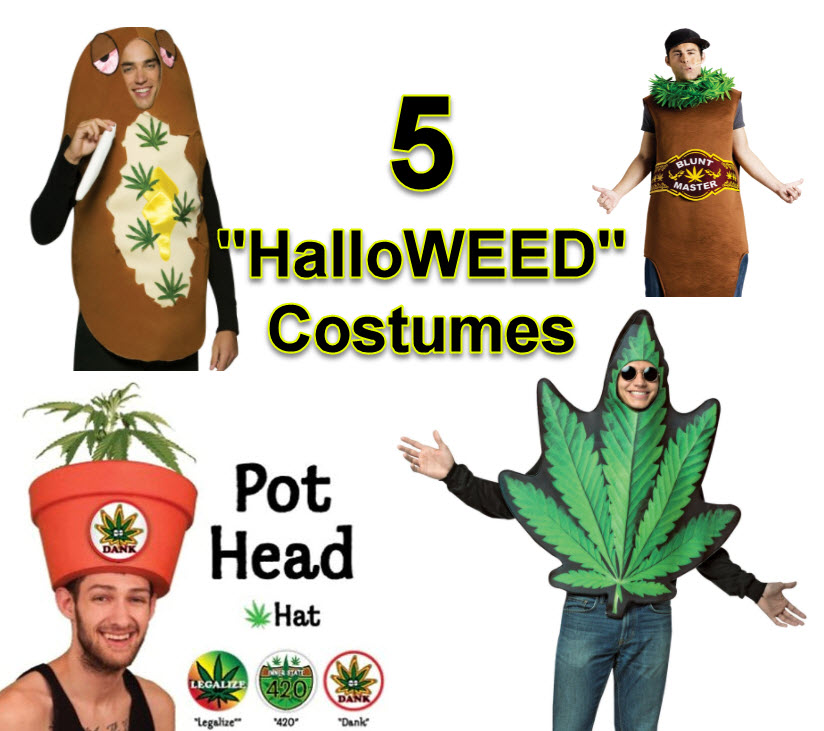 CANNABIS HALLOWEEN COSTUMES, CLICK HERE.
OR..