Weed Jerky
Beef jerky is easily one of the most popular snacks in the United States, as well as in Asia. We have the Asian Americans to thank for driving the popularity of this delicious savory snack in the country.
Beef jerky is so popular that chocolate giant Hershey's even bought into beef jerky, to add to their portfolio of childhood favorites that even as adults we have a hard time saying no to! When enjoyed moderately, beef jerky offers a range of nutritional benefits (that you can even increase by adding cannabis into the recipe, but more on that later!):
Protein: A one-ounce serving of beef jerky has 9.4g of protein. The recommend daily allowance for adult females is 46g of protein daily, while it's 56g for men. The protein content in beef jerky is helpful for breaking down and converting into amino acids, which is then used to build tissues and enzymes for overall functioning of your body.
Iron and Zinc: Beef jerky and other meat products are a good source of both iron and zinc, essential minerals that help strengthen the immune system. Iron encourages the production of red blood cells while zinc is necessary to help with wound healing. One serving of beef jerky already contains 1.54mg of iron, and 2.3mg of zinc.
Phosphorus: Occasionally snacking on beef jerky is better than eating junk food. This snack contains phosphorus, which is beneficial for optimum functioning of the kidneys.
Vitamins: Beef jerky has high levels of vitamin B-12, which the human body needs to produce DNA. It also contains other B-vitamins, such as riboflavin, thiamin, niacin, and vitamin B-6.
These nutritional benefits make beef jerky a great high-energy snack that can help your muscles recover after an intense workout. However, if you already have blood pressure or heart problems, eat beef jerky sparingly due to its sodium content. There are many other great ways you can enjoy and medicate with weed jerky:
On top of fresh salad
As a hiking meal
In tomato sauce for pastas
Roast it with Brussels sprouts
Add it into an omelet
Savory oatmeal topping
Add it into soup
Snack at work
Over deviled eggs
Add into fried rice
Toppings for instant noodles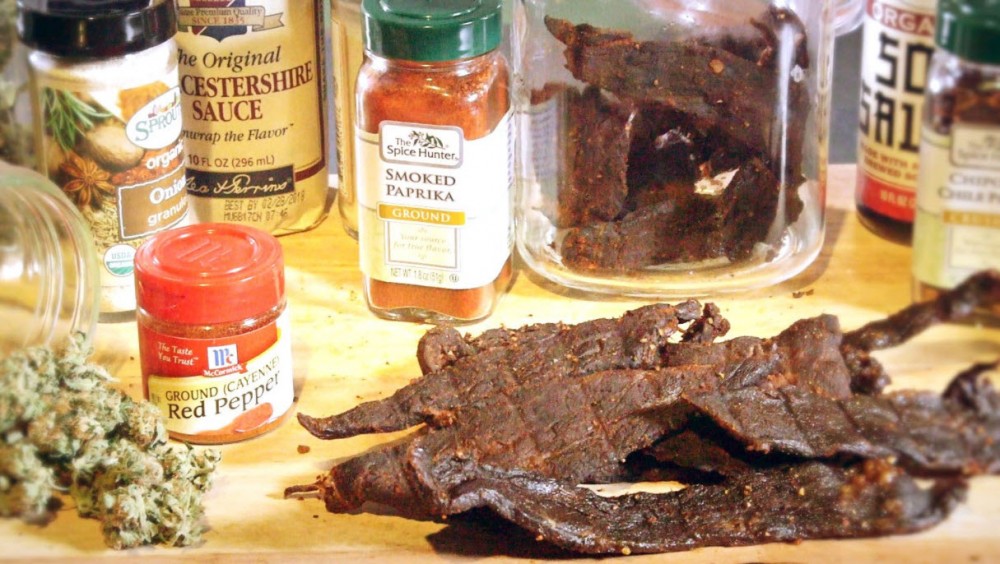 Weed Jerky Recipe
Ingredients:
2 lbs. thinly sliced beef steak, ¼ inch cuts
10-12g dried cannabis flower
1 teaspoon salt
1 teaspoon garlic powder
1 teaspoon onion powder
1 teaspoon red pepper flakes
2 tablespoons brown sugar
2 teaspoons freshly ground black pepper
1 tablespoon smoked paprika
¼ teaspoon cayenne pepper
½ cup Worcestershire sauce
¼ cup olive oil
½ cup soy sauce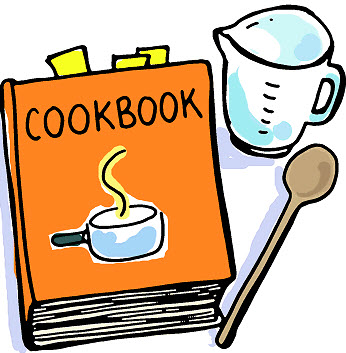 Method:
Preheat oven to 250 degrees.
Decarboxylate your cannabis by mixing it with olive oil in a small bowl suitable for oven use. Cover the bowl with foil and place it in the oven for 2 straight hours.
Once done, preheat the oven to 175 degrees. Use aluminum foil to line the baking sheet. Put a wire rack over the foil so that you have a drip pan with ventilation between the foil and the rack.
In a bowl, whisk together the Worcestershire sauce with the paprika, brown sugar, soy sauce, red pepper flakes, black peppe, onion powder, and garlic powder. Add in the cannabis infused olive oil.
Gently add the beef to the bowl one piece at a time so that each piece is thoroughly coated. Wrap the bowl in plastic, then marinate in the refrigerator for 24 hours.
Once done, transfer the beef slices and arrange them in a single layer on the wire rack. Try to leave as much marinade as you can on the meat, which may make it take longer to dry but will give you more potent weed jerky.
Dry the beef jerky in the preheated oven until it has a leathery consistency, which takes around 4 hours.
Let it cool, then use scissors to cut them up into strips or bite-sized pieces. The weed jerky will store well for a few weeks if you keep it in an airtight container.
How do you prefer to enjoy your weed jerky? Share with us in the comments below!
CANNABIS INFUSED TACOS ARE HERE, CLICK HERE.
OR..