Dank Deals in Portland
Portland, Oregon is one of the first states to legalize recreational cannabis. You can be pretty sure that this hip town is a stoner's paradise, with dispensaries left and right offering top-shelf bud. There's also a ton of great stoner-friendly activities to do, because the cannabis culture in Portland is definitely one of the best and most progressive in the country.
To cater to that, the cannabis industry in Portland is also pretty competitive. Many of them offer great deals, and have fantastic rewards programs for loyal customers. Check out these dank dispensary deals when you hit up Portland next, so you can save some greens while getting high:

Bridge City Collective offers an extensive range of high-quality cannabis in the North Center. Many of their products are available in gluten-free, vegan, and non-GMO varieties to cater to the needs of discerning cannabis enthusiasts. Bridge City Collective also carries several hard-to-find strains as well as boutique strains that are grown from their in-house farm. They also have a great selection of edibles, glassware, oils, and many more. Check out some of their dank deals:
5% off the total purchase for veterans, teachers, former police officers, firemen, seniors, and former police offers
5% off if you bike to the shop
Sign up to the email newsletter and get 10% off a purchase

Five Zero Trees has a superb selection of cannabis at great prices. The menu at Five Zero Trees changes everyday, so if you want to get the best deals it also varies pretty often. They also have their own indoor grow, so customers get a great variety of freshly grown medicine, among many other products. Check out the dank deals offered by Five Zero Trees:
OMMP patients get $8 grams and $25 eighths for Special Flowers
Recreational customers get $9.60 grams and $30 eights
Veterans are entitled to 10% discount on regular priced items
Foster Buds is one of the best Portland dispensaries that offer an extensive range of strains, with new ones being added to the menu frequently. Foster Buds works with well-established processors and growers in the state to ensure that customers get top-shelf product all the time. They have several cannabis products to choose from, including flower, edibles, concentrates, topicals, pre-rolls glassware and more. Foster Buds also has an ATM on site and a cozy area. Check out some of the dank deals Foster Buds has:
10% discount for seniors and veterans on all products, every day
Fridays: house-rolled joints for $1; proceeds go to a charitable cause
Service-Industry Saturdays: Customers with OLCC or Food Workers permit get 15% off their total purchases
Other daily deals: CBD Sunday, Medible Monday, Topical Tuesday, Waxy Wednesday, Top-Shelf Thursday, Fun Friday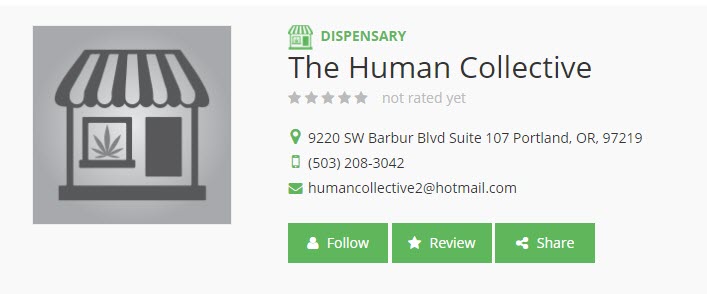 The Human Collective is one of Portland's most well-known dispensaries. Having been around since 2010, The Human Collective takes pride in offering premium cannabis products at excellent prices. They work closely with growers in the area and have because of their great direct relationships, are also known for offering cannabis at some of the best prices you can find in Portland. The team behind The Human Collective have also been involved with the cannabis legalization movement; the director Don Morse was the recipient of Dope Magazine for the 2016 Activist of the Year Award. Some of their dank deals include:
Happy Hour Monday-Friday 4:20pm to 5pm: 10% off all purchases
Monday-Friday Pre-roll Happy Hour 10am-noon
Different specials ever week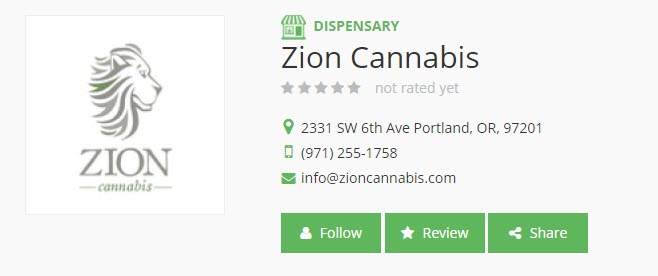 Zion Cannabis is convenient located in the southwest corner downtown, near OHSU and Portland State University. Zion Cannabis is a one-stop shop for anything you need, ranging from excellent flower, edibles, concentrates, equipment, infused products, and many more. They also place an emphasis on providing customers with comprehensive information on terpenes by providing each strain's terpene profile for a true customized experience based on each customer's unique needs. Zion Cannabis offers cannabis that has been rigorously screened for pesticides so you can be assured of the cleanest and best medical-grade cannabis each time. They change their specials often, but these include:
Select strain 1 gram cartridges for $50
Discounts for seniors and veterans
Limited time offer for 1gram pre-rolls: 1 for $10, or 5 for $40
DISPENSARIES PORTLAND, CLICK HERE.
OR..