Here's what's going on around the nation this week in the world of weed. Cali. bans dope by drone, Buds R Us pisses off Toys R Us. NV says lounges might be okay but says no pot in the airport. The cannabis market is rising, but prices are falling, adults are firing up in record numbers, but teen use is on the decline. And much more. Let's get started...
California bans dope by drone
When retail outlets in California start selling recreational marijuana at the start of 2018, they won't be able to deliver the drug by drone. In regulations issued last week by the state's Bureau of Cannabis Control, sellers will only be able to deliver pot "in person by enclosed motor vehicle." The rules say marijuana deliveries must be made to physical addresses and are banned from public lands or "buildings leased by public agencies." The ruling will effect weed delivery startups such as Eaze, which earlier this year demonstrated how drones could be used to get marijuana into customers' hands.
Buds R Us pissed off Toys R Us
Buds R Us dispensary in Detroit recently received a cease and desist letter from Toys "R" Us claiming that the name and logo violate their trademarks. The toy superstore chain is threatening to sue for intellectual property infringement. Buds R Us dispensary logo features a character similar to Geoffrey the Giraffe smoking a joint. This is not the first time a corporation has gone after a cannabis company for similar branding infringement. There was the recent Gorilla Glue mess, Hashees that looked too much like Reese's, Weetos and Froot Poofs (Wake and Bake) and, of course, Girl Scout Cookies.
Weed happens in Vegas, stays in Vegas
Recreational marijuana may be legal in Nevada, but Clark County commissioners have banned marijuana possession and advertising at McCarran International Airport in Las Vegas. Travelers leaving town with less than an ounce could face a misdemeanor charge or civil fines and have their marijuana confiscated. The decision keeps airport rules consistent with Federal Aviation Administration rules that consider marijuana an illegal substance, officials said.
Nevada now says okay with marijuana lounges
In Nevada, a legal opinion from the Legislative Counsel Bureau has once again put social consumption clubs into the mix. While a bill for social was tabled, that bill sponsor Sen. Tick Sigerblom said he wants to work with local county and city regulators in crafting rules for the adult lounges. Many RMJ dispensaries have indicated their desire to have social consumption nearby, but no casinos will be allowed to consider areas for social use. Sigerblom's bill contained several buffers for space restrictions from schools, churches, public parks and child-care centers.MJ incubator/funder Canopy Boulder will expand its Demo Days this fall to San Francisco and Las Vegas.
Hawaii pot shops say, "put away your money"
Medical marijuana dispensaries in Hawaii won't be allowed to accept cash beginning Oct. Instead, buyers will be required to use a debit payment app instead. The action was taken by the island state to reduce crimes associated with cash-handling dispensaries. The debit app called CanPay uses a Colorado-based credit union to facilitate transactions. The app is already an option for marijuana transactions in six states, including California and Colorado. Patients who don't own smartphones will have to create CanPay accounts with an email address and personal identification number. Patients will be able to buy cannabis by logging on to their accounts with computer tablets at the dispensaries.
Record number of adults fire it up, while teens put it down
A new federal study says marijuana use has increased by adults, with an estimated 46 million Americans used marijuana at least once in 2016. For heavy users, the increase in much higher. In 2016, nearly 19 percent of people who used marijuana that year used it at least 300 days out of the year. These numbers are up substantially from 2002 when 12 percent of cannabis users reported consumption on a near-daily basis.
Meanwhile, it turns out that legalizing cannabis for both medical and adult use does not increase teen consumption rates, contrary to fears raised by leading legalization critics. According to a new report by the federal Substance Abuse and Mental Health Services Administration (SAMHSA), cannabis consumption by teens fell in 2016. Past-month youth cannabis-use rates among minors aged 12 to 17 have steadily decreased since 2002. The 2016 rate of 6.5% is now the lowest in more than 20 years, according to the report.
BudTrader tracks pound price
BudTrader.com, the world's largest online medical marijuana marketplace, has launched the first Real Time Price Per Pound Cannabis Commodity Index. The index is the first of its kind to update cannabis prices in real time. The site's million-plus users will now be able to see the median price of a pound by state and nationwide. The Real Time Price Per Pond Cannabis Commodity Index is the first of its kind to update cannabis prices in real time allowing marijuana business owners, investors, growers and fund managers to monitor and forecast market trends based on real-time prices.
Colorado passes $880 million mark
Colorado's seven-month sales of cannabis passed $880 million, setting 2017 sales up to surpass $1.42 billion. That's up from full-year 2016 sales of $1.31 billion. In July, the Denver Post reports Colorado RMJ sales surpassed $101 million for the first time, and combined with MMJ sales of $35.8 million, brought in a record $137 million. Starting July 1st an effective tax increase of 2.1 percent on adult-use cannabis (but not accessory items) went into effect, therefore changing year-to-year tax comparison reports.
Market on the rise, but prices falling
A recent report by Ameri Research Inc. indicates that the global legal cannabis market was valued at $14.3 billion in 2016 and is projected to grow at a CAGR of 21.1% from 2017 to 2024. During the forecast period, the demand for cannabis is projected to rise for both recreational and medical use with estimated global sales value to reach $63.5 billion by 2024. Legal U.S. sales grew by approximately 35% in 2016 to $6.5 billion, with $1.8 billion in reported recreational weed sales and an estimated $4.7 billion derived from medical-marijuana sales.
Meanwhile, Steven Davenport of the Pardee Rand Graduate School claims that retail prices in Washington state have fallen every single quarter since legal recreational markets opened in July 2014. As of mid-2016 prices had already fallen 58.5 percent. The current retail price of $7.38 per gram (including tax) represents a 67 percent decrease in just three years of legalization.
Medical marijuana gets temporary federal reprieve
And last, but certainly not least, existing federal protections for medical marijuana states will continue through at least Dec. 8 after a $15.3 billion disaster aid package, debt limit increase and government spending extension were approved by Congress on Friday. The package includes the Rohrabacher-Blumenauer provision, which prevents the Justice Department from using funds to interfere with the 30 states which have legalized medical marijuana and 16 states that have authorized CBD oil access.
About the Author: Rick Schettino is publisher/editor of CannabizNews.com and co-owner of R&D Cannabis Marketing. He also writes freelance for numerous cannabis industry news publications.
OTHER STORIES YOU MAY ENJOY..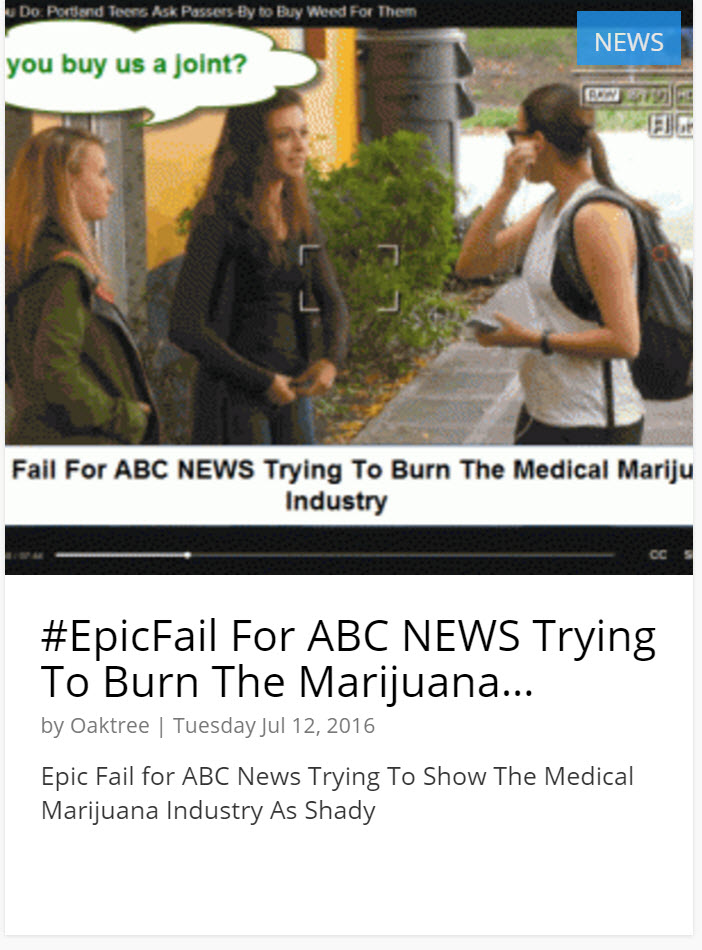 ABC NEWS ON MEDICAL MARIJUANA, WATCH THIS...
OR...