Cannabis Will Be Federally Legal In Canada. So Why Are Insurers So Worried About Covering Cannabis?
Weed is Legal in Canada so Why is Canadian Health Insurance So Worried? from CannabisNet on Vimeo.
Canada is poised to become a world leader in the legal cannabis industry, becoming the first ever G7 nation to legalize cannabis on a federal level and the second country in the world to do so after Uruguay.
So why are insurers hesitant to cover cannabis?
Sun Life Financial, the #2 insurer in Canada, is only starting to cover medical cannabis in their insurance plans – but over 17 years after they legalized it, making them the first major insurance company in the country to cover MMJ. The plans are only available to a few conditions when cannabis will be used as a last resort, and employers will be required to pay a premium.
"It's not medical marijuana for any purpose," says Sun Life Senior Vice President of group benefits Dave Jones in an article at Global News Canada. "It's for specific conditions and symptoms where the evidence is clear that medical cannabis has enough value to outweigh risks."
Skyrocketing Costs And Not Enough Evidence
Sun Life is treading carefully when it comes to medical cannabis, a sentiment shared by others in the health insurance industry because of the fear of skyrocketing costs associated with covering MMJ. In most cases, covering cannabis will be more expensive than pharmaceuticals not to mention the risk that comes with covering a medicine that has less clinical evidence for its therapeutic benefits.
If history repeats itself, that means that Canadian insurers will only have to deal with increasing costs when it comes to covering cannabis – based on agencies in Canada as well as worldwide.
Cyd Courchesne, the chief medical officer for Veterans Affairs Canada, says that doctors who prescribe cannabis still don't thoroughly examine or follow through with patients. Veterans Affairs has been covering MMJ since 2008. "If I was working for any other company, and I was their medical director, I would say do not reimburse," he said. "We do not have information right now."
The reason why we don't have enough human studies on the efficacy of medical cannabis is because most countries around the world still consider it illegal on the federal level, which has always been an obstacle for scientific studies. However, this may soon change in Canada where the government will be subsidizing medical research.
According to Canadian law, patients will be allowed to purchase cannabis using money from their health-care accounts, which are covered by employers. But it will still be up to insurance companies to decide on coverage.
Ontario Employees Told To Use Opioids Over Cannabis
A CBC Toronto investigation has found that injured employees in Ontario are being told to either choose from taking opioids or other pharmaceuticals as medicine, or pay for their own treatments.
Ontario's Workplace Safety and Insurance Board (WSIB) and others have been notorious for rejecting injured workers who want to use medical cannabis. "We have an opioid epidemic here in Canada," says former carpenter Maurice Sagle. "I'm thinking the WSIB better get out of the past."
Sagle, 60, was involved in a workplace accident that damaged his spine, crushed several discs, and ruptured a leg muscle. The opiates given to him left him with devastating side effects such as a depression that made him not want to leave home. He soon felt an addiction to it and said that it was time for something new. "The more you do, the more you want to do," Sagle says. "To me, it was very dangerous stuff. It was pretty well controlling my life. I said, 'I need to get my life back, I need to do something about this."
Sagle went on to look for alternatives, and his research pointed him to cannabis strains high in CBD and low in THC to help his condition. After a doctors' consultation, he was able to get a license for medical cannabis and it was effective in treating his chronic pain without causing a buzz.
"I don't want to be buzzed out, and can't afford a fall," he says.
The WSIB is defending itself by saying they are trying to cut down the number of drug claims for opioids and will only handle medical cannabis requests "on a case-by-case basis."
Attorney David Newberry, who works with the Injured Workers Community Legal Clinic in Toronto, says that the WSIB has been known for denying workers' claims for MMJ. However, insurers are willing to pay for dangerous and addictive drugs. "You often end up with these absurd scenarios where the WSIB is happy to pay for opiates and antidepressants that are not effective, that the worker does not want to take."
Newberry says that the WSIB is wary about covering cannabis for other reasons. "I'm sure WSIB and other private insurers have a fear of being accused of funding recreational drugs," he adds.
Marijuana is Federally Legal in Canada. So Why are Insurers so Worried about Covering Medical Marijuana? from CannabisNet on Vimeo.
OTHER STORIES YOU MAY ENJOY...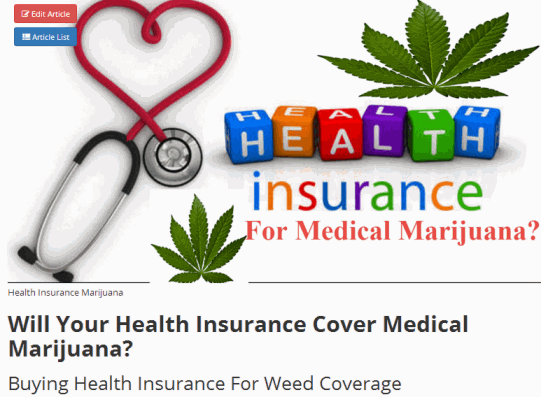 MEDICAL MARIJUANA AND HEALTH INSURANCE COVERAGE, CLICK HERE.
OR..