New Health Study Will Pay People $1,500 to Smoke Weed
You certainly read the title right!! If you enjoy smoking weed, you might be able to make money doing what you love, and here's how that can happen. Marijuana advocacy website Flower and Freedom is set to offer people $1,500 to become a marijuana effect specialist. Although the project seems ambitious, plans are already in motion to make it happen as a temporary job for people who love cannabis.
The Flower and Freedom project
As someone who likes weed, you will be doing what you are already used to, but this time with a condition from the company which will enable them to reap the rewards of the project. So you will need to try a variety of weed they offer and share how the marijuana affects you. If this is something you can do and will enjoy, get ready to jump at the opportunity.
Flower and Freedom will carry out a 30-day study to discover how the different strains of marijuana affect other people and the exact amount that contributes to such an effect. Every temporary marijuana effect specialist will receive the stated amount of money at the end of the study, which also entails utilizing free marijuana for one month.
Requirements for becoming a marijuana effects specialist
The owner of Flower and Freedom, David Rhodes, announced that he maximizes marijuana to treat Crohn's disease. He is excited about the fantastic potentials and benefits of marijuana and how it impacts people's health regardless of any medical condition they may or may not have. His vision for the company is to enjoy the advantages of marijuana if they want to give it a try.
He also hopes that with the new study, the stigma associated with marijuana will be eliminated. Like many other experts, Rhodes is concerned that so many people still categorize marijuana as a negative "Drug" despite the success of numerous legalization movements in different states.
Therefore, Rhodes is committed to using his company to change the narrative such that gradually, people start to see marijuana in a different and positive light. With this cannabis effects specialist project, he will be contributing his voice to the discourse and changing the narrative.
So here are the criteria to become a marijuana effects specialist;
All applicants must be 21 years or older, which aligns with the legal age requirement for marijuana in states where it is legal.
The applicant must not have any prior health condition which makes participating in the exercise unsafe and possibly harmful to their body.
The applicant must also live in a state or a country where recreational marijuana is legal.
All applicants must be ready to utilize marijuana in line with the study's testing process.
The applicant must possess excellent communication and writing skills.
The website will officially start accepting applications from now up until October 1, 2021. Flower and Freedom will provide the marijuana for the selected participants and all they will need throughout the process. The selected participants will also take cannabis every three to five days.
The aims and objectives of the study
Rhodes desires that the marijuana effects specialists test and confirm some of the Flower and Freedom website theories about the impact of marijuana on the human body. For example, the website has content insisting that cannabis boosts motivation and appetite; it also impacts a person's mood and sleep times.
Throughout the project, the participants will share their writing experiences and communicate through video calls with a Flower and Freedom staff. The participants are also required to complete a verbal questionnaire stating their experiences.
Rhodes started utilizing marijuana over a decade ago after being diagnosed with Crohn's disease caused by extreme inflammation of the bowels. He asserts that marijuana was one of the things that helped him manage his symptoms. After his successful cannabis experience, he grew his marijuana and became a big-time activist advocating for its recreational and medical benefits.
He wants the study to highlight the benefits of cannabis and sees the project as another opportunity to provide jobs (albeit temporary ones) to people. The positions will become a popular choice of work in no time, a balanced plan.
The implications of the Flower and Freedom project on the future of marijuana in the health sector
Before cannabis can be prescribed to any individual to treat any disease, there is a need for sufficient research and tests. Without such trials, we will know the potentials marijuana has without feeling its impact. Flower and Freedom, under the leadership of David Rhodes, has seen what cannabis can do, particularly with Crohn's Disease. With this project, they will be contributing their quota to ensuring that more people utilize cannabis in the future.
After the success of this project, more marijuana companies may take up similar initiatives, which means we have more tests and research to back up the viability of cannabis in the medical world. Imagine a world where people with Crohn's Disease are motivated and believe that it is not for them because they have a cannabis option: this will be a fantastic moment for both patients and medical practitioners.
The possibility of cannabis remaining relevant in the future depends on the efforts we make today. Flower and Freedom are making an exceptional move, and upon completion of the project, they will be setting the bar high for other cannabis companies to do the same.
Bottom Line
Rhodes has already mentioned that he knows people will say he is crazy for paying others to smoke weed, but he is looking at the bigger picture here. He has experienced the long-term impact of marijuana as he faced Crohn's Disease. He believes that if the study is successful, it will help many others maximize marijuana for health purposes.
There is still so much about cannabis for medicinal purposes still unknown to the world. But with human testing processes and research like this, there is hope that more people will begin to harness the benefits of marijuana intentionally.
GET PAID TO SMOKE MARIJUANA, READ MORE...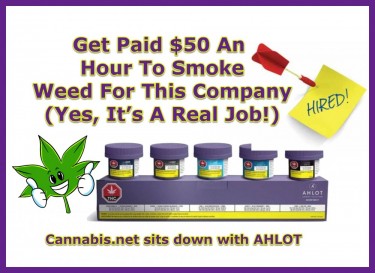 WOULD SMOKE MARIJUANA FOR $50 AN HOUR, WELL YOU CAN!
OR..