Alcoholics Can Own GUNS But Medical Marijuana Patients Can Not....What?!?!?
Should Medical Marijuana Card Holders Be Able To Own Guns? from CannabisNet on Vimeo.
Recently the 9th U.S. Circuit Court of Appeals ruled that if you have a medical marijuana card or smoke cannabis, you do not have a right to a firearm. The court ruled 3-0 that a ban preventing medical marijuana cardholders from purchasing firearms is not a violation of your second amendment right.
The court upheld a federal ban on the sale of guns to illegal drug users citing that it "raises the risk of irrational or unpredictable behavior with which gun use should not be associated." Currently a few activists are fighting this ruling, however it is quite shocking to see that a Federal court will uphold a decision like this, backing the paradigm of the dying War on Drugs.
However, you can show up to a gun store, the stink of whiskey still on your breath and in most cases, you'd be able to walk out with a gun. Interestingly, alcohol is responsible for 40% of all violent crimes.
A 2013 meta-analysis of 23 studies concluded that "48 percent of homicide offenders were reportedly under the influence of alcohol at the time of the offense and 37 percent were intoxicated."
So the question remains, why are cannabis users (a drug that has no association with violence save the effects of the drug war) are being discriminated against for their use, however alcohol abusers get a free pass?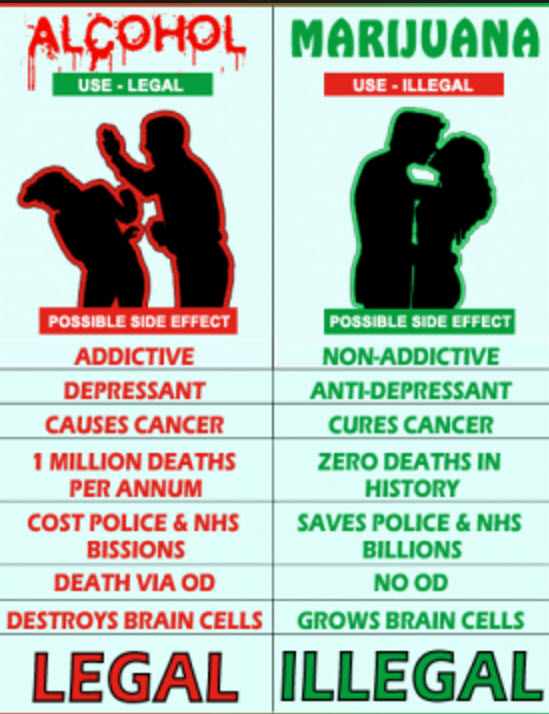 Statistical evidence shows us that alcohol is the "violence-causer" and even drugs like heroin or PCP do not significantly increase violent behavior in people. Yet alcohol is widely advertised, its easily accessible and in many cases is the one of the first drugs people use in their early years.
Yet, despite all of the evidence, the government feels the need to discriminate against cannabis users and to steal their rights away from them through legislation. This antiquated policy that "drug users are violent" is pure folly.
It stems from the prohibitionist rhetoric of Anslinger and his ilk as they used "violence and madness" as their main arguments for making these drugs illegal. Of course, most of these laws are motivated by innate racism, however violence was the "sweetener" to help swallow the policy.
Now, after nearly 80 years of this racist-backward policy, we find that cannabis users are not allowed to use their rights because the lies of old still hold value in legislation. In other words, the government doesn't care about you if you decide to consume drugs that aren't on their "approved list" citing that it will "raise the risk of irrational behavior" when there is no science to support this claim. Yet on the other hand, science has told us that alcohol is in fact the culprit yet nothing is done about that.
When I read about things like this, my blood boils. I remember when Obama said that his administration will base its policies on "science and reason" yet throughout his eight years, we haven't seen that happen, especially when it comes to drugs. All we see is the re-workings of antiquated ideas using "science-y" terminology to confuse modern day man.
If science or reason was in fact dictating policy, people with alcohol problems should also have their rights revoked due to the "irrational behavior" it may cause and is proven statistically. Yet this is not the case.
It's time we band together and tell these politicians and policy makers that we will no longer stand by their corrupt system. To remove your rights merely because of something you are consuming, there's a word for that; Tyranny.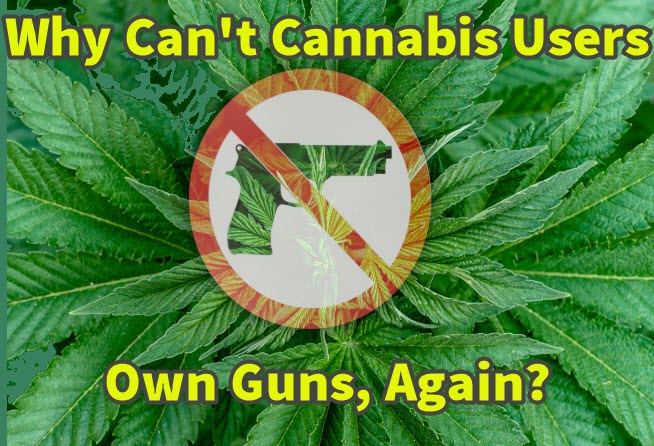 CANNABIS AND GUN OWNERSHIP, CLICK HERE.
OR..​
HERE IS WHY ALCOHOL IS LEGAL, AND MARIJUANA IS NOT..CLICK HERE..
OR...
CAN YOU BE A GOOD PARENT AND STILL SMOKE WEED, CLICK HERE...