The 4 Top Autoflower Strains for 2018
Autoflowers have been taking the stage since they have a faster growth cycle and don't require a rigid light regimen. These are the four top autoflowering strains this year. Many growers enjoy the smaller yet denser autoflower plants even if their yield is a smidge smaller than its counterpart. For some growers, the quantity of yield is not their main priority and often times they are cutting off the fat, so to say, when growing regulars so as to enhance the future yield. From boutique to master-breed and extra resin to faster cycles, these are four strains you have to grow (or at least get to know). You might all know Gorilla Glue and Northern Lights but meet 2 Vast 2 Vast, a delicate cross-breed, 24 Carat, a fast-growth and balanced indica, and the Jedi Kush, mastering the force within you.
Let's Meet Our Top Autoflower Line-up
2 Fast 2 Vast, for the grower geeks in the fast lane
Heavyweight Seeds brings in the top autoflower strain with 2 Fast 2 Vast, a delectably resin-laden strain. Fast and Vast meets Northern Lights and the two spawn a delight that was carefully bred from a white dwarf, skunk and afghani in a four-step process. Like her name suggests, 2 Fast 2 Vast heads you straight for a knockout, quickly entering the deep stone phase. Heavyweight Seeds has made a name for themselves for bringing not-your-average seeds to the market. You can instantly recognize from their fun names that range from Fruit Punch to Green Ninja and mouth-watering photos that your bud will be unique.
Gorilla Glue, a classic for the dopamine-seeker
One that we all love to love is the king of the canna-jungle, Gorilla Glue by Fastbuds. Bringing in number two, this well-loved strain is even more loved when she autoflowers at a relatively fast cycle and yields a higher amount of bud than most autoflower strains. She isn't the easiest strain to grow but still stands robust for novices with some knowledge and experience. The name suggests exactly what you should expect with a glue-like head high that sticks in your brain while euphoria climbs the Empire State Building to claim its stake over your senses. This hybrid provides a piney and citrus flavor for a relaxed and creative day-time high or a sensual and playful night-time chill. Fast Buds Seeds has only one mission: to grow California's favorite strains and breed their powerful autoflower counterpart – a compelling mission with compelling prices.
24 Carat, even more valuable than gold
24 Carat by Mephisto Genetics ranks in third though she shines like gold dressed in her best purple velvet. She doesn't grow very high but flourishes with a sturdy stock and dense foliage. It is hard not to fall in love with her for her quick cycle time of 60-70 days, a beautiful purple coat and lovely sticky hairs covering this plant. A cross between Sour Boggle and Purple Indica makes her the ultimate night time munchie strain, keeping you in balance between emotions of euphoric, motivated and very, very relaxed. Mephisto Genetics is a new seed player finding their home in Spain where the environment for high-quality cannabis seeds is flourishing.
Jedi Kush, feels the force
Our runner up is the Jedi Kush by Short Stuff Seeds. A force to be reckoned with, this Jedi really mastered the force. Like Luke, it isn't something that can be acquired in one day, this significant strain took a long time to develop. She is a cross between Skywalker and OG Kush giving her fruity and earthy characteristics. This indica-dominated Jedi fights the dark side for you with powerful medicinal affects. A hint of coffee in the flavor profile explains the kick you feel initially and the stimulant buzz that follows. This plant grows quite tall for an auto, as high as 80cm, and has a high-yield. Jedi Kush is one of the many in Short Stuff Seeds Boutique line – where you know you find premium seeds that push the envelope and status quo.
Stay Premium
So, there you have it. An excellent selection of the top auto strains that offer an array of personality traits to fit your needs. Whether you prefer a classic, hardy strain or something more unique, these four cover most everyone's basic desires without compromising yield. And always remember that to produce the best buds comes from providing the best conditions for your plant to flourish. That means watering, general care, rich soil, organic fertilizer and always starting with premium seeds.
The 4 Top Autoflower Marijuana Strains for 2018 from CannabisNet on Vimeo.
OTHER STORIES YOU MAY ENJOY...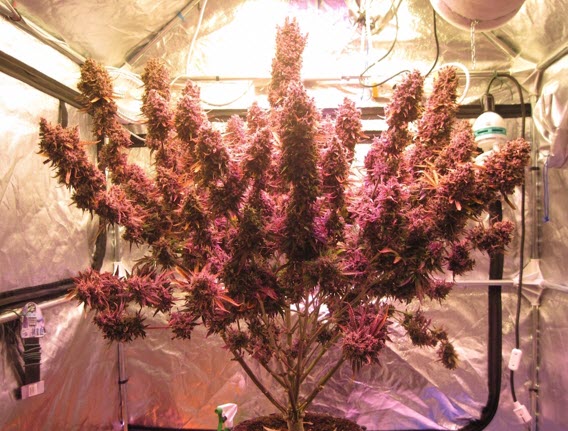 THE EVOLUTION OF AUTOFLOWER MARIJUANA SEEDS, CLICK HERE.
OR..