Cannabis Experience Preferred – How Much Experience Should You Admit to During a Job Interview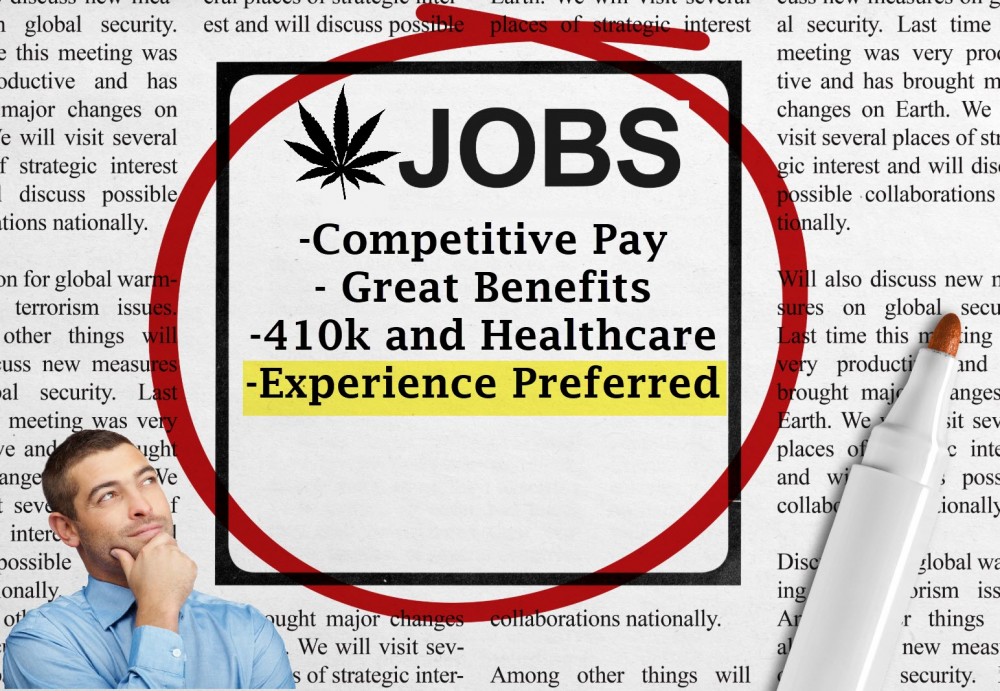 Going for a cannabis job? How much "experience" should you admit to?
Cannabis jobs are becoming a bigger "small" nice in the overall job and employment picture in America. The official tally of people working in legal cannabis positions in America is around 250,000 give or take a few thousand due to classifications and such. The growth rate on cannabis jobs is what is staggering as there is double digit job growth almost month over month as legal cannabis producers are hiring at a furious pace. Jobs range from budtenders, to lab workers, to software coders, to web designers, to customer service help, to data analytics gurus, to security personal, to CPAs and CFOs. If we were to include the people working and getting paid in the black and gray cannabis markets, the number is easily over 700,000 people working in cannabis. Now, the black and gray market workers are paid in cash and do not receive a W2 or 1099 tax forms, so they cannot be counted on official employment numbers.
The cannabis industry suffers from the "last mile" syndrome, just like Amazon, Target, and Walmart. Delivery drivers are another budding industry and Uber and Lyft has shown how private delivery for items such as food and groceries can be outsourced. Dispensaries can deliver to clients in legal states that also allow delivery services, but the distances are restricted just like a pizza shop. Since cannabis cannot go in the US mail or FedEx, it leaves some patients in the lurch if you live too far away from a dispensary. Black and grey market services can also step in and service the market, but they are in vans and cars as well, so they would not be interested in a 45-mile ride for a $43 sale.
Cannabis Experience Preferred – How Much Do You Say?
One interesting conversation with a cannabis employer who has marijuana job postings on the Cannabis.net job board was the description on cannabis job posts of "experience preferred". Now, that is not new to non-cannabis job postings as many companies look to cut down the learning curve of new employees and prefer a candidate that may have worked in the industry already and has some basic skill and knowledge that could transfer from their previous job.
But how much experience is too much and what should you say?
The question is how much cannabis experience should you admit to in your job interview? When a cannabis company says "experience preferred" does that mean personal experience, as in you are down with smoking blunts and blazing up a joint in the parking lot after work? Does experience refer to professional experience in the industry, being around the plant, being able to discuss trichomes and cannabinoids at a 10,000 foot-level and not get glazed over eyes?
The problem with the "we mean only professional experience" is that the industry is so young that any professional experience is only going to date back a few years at the max, and most likely a year or two for most people if they got in early. If you want to talk about "illegal" experience, which many growers reference as in "I have been growing weed for 25 years" type talk, then that is a new conversation about how you were committing a schedule 1 felony for 22 of those 25 years.
What if you are a huge pot head and smoke 7 days-a-week? Would an employer be happy to know your love and experience for the plant or would a small alarm bell go up as they think about you being on time, working late, being reliable, and even questions about security around the product? It is akin to hiring a line manager at a chocolate factory and in the interview, he says he loves chocolate, eats it 7 days a week, and can't wait to be part of the chocolate industry. How much zeal and gusto is too much information for an employee to tell an employer?
The employer in this conversation said that casual or medical use of the plant is fine and understandable as people who enjoy the plant and want to be an early part of the industry are usually the first to apply for a cannabis-based job. "If you are at a job that is touching the flower, say a trimmer, then there are rules and protocols in the company for employees, just like a restaurant, so the line cooks aren't eating the food."
The best policy may be to be honest, but not overly loquacious about your cannabis use and history. Do you have a medical card? Yes. Do you use recreationally? Yes.
You do not need to volunteer you love doing dab hits all weekend long and how you can go through an ounce a week without a problem. Never lie about having a medical card to an employer and don't lie about your "experience" as a recreational user, either. Most cannabis companies would view that experience and ability to talk about the plant and industry as a plus.
For the first time in history, as cannabis becomes legal at the state level across the country, we are seeing a recreational and medicinal habit lead to real jobs, payrolls, and HR departments. You can still enjoy the plant and keep a professional attitude in the workplace and around the job. Think of all the people working in the alcohol industry, at Budweiser and Constellation Brands. They can enjoy a drink after work and work around alcohol all day and not drink it or get drunk. They can say they drink alcohol on their job applications too, but the expectations of the employers are not to drink on the job as well. Good guidelines for the cannabis industry and job applicants to start with as well.
Check open cannabis job postings in your area - click here!
HOW TO GET A WEED JOB, READ THESE...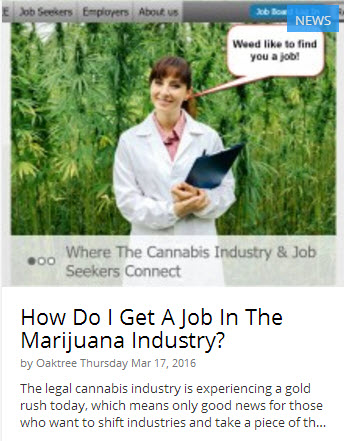 HOW DO YOU GET A JOB IN THE CANANBIS INDUSTRY, CLICK HERE.
OR..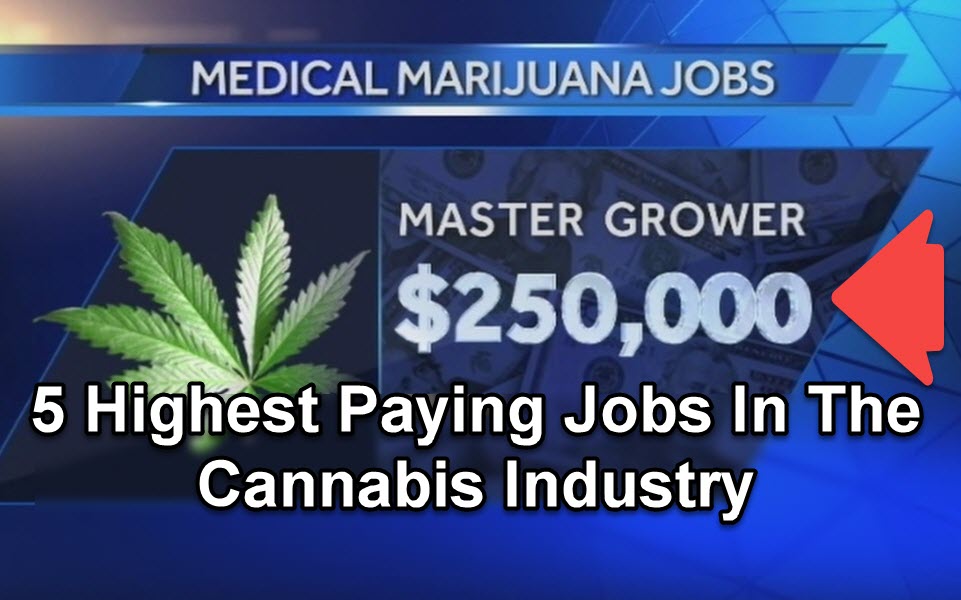 HIGH PAYING CANNABIS JOBS, CLICK HERE.
OR..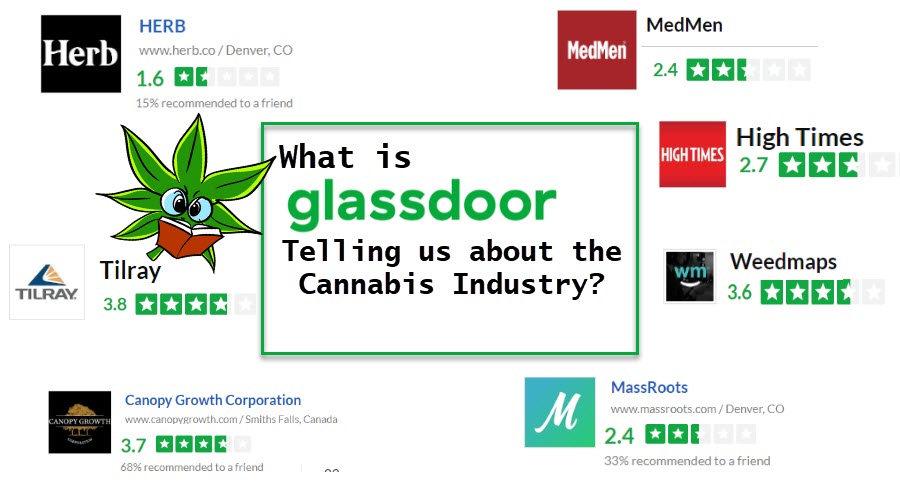 WHAT IS GLASSDOOR TELLING US ABOUT CANANBIS JOBS
OR..