Why Cannabis is Effective On Crohn's Disease from CannabisNet on Vimeo.
Crohn's disease is a form of inflammatory bowel disease, also known as IBD, which occurs when there is chronic inflammation in the digestive tract as a result of an abnormal immune response. According to the Crohn's and Colitis Foundation of America , (CCFA) around 1.6 million Americans are diagnosed with Crohn's disease today.
The last time the CCFA reported figures on the number of people afflicted with Crohn's disease was 2011, and since then there's been 200,000 more cases. This shows that like many other illnesses today, more research is needed so that we can find a cure. They also estimate that roughly 70,000 new cases of the illness are reported each year.
Most of the patients diagnosed with Crohn's disease are under 35, and while it isn't fatal it can severely impact quality of life and be a source of financial burden. The characteristics of this condition are painful, embarrassing, and can even cause debilitating self-esteem issues: imagine having to deal with a lifetime of rectal bleeding, feeling like you haven't pooped enough, abdominal pain, diarrhea, and constantly needing to move your bowels.
Treatment for those with Crohn's diseas will depend on many factors and needs to be tailored for each person. Some of the factors that will impact the kind of treatment include how serious the disease is, its anatomic location, response to previous kinds of medication, any side effects from treatment, and other illnesses that the patient already has.
There are medications available that for those who have Crohn's disease – mostly opioids, although cannabis has been shown to be promising as a safe natural alternative. Besides it has already become common sense to know that opioids have serious side effects.
The Potential of Cannabis In Treating Crohn's Disease
In 2011, a team in Israel analyzed the effects of cannabis on Crohn's disease. The study include 30 participants all of whom were asked to rate the severity of their illness using the Harvey Bradshaw scale, which is also known as the Crohn's Disease Activity Index (CDAI). All the 30 were cannabis users, and afterwards 21 of them said that their symptoms "improved significantly" while also reducing the need for other kinds of medications.
An intriguing feature of this study is that "15 of the patients had 19 surgeries during an average period of nine years before cannabis use, but only two required surgery during an average period of three years of cannabis use". Since the National Institutes of Health states that 70% up to 90% of individuals diagnosed with Crohn's disease will need to go through surgery at some point in their lives and 39% will need succeeding operations, it's clear that the reduced need for surgery is a major benefit of using cannabis to manage symptoms. Although this study didn't involve a placebo control group, another study was conducted which also revealed promising results.
The study, conducted in 2013, involved just 21 participants all of which were classified as having active IBD or Crohn's disease. 11 of the 21 participants were administered with medical cannabis, while the remaining individuals were administered a placebo. One of the interesting features of this study is that the participants who were given actual cannabis were made to take it in joint form – since the typical procedure for clinical experiments involving medical marijuana usually involves cannabis oils or edibles.
The joints given to the participants had around .5% CBD and 23% THC. On the other hand, the group that was given cannabis was given joints in which the THC had already been removed. Both groups were made to smoke 2 joints every day for 8 weeks.
After the trial period was over, 5 patients out of the 11 who were given medical cannabis went through a complete remission from Crohn's disease. On top of that, 10 out of 11 said that their symptoms improved and that there were no notable side effects. Meanwhile those in the placebo group, 4 of the 10 reported to have a reduction in symptoms.
While it's difficult to assume anything from such a small study, it does mean that we need more research and trials done proving the efficacy of cannabis for Crohn's disease.
There are many marijuana strains that can help with Crohn's disease. Below is a list of some strains that are recommended to ease the symptoms associated with the illness but if you aren't sure, feel free to talk to your budtender:
American Beauty
Sour Grap
Crystal Coma
White Dawg
Kaboom
Cactus
Permafrost
Confidential Cheese
Have you already tried any cannabis strains to help with Crohn's disease? What was your experience like?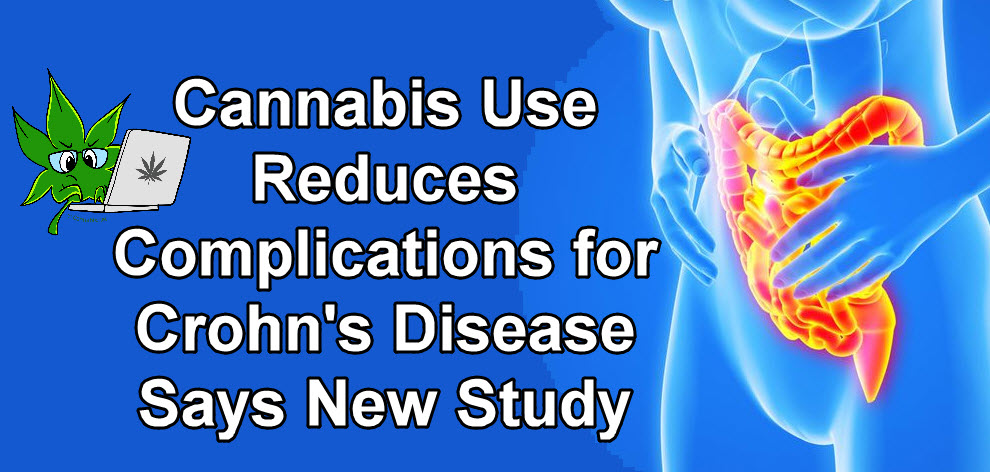 CANNABIS FOR CROHN'S DISEASE, CLICK HERE.
OR..
MEDICAL MARIJUANA STRAINS FOR CROHNS, CLICK HERE.
OR..
LEAKY BOWELS OR AGIDA HEARTBURN, CLICK HERE TO READ...
OR..
NEUROPATHY AND MEDICAL MARIJUANA, CLICK HERE TO READ...
OR...